Pompeo Praises AG Barr for Crushing Mueller 'Propaganda' and Preserving U.S. From 'Rogue FBI'
Days after President Donald Trump called Attorney General William Barr a disappointment, Secretary of State Mike Pompeo offered a glowing review of Barr's tenure in office, praising him for upholding the president's agenda.
Barr's Monday resignation goes into effect on December 23 and comes after a series of confrontations between the president and the attorney general. In recent months, Trump has criticized Barr for not indicting former Vice President Joe Biden and for saying that no widespread election fraud has been found. Trump also said the attorney general cost him the election by not correcting Biden's debate comment that there was no investigation of his son Hunter Biden.
"Who isn't disappointed? Joe Biden lied on the debate stage...Bill barr had an obligation to set the record straight just like Robert Mueller set the record straight," Trump told Fox News' Brian Kilmeade on Sunday. Trump was referencing the special counsel, Mueller, who disputed a 2019 story from BuzzFeed News that said Trump directed his attorney Michael Cohen to lie to Congress.
On Tuesday, Pompeo posted praise for Barr on Twitter, listing a number of his accomplishments as a government official. In his role as attorney general, Pompeo said, Barr "crushed the propaganda" Mueller generated against Trump and "preserved our republic from the rogue FBI and special counsel's effort to undermine the 2016 election based on a bogus theory of Russian collusion."
The secretary of state, often seen as one of Trump's prominent allies, also touted Barr as a committed supporter of Trump's agenda to defend "law and order against rioters."
"Protecting our citizens from these looters and anarchists was the right thing to do and AG Barr made it happen," Pompeo wrote.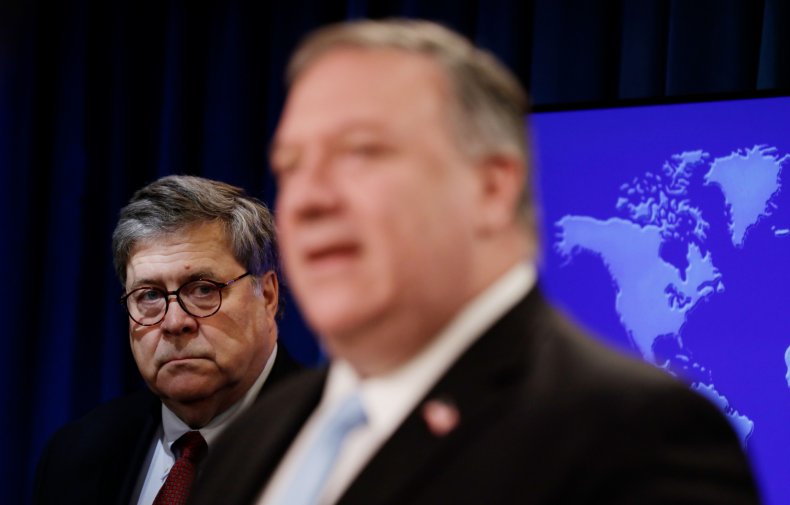 In September, Barr designated New York City, Seattle and Portland, Oregon, as "anarchist" jurisdictions, putting their federal funding at risk. The designation indicated that the Department of Justice determined that the cities permitted "violence and destruction of property to persist" and refused to take reasonable measures to counteract criminal activities.
Barr also sent federal law enforcement agents to Portland and other cities experiencing social unrest, a response he was criticized for but defended during a July hearing before the House Judiciary Committee.
Trump praised Barr for his actions this past summer, but he had less kind words for how the attorney general handled the Bidens. In October, the president told Fox Business' Maria Bartiromo that Barr should indict Biden, as well as former President Barack Obama, because "we got plenty, you don't need any more." Without an indictment of the two former American leaders, Trump said, "we're gonna get little satisfaction," unless he won the election.
The attorney general submitted his resignation to Trump on Monday, praising the president for his accomplishments in the "face of relentless, implacable resistance." The president posted the letter on Twitter and added that his relation with Barr has been a "very good one" and that the attorney general has "done an outstanding job."
Before taking office as Trump's attorney general, Barr worked as a member of the advisory board at the CIA when Pompeo was director of the agency. He credited Barr for making him a better director and the CIA a "stronger espionage force."
"It was a joy and an honor to serve alongside you Bill," Pompeo tweeted. "Well done."