Watch: Mike Pompeo Faces 'No More War' Protest During First Confirmation Hearing for Secretary of State
President Donald Trump's nominee to be the secretary of state faced a gaggle of protesters Thursday morning at the beginning of his first confirmation hearing before the Senate Foreign Relations Committee.
Mike Pompeo, currently head of the CIA and a former Kansas congressman, received chants of "No Pompeo" and "No more war" as he first entered the hearing. The protesters were from the women's grassroots organization Code Pink and held up signs that read "Stop Pompeo," among others.
Republican Senator Bob Corker of Tennessee quipped to the protesters and warned them not do anything that resulted in their arrest. The demonstrators then waved kindly to him, according to a Politico reporter there.
One protester opted not to heed Corker's warning, claiming that she had to speak up. As a result, she was taken out of the hearing.
The protester shouted about Pompeo, "This man is no diplomat!"
Pompeo, seen as a close ally of Trump's, has faced criticism for his foreign policy views and his hawkish attitude toward countries hostile to the U.S., like Iran and North Korea.
Pompeo has also been labeled as "anti-Muslim" based in part on remarks he made in 2014 to a church group while serving as the representative of Kansas's 4th District.
"The threat to America is from people who deeply believe that Islam is the way and the light and the only answer," Pompeo said. "They abhor Christians and will continue to press against us until we make sure that we pray and stand and fight and make sure we know that Jesus Christ as our savior is truly the only solution for our world."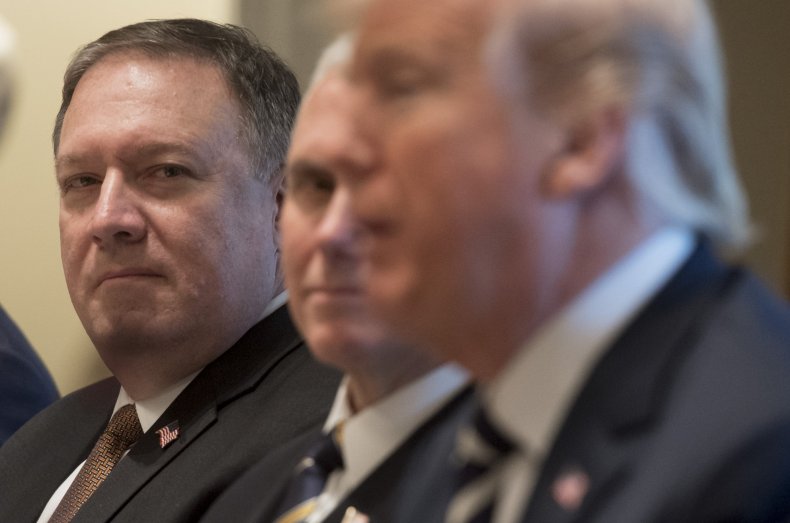 Democrats on the Senate committee have also questioned Pompeo's closeness to the president and whether he would challenge Trump on critical matters.
Before the hearing started, the president wished Pompeo "good luck" Thursday morning on Twitter. Trump added that Pompeo would be "great" as the country's top diplomat.