Pompeo Reminds 'Everyone' That 'All Votes Haven't Been Counted' in Presidential Race During Fox News Interview
Although a number of foreign leaders have called President-elect Joe Biden to congratulate him on winning this year's presidential election, U.S. Secretary of State Mike Pompeo insists the race has yet to be called.
"If they are just saying hi, I suppose that is not too terribly difficult," Pompeo told Fox News on Tuesday of the leaders of other countries speaking to Biden, "But make no mistake about it, we have one president, one secretary of state, one national security team at a time. It's appropriate that it be that way."
When initially asked about world leaders contacting Biden at the beginning of the interview, the secretary of state told Fox News anchor Bret Baier that there's still "an awful lot of work to do" with regards to determining who won the election.
"We are reminding everyone that all the votes haven't been counted. We need to make sure the legal process is fully complied with and then America will do what it does best. We will have a leader in the White House at noon on January 20th and we will continue to execute American foreign policy," Pompeo said.
Most news organizations declared Biden the President-elect on Saturday after he expanded his lead in a number of key states.
According to the Associated Press, Biden has now secured 290 electoral votes, which is more than the 270 necessary to win the presidency. However, President Donald Trump has yet to concede the election, instead insisting that the election has been stolen from him through widespread voter fraud and through the efforts of the Democratic Party.
There is no requirement to concede in the Constitution, but if Trump does not concede he would be the only presidential candidate in U.S. history not to do so.
Multiple foreign officials, including Canadian Prime Minister Justin Trudeau, U.K. Prime Minister Boris Johnson, French President Emmanuel Macron, German Chancellor Angela Merkel and India's Prime Minister Narendra Modi, have reached out to Biden regarding his projected victory.
Pompeo, on the other hand, has said he is confident Trump will have a second term in the White House. Other prominent Republicans who have bolstered the president's baseless claims of voter fraud include senators Lindsey Graham, Marco Rubio, Tom Cotton and Ted Cruz.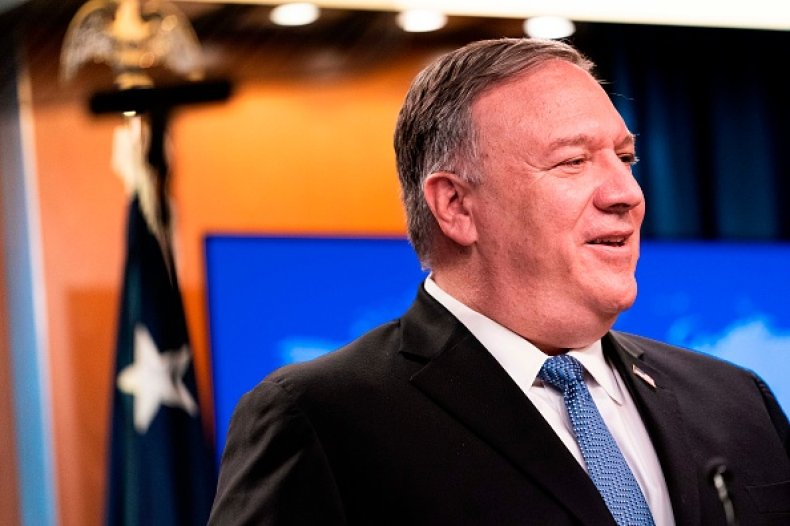 When asked by a reporter on Tuesday whether the State Department would collaborate with Biden's transition team, Pompeo responded, "There will be a smooth transition to a second Trump administration," though it was unclear if the secretary of state was joking with his answer.
He shook his head and chuckled before continuing.
"We're ready. The world is watching what's taking place. We're going to count all the votes. When the process is complete, there will be electors selected—there's a process. The Constitution lays it out pretty clearly," Pompeo added.
He said that "the world should have every confidence" the the State Department will make the necessary transition no matter who holds office come January 20.
"I went through a transition on the front end, I've been on the other side of this. I'm very confident that we will do all the things that are necessary to make sure that the government, the United States government, will continue to perform its national security function as we go forward," he told reporters.
When asked by Fox News about his comments on a second Trump administration, Pompeo did not clarify if he had been joking, rather he criticized Obama administration officials like John Kerry and Susan Rice who he said "refused to get off the stage."
Despite Pompeo's evasive answers about whether his department will cooperate with Biden's team, Biden said during a news conference later Tuesday, "We are already beginning the transition. We're well underway."
Newsweek reached out to the Biden campaign for comment but did not hear back before publication.