Pompeo Says 'Every Foreign Minister' He's Spoken to Blames China for Pandemic
Secretary of State Mike Pompeo said "every foreign minister" he's spoken to blames China for the pandemic in a new interview at The Hill's New Threats, New Defense summit.
"I'm very confident that the world will look at China differently and engage with them on fundamentally different terms than they did before this catastrophic disaster," Pompeo told The Hill's Editor-in-Chief Bob Cusack on Wednesday.
Pompeo said the rest of the world will "absolutely" make China pay the price of the global health crisis and singled out China, where COVID-19 was originally diagnosed, as the national security priority for the Trump administration.
The new coronavirus was first identified in Wuhan, China, at the end of 2019. Since the outbreak has spread globally, there have been over 13 million cases of COVID-19 across the world.
The U.S. has been the country hit the hardest with 3,454,190 confirmed cases of coronavirus and 136,807 deaths. After initial lockdown measures in March, there has been a spike of infections in the U.S., specifically in states like Florida, Arizona and California, after those states governors began reopening businesses in May.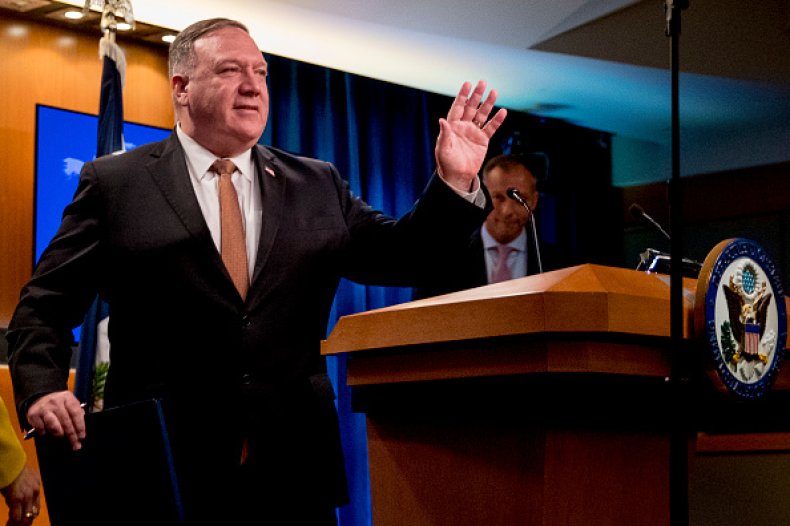 Pompeo also said at the summit that a decision will be made "shortly" over privacy concerns that the Beijing government is potentially using the app to surveil users. Questions circulating whether the U.S. will ban social media app TikTok, among other Chinese-owned apps, emerged last week.
"Whether it's TikTok or any of the other Chinese communications platforms, apps, infrastructure, this administration is taking seriously the requirement to protect the American people from having their information end up in the hands of the Chinese Communist Party," Pompeo added.
The secretary of state said President Donald Trump's refusal to talk to Chinese President Xi Jinping is the administration's way of ensuring "a fair and reciprocal set of relationships" between the two countries.
"This is a Chinese Communist Party that is acting in a way that poses real threats to the world, and the United States is going to respond in each of those venues to make sure that we preserve American national security and impose costs on the Chinese Communist Party in order to achieve the change in behavior that will have a good outcome," Pompeo told Cusack.
China's increased authority over Hong Kong has also led the U.S. to terminate its relationship with the region. Pompeo said Trump has not made an official decision on whether refugee status will be granted to those from Hong Kong.
Newsweek reached out to the Chinese Embassy for comment but did not hear back before publication.