Pompeo's Too Busy to Do Dishes so His Staff Must Help If His Wife's Away, Trump Says
President Donald Trump defended U.S. Secretary of State Mike Pompeo Monday against allegations that Inspector General Steve Linick was investigating Pompeo for, among other things, allegations that Pompeo asked his staff to perform personal errands. Trump fired Linick Friday at Pompeo's request.
Reports from anonymous sources said Linick was looking into allegations that Pompeo had asked a State Department employee to perform tasks for Pompeo such as walking his dog, retrieving his dry cleaning and making dinner reservations for Pompeo and his wife. Trump said he was unaware of any investigation into the allegations, but that he didn't "think it sounds like that important."
"I'd rather have him on the phone with some world leader than have him wash dishes because maybe his wife isn't there or his kids aren't there, you know," Trump said at the White House on Monday.
Trump said Pompeo's responsibilities might be the cause of Pompeo requesting that his staff do something of a personal nature for him.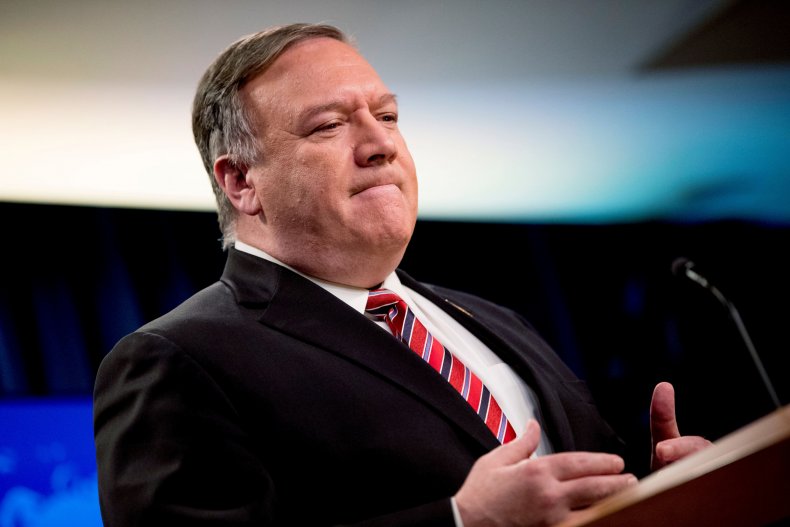 "Maybe he's busy and maybe he's negotiating with Kim Jong Un—okay?—about nuclear weapons, so that he'd say, 'Please, could you walk my dog? Do you mind walking my dog? I'm talking to Kim Jong Un,' Trump continued. "Or 'I'm talking to President Xi about paying us for some of the damage they've caused to the world and to us. Please walk my dog.' To who? A Secret Service person or somebody, right?"
Newsweek reached out to the State Department for comment. This story will be updated with any response.
Pompeo claimed he had no idea that there was an investigation into his behavior when he asked President Trump to fire Linick. In a Monday interview with The Washington Post, Pompeo said Linick was removed from his position because he "wasn't performing a function in a way we had tried to get him to."
Democratic Representative Eliot Engel and Senator Bob Menendez have opened an investigation into Linick's firing, believing it to be a retaliatory move. In a Friday statement, Engel who chairs the House Committee on Foreign Affairs called Linick's removal "the outrageous act of a President trying to protect one of his most loyal supporters, the Secretary of State, from accountability."
Menendez announced legislation on Monday that would limit Trump's powers to fire Inspectors General, whose job requires them to report on government waste and misappropriation. In a statement, Menendez said his bill would "prevent a President from carrying out an unjustified—or worse, politically motivated—removal."