Canadian Posing as Beverage Executive in Los Angeles Ran $5 Million Ponzi Scheme, FBI Says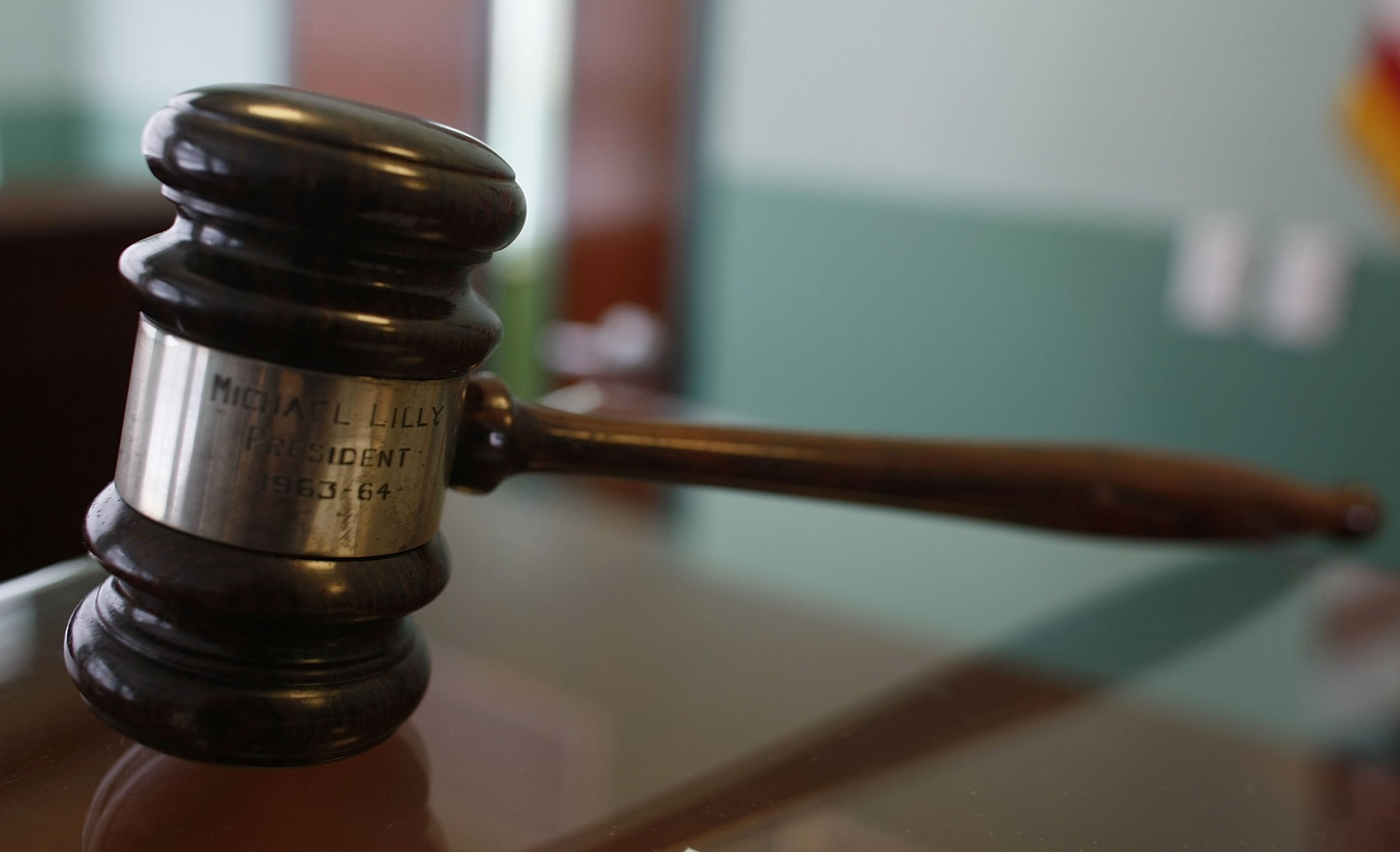 For years, the FBI alleges, a middle-aged Canadian national wielded his Ivy League pedigree, lived at the lavish Ritz-Carlton Residences in downtown Los Angeles, drove exotic cars and sent his children to private schools—all paid for by clueless investors who bankrolled an alleged bogus beverage company which claimed pitchmen incuding Shaquille O'Neal and Stephen Curry.
Khemraj Dave Hardat, 50, was dubbed a "serial fraudster" who the Federal Bureau of Investigation (FBI) charged with defrauding acquaintances for a $5 million Ponzi scheme, according to the 20-page criminal complaint reviewed by Newsweek.
The man, who court officials say was in Los Angeles on an expired tourist visa, made an appearance in court on Wednesday, and is due to be arraigned on December 18, a spokesman for the U.S. District Attorney's Office for the Central District of California stated.
For almost four years, the FBI says that Hardat conned people into believing he was an entrepreneur with impressive credentials.
Rather, Hardat not only misrepresented himself by claiming he earned a Ph.D. from Yale University but also that he lacked technical know-how in the water-bottling and performance bottling industry in which he pretended to be an expert, the criminal complaint filed in Los Angeles federal court on Monday alleged.
To secure money, Hardat allegedly "doctored images of bank balances" that he flaunted to peers showcasing "his prior successful dealings with companies including Pepsico and Dr. Pepper" and told them that he would be coming into a windfall worth "hundreds of millions of dollars."
The FBI alleges that he "groomed new victims" by living a "luxurious lifestyle. He rented a Ritz Carlton residence, drove a Maserati and Lamborghini, kept a luxury box at the Staples Center, where the Lakers and Clippers play, and enrolled his children "in exclusive, high-tuition private schools," the document alleges.
A lawyer for Hardat did not return a message seeking comment on Friday afternoon.
From the outside, Hardat appeared to have it all. And the flashy lifestyle allegedly helped reel in at least a half-dozen victim investors identified in the complaint by their first and last initials.
Each, the papers suggest, offered Hardat loans or investments that tallied "more than $5 million." The monies were supposed to be put to work to grow Hardat's beverage empire.
Instead, Hardat allegedly "converted for either purely personal use" or returned "partial, lulling refunds" to victims who had been scorched in his wake.
During the summer of 2014, Hardat impressed a fellow Ritz-Carlton tenant named by the initials as L.K. He allegedly invited him to his luxury seats at the Staples Center and talked about his friendships with NBA players, the CEO of PepsiCo, and then brandished a "doctored bank statement reflecting a balance of $498 million."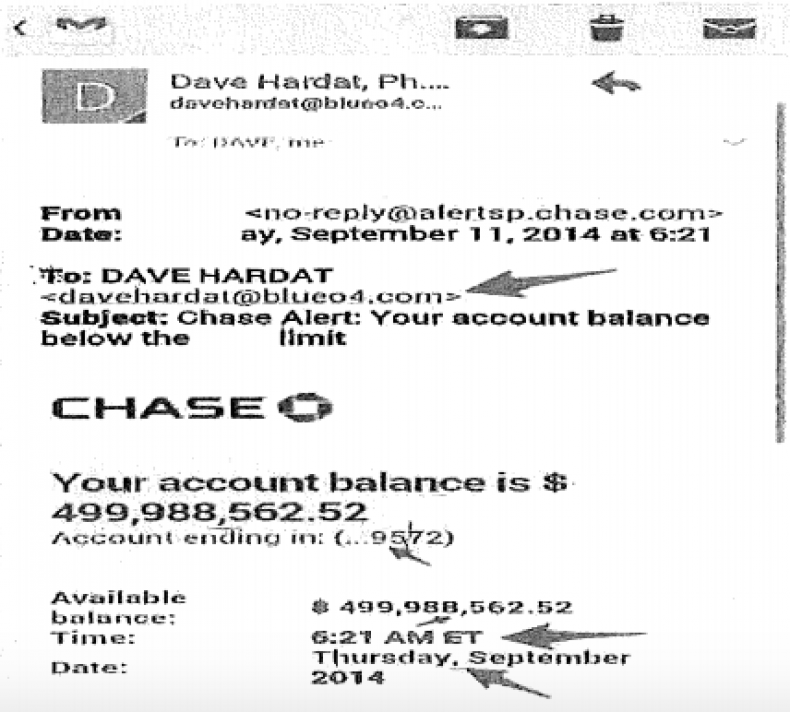 Hardat allegedly claimed he couldn't touch the money because it was "held in escrow pending completion of a deal" between PepsiCo and Hardat's company called, 04 Worldwide Holdings.
The FBI concluded that the "04" was a shell company, stating in the complaint that after investigating Hardat, they "uncovered no evidence [he] operated any substantial legitimate businesses" from 2014 to present day.
But at the time, Hardat tried sweetening the pitch by leaning on L.K. for "wealth management advice" on how to invest it once it was out of custody," the complaint reads.
On Halloween of that year, Hardat allegedly contacted L.K. in a panic, suggesting his big multimillion dollar bonanza with Pepsico was going to close in a week, but "that an investor was falling out."
To help him seal the deal, Hardat asked L.K. to loan him $3 or $4 million, according to the complaint. L.K. agreed. A promissory note was drawn up by L.K. to gift Hardat the $4 million under the condition that he be paid $200,000 interest in one week.
The money was wired. Lost in the small print of the promissory note's language was that Hardat claimed he was debt-free. However, the complaint suggests Hardat "owed numerous debts and was already in multiple lawsuits."
With the cash already in Hardat's bank account, the alleged wheeler-dealer, according to the complaint, spent it on "purely personal purposes unrelated to the beverage industry."
In fact, the complaint details Hardat allegedly spent $3.8 million of L.K.'s money by paying outstanding debts, clearing a judgment to one clerk-of-court, covering the almost $400,000 bills on the Lamborghini and Maserati rentals, spending around $84,000 on his children's private school, and $51,000 on his Ritz-Carlton rent.
When the eight-day deadline approached, Hardat failed to repay the millions plus interest.
Perhaps to buy time, Hardat paid L.K. $205,000 and informed his investor he added the extra $5,000 because he was "grateful for the victim's patience," the complaint notes.
As time ticked away, L.K. became more impatient to recoup the millions.
Hardat and L.K. exchanged texts messages. In one, Hardat allegedly explained that the monies were "out of my account" and that the bank "confirmed it at feds already."
"These statements were false," the complaint states.
L.K. and Hardat had a Friday meeting at a steakhouse in December of that year. Hardat tried to explain to L.K. that yet another investor bailed on his blockbuster beverage deal but that he was going to miraculously turn the $4 million into $12 million.
Then and there, Hardat allegedly executed a check for $8 million with the memo line reading "04 pref/dividend/share."
But when L.K. went to the bank to cash Hardat's check, it was "returned for insufficient funds" and, the complaint adds, the banker informed L.K. that Hardat's available funds were "nowhere near" the amount needed to clear the check.
Hardat's hustle continued. This time, he found a willing, deep-pocketed acquaintance at his children's private school, identified as J.S.
During a birthday party hosted at Hardat's home in the Ritz-Carlton and then at his luxury box at the Staples Center, Hardat sold J.S. on his "04" water business and the complaint suggests he served his guests water "produced or labeled by 04."
Talk turned to a potential venture Hardat had going with "distributing 04 water in Japan," according to the complaint.
And again, to possibly whet the appetite, Hardat allegedly showed he was loaded. He allegedly flashed J.S. a screenshot from a bank alert with the account balance of $499,988,562.52, the complaint suggests.
Hardat admitted in the complaint to J.S. that the funds were "temporarily frozen due to a pending deal with PepsiCo."
On Sept. 8, 2015, Hardat furnished J.S. with two promissory notes (one for $110,000 and another for $250,000) and vowed to repay the loan "with 100% interest within 45 days," the complaint reads.
J.S. balked.
So, Hardat allegedly upped the ante.
That's when the feds say Hardat started namedropping business associates like NBA stars Stephen Curry, D'Angelo Russel and Shaquille O'Neal as "endorsing Hardat's products," according to the complaint.
He even suggested, the complaint goes on, that billionaire computer mogul Michael Dell loaned him $5 million and that he "had gotten 100% return on that loan."
Conservatively, J.S. offered Hardat a small loan in the form of a cashier's check worth $8,854.
The check was made out to "Net Gain Financial.: Re Dave Hardat."
But the feds note that J.S. was being broadsided and that "Net Gain Financial" was actually a "luxury auto dealer which Hardat owed money," the document states.
That meant Hardat was getting J.S. to cover the rent on his Maserati and Lamborghini.
In the months of February through March of 2016, J.S. allegedly loaned hundreds of thousands of dollars to bankroll Hardat's "Calo4nia Beverages," the complaint reads. J.S. was allegedly told to wait until the end of March to recoup.
Once March passed, J.F. became increasingly demanding to be repaid and meeting was arranged at a Starbucks between J.S., Hardat and even Hardat's wife.
"Hardat's wife assured victim J.S. that he would be repaid," according to the complaint.
That is when, the document notes, that Hardat passed J.S. with two checks each for $395,000. When J.S. attempted to cash them, the complaint suggests they "later turned out to be bad, backed by insufficient funds."
Back in August of last year, Hardat was allegedly continuing fishing for investors, only he switched up the details.
He allegedly was friendly with W.J., who also lived at the Ritz-Carlton.
W.J. was involved in a land buy for a waterpark project.
Hardat allegedly wanted in.
Like his previous alleged victims, Hardat showed W.J. a bank balance—only this time it was substantially smaller, with $169,988,562.52, and offered to loan W.J. $6 million, according to the complaint.
Hardat's $1.5 million check for the waterpark venture was written out with a caveat: He asked W.J. to hold the check until he could open a new checking account. W.J. allegedly returned to write a $50,000 cashier's check to Hardat as a fronted loan of "earnest money" to a potential "seller of the land for the water park."
When Hardat came up short to repay the loan, W.J. then attempted to cash the original $1.5 million check. "It was returned for insufficient funds," according to the complaint.
Stalling tactics wore on W.J. and soon a report was filed at the Beverly Hills Police Department.
When an officer approached Hardat about being in arrears with W.J., Hardat allegedly promised to repay the money and blamed the financial mess on "issues" with his bank. By April 2018, Hardat, apparently failing to make good on the money he owed W.J., sent a text that allegedly read: "I'm sorry I took the money; I'll put it back."
The complaint shows that Hardat allegedly kept this ruse going. He allegedly diversified from water to coffee products with a victim known as C.B. in February of this year. In this case, Hardat claimed he had a 10 percent stake of Bai Beverages but sold it to Dr. Pepper the year before.
Again, the document shows, he flashed a bank statement with over $100 million and managed to convince C.B. to invest $110,000, despite Hardat's alleged misrepresentations.
Hardat allegedly withdrew most of the seed money on repayments to people he purportedly owed. He cashed the rest out at ATMs and "spent another $22,989 on retail purchases," according to the complaint.
Around the same time as C.B. was allegedly losing money on Hardat, the Canadian was cooking up a deal with a restauranteur identified as S.K.
After learning about a nightclub deal S.K. was prospecting on, Hardat, the complaint notes, "falsely represented that he had an advanced degree in chemistry" and ties to Dr. Pepper.
And he allegedly promised to come in for $2 million; going so far as to take out a line of credit at a bank.
According to the complaint, Hardat proposed that he and S.K. open a joint bank account with $500,000.
By early May, Hardat received wire payments from S.K. and his business partner amounting to almost $300,000.
This time, according to the complaint, Hardat allegedly sent S.K. a screenshot of the bank's approval for a $2 million line of credit.
But the complaint suggests that Hardat "tricked" S.K. into "believing that he had the funds necessary to close his nightclub deal" by May.
The alleged confidence man then sent a second screenshot allegedly revealing that a repayment of $240,000 was completed.
But the money never arrived.
The feds say in the document that Hardat "has not repaid" S.K.