Rebel Wilson's 'Pooch Perfect' Faces Viewer Claims of Animal Abuse
ABC's dog-grooming reality show Pooch Perfect debuted on Tuesday, but it already finds itself mired in controversy.
The Rebel Wilson-hosted competition has its share of defenders, but many others have criticized it, alleging animal abuse. Along with the animal rights advocacy group PETA, many social media users have expressed outrage.
The series features 10 professional dog stylists competing in a series of challenges with a judging panel composed of reality TV star Lisa Vanderpump (Vanderpump Rules), celebrity pet groomer Jorge Bendersky, and veterinarian Callie Harris.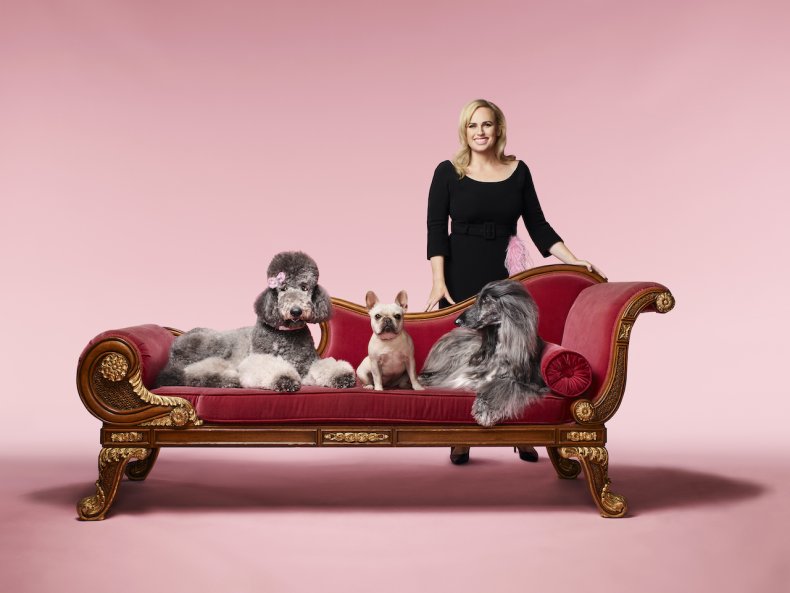 The show's title is a play on words of the hit film franchise Pitch Perfect, which stars Wilson. Ironically, Wilson, who also executive produces Pooch Perfect, is allergic to canines, Forbes reported.
Contestants radically changed the appearances of various dogs on-air during Tuesday's premiere, which immediately resulted in backlash on social media from viewers who called the actions unsafe. Along with extensive grooming, dogs are bejeweled, and some have their hair dyed for the challenges.
PETA (People for the Ethical Treatment of Animals) has adamantly condemned the show. On its official Twitter account, the group wrote that Pooch Perfect "encourages people to treat dogs as if they were things to decorate, like a ceramic pot, or to give them dangerous at-home dye jobs, which not only carry the risk of an allergic reaction or fatal toxic poisoning but also stress them out."
One Twitter user noted that while he's "not one of those @PETA nutjubs by any stretch of the imagination," he still felt what the show encourages is wrong. "Leave those poor dogs alone and stop with the hair dyes and feathers and jewels!"
One especially drastic makeover saw a dog transformed to resemble a leopard, complete with dyed spots.
The leopard look dismayed many who tuned in.
Not everyone was critical of Pooch Perfect, though. One person, who wrote that they once worked in pet grooming, said dogs in such competitions love the attention and are having fun.
Some took humorous swipes at those outraged by the show. A writer even imagined the appearances of critics' own dogs with some supposedly disparaging photos.
Others poked fun of the show's host with reminders about Wilson's role in the notorious flop film adaptation of Cats (2019).
Pooch Perfect runs for eight episodes and was a hit in its debut. The premiere episode drew in an impressive 4.17 million total viewers on Tuesday, according to thetvratingsguide.com, making it the No. 2 show during the coveted 8 p.m. primetime slot, behind only NBC's NCIS.