Pop Star Arrested for Illegal Dancing in Saudi Arabia, Where Dabbing Is Taboo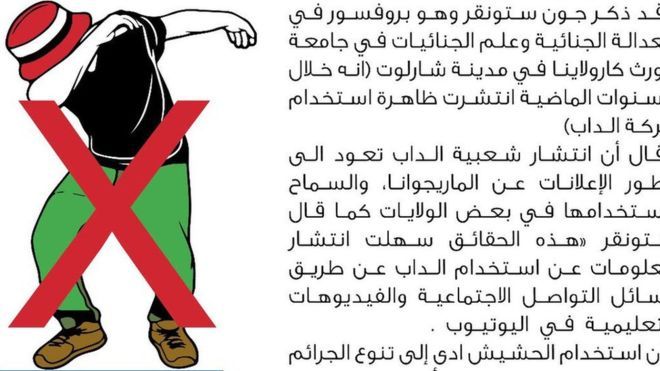 Fans of the Saudi Arabian pop star Abdallah Al Shaharani began a social media campaign supporting the singer and TV host after he was arrested at a recent music festival for dabbing, a dance move considered taboo and recently banned in the conservative nation.
Twitter users changed their profile pictures to images of Shaharani, renaming their accounts and spreading messages of solidarity with the celebrity after he apologized for "unintentionally and spontaneously making the dance move" at the Taif festival.
"I apologize to our respected government and to my audience for unintentionally and spontaneously making the dance move at Taif festival," the singer wrote on Twitter Tuesday. "Please accept my apology."
Videos of Shaharani dabbing at the festival quickly went viral online, with users sharing an Arabic hashtag translated to #AbdallahsSnaps.
Dabbing faced scrutiny from law enforcement officials in Saudi Arabia after becoming popularized in American hip-hop nearly two years ago. The National Commission for Combatting Drugs later banned the dance move—which involves someone nodding their head toward one of their folded elbows with both arms pointed in the same direction—after determining it emphasizes drugs in everyday music culture.
But Shaharani's fan base overwhelmingly supported the singer after his apparent improvised dance over the weekend, while many avoided directly endorsing the taboo move.
"We will be with you in all of your sadness and joy," one Twitter user wrote. "This was just a spontaneous move, he has since apologized to the country's people and government and you're still holding it against him?" wrote another.
Other Saudi celebrities came to Shaharani's defense, including TV presenter Abdulkarim Al Harbi, who wrote, "I'm sure it was an accident, because I personally know this man and his morals, and he has apologized and shown people that he wasn't aware of the meaning of the move."
Still, many Saudis who witnessed the celebrity's illegal dance move considered the act heinous, questioning his morals in a society fundamentally based in its traditional religious values.
"Even though the anti-drug authority banned this move and warned people not to perform it, this contestant is promoting it at a public festival!" One user wrote. "Does he think he's challenging authorities with these actions?"
Shaharani could face legal action after his set at the Taif Festival sparked backlash within the Islamic kingdom. Abdul Ella Al Sharif, the secretary general of the drug-control committee, reportedly instructed local police to "apply the law against" the celebrity the same way they would any other Saudi citizen who "incites or advocate for abuse of drugs."