20-Year-Old Rapper Pop Smoke Killed In Home Invasion Robbery
Rapper Pop Smoke was killed in his Hollywood residence on Wednesday morning, after two men shot him in a home invasion, according to TMZ.
The 20-year-old rapper, whose real name was Bashar Barakah Jackson, was taken to Cedars-Sinai Medical Center in West Hollywood, California, where he was pronounced dead, after a 4:29 a.m. call.
According to TMZ, the house Jackson in which was shot was owned by Edwin Arroyave husband of Real Housewives of Beverly Hills star Teddi Mellencamp. Prior to the shooting, there was a party or gathering at the house.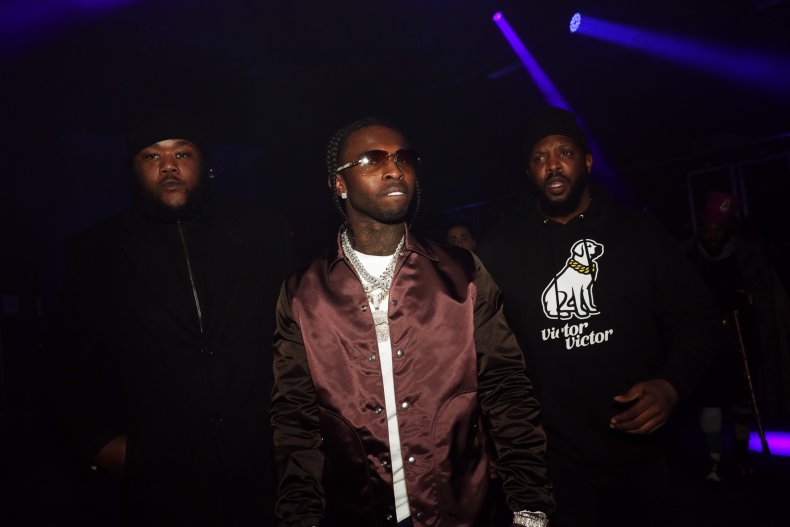 Jackson's killing comes weeks after he released his second mixtape on February 7, titled Meet the Woo 2, which featureds collaborations with Migos member Quavo and other up-and-comers like A Boogie wit da Hoodie Fivio Foreign, and Lil Tjay. The deluxe edition includes additional tracks featuring Nav, Gunna and PnB Rock.
Originally from Brooklyn, New York, the rapper's debut mixtape Meet the Woo gained him much attention and critical acclaim. Known as one of the biggest artists making "drill" music, a subgenre of trap characterized by dark lyrics and bass-driven beats, Pitchfork included the single "Welcome to the Party," as one of their best rap songs of 2019. The track was remixed by rappers like Nicki Minaj and Skepta. Jackson also collaborated with Travis Scott on the song "Gatti" from Scott's label's eponymous album JACKBOYS.
In January, Jackson was arrested at New York's John F. Kennedy International Airport for transportation of a stolen vehicle, according to CNN. Jackson pleaded not guilty during his arraignment in Brooklyn and was released on a $250,000 bond.
On Sunday night, Pop Smoke was scheduled to perform a Brooklyn show alongside fellow drill artists Fivio Foreign and Sheff G. According to Pitchfork, a sign informed concertgoers that Jackson would not attend the show.
According to Los Angeles police, two suspects in masks were seen fleeing the scene. Police were not able to confirm if the suspects were in custody.
Minaj shared a photo of the rapper on Instagram with a caption remembering the rapper. "The Bible tells us that jealousy is as cruel as the grave. Unbelievable. Rest In Peace, Pop," she wrote.
Hip Hop Festival Rolling Loud, where Pop Smoke was scheduled to perform before the New York Police Department ordered he be removed from the lineup, also remembered the rapper on Twitter, sharing videos the rapper performing. "YOU CANNOT SAY POP AND FORGET THE SMOKE," they wrote.
"We are devastated by the unexpected and tragic loss of Pop Smoke. Our prayers and thoughts go out to his family, friends and fans, as we mourn this loss together," Republic Records, the label Pop Smoke was signed to through Victor Victor Worldwide, wrote in a statement to Newsweek.