Pop Smoke Mourned By Nicki Minaj, 50 Cent, And More As Celebrities React To Rappers Untimely Death
The hip-hop community mourned the death of rising rap star Pop Smoke on social media. The Brooklyn native was shot and killed during a home invasion robbery in Los Angeles on Wednesday morning, according to a TMZ report.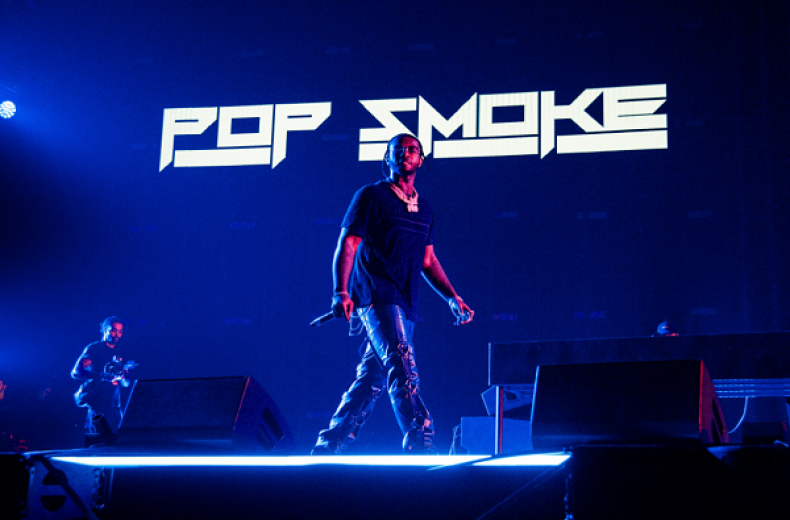 Nicki Minaj, who appeared on the remix of Smoke's viral hit, Welcome to the Party, was one of the first to extend her condolences. Minaj shared her shock over Smoke's untimely death by posting a picture of him on her Instagram.
"The Bible tells us that jealousy is as cruel as the grave. Unbelievable. Rest In Peace, Pop," she wrote alongside the photo.
Fellow New York rapper and television producer Curtis "50 Cent" Jackson also grieved Smoke's death, sharing a message on Twitter that read: "R.I.P. to my man Pop Smoke, No sympathy for winners. God bless him."
Jackson, who Smoke referred to as a musical influence, recently gave the young rapper his seal of approval during an interview on Hot 97's Ebro in the Morning.
"You like Pop Smoke?" Jackson asked show host Ebro Darden. "Oh, you better. Wooo. Woo baby!"
When Darden asked Jackson his thoughts about the many comparisons some rap fans made between him and Smoke, the 44-year-old noted some similarities but suggested Smoke delivered a new type of "vibe."
"It's a whole new vibe, though," Jackson said. "Everybody has influences, whether you're conscious of it or not."
Twenty-year-old Smoke, who was born Bashar Jackson, burst onto the rap scene with the release of Welcome to the Party, which became the song of the summer in 2019. Rappers including Skepta, French Montana and Dave East also appeared on remixes of the song, which was featured on his album Meet the Woo 2. The project, which also included collaborations with artists like Nav and PnB Rock, peaked at No. 7 on Billboard's Hot 200 chart just days before Smoke's death.
Gunna, who appeared on Smoke's second single, Dior, off the Meet the Woo 2 album, was also stunned to learn of his death. "Damn we was just together loc R.I.P. @realpopsmoke life too short! LLWOO," he captioned an Instagram photo of the two men sitting side-by-side.
Smoke died a Hollywood Hills residence in the early hours of Wednesday morning. According to TMZ, Edwin Arroyave, the husband of Real Housewives of Beverly Hills cast member Teddi Mellencamp, owns the home. Arroyave owns a number of properties in Los Angeles, and Smoke was believed to be renting the residence.
See a few more reactions to Pop Smoke's death below.