Rapper Princess Nokia Accused of 'Scamming' Small Business
Rapper Princess Nokia allegedly left a small business owner stranded without pay or credit for her work, according to a video that went viral this month.
Ina Gundersen, the creator behind jewelry store Plopp Studio in Oslo, Norway, said she was thrilled when Princess Nokia's team first reached out to her. The management was seeking jewelry for the rapper after she lost her luggage on the way to an Oslo concert, Gundersen said in a TikTok video on August 16. Her story has been watched 287,000 times.
"So the management contacted me saying, 'Hey, we heard you wanted to gift something to Princess Nokia,'" Gundersen said. "I thought, hmm, 'gifting,' I don't remember saying it was free, but okay."
Nonetheless, gifting the celebrity seemed well worth it for the social media exposure she was allegedly offered.
"I was told I would get a tag on their Instagram—and I was like, 'Oh my god, that's a big deal, that's huge'—and that I would have a photo of her wearing my necklace," said the creator.
Small businesses depend heavily on social media exposure. According to the financial resource Fundera, 74 percent of consumers rely on social media to guide their purchasing decisions. Meanwhile, customers who engage with a business on social media spend up to 40 percent more with them in the long term.
Amid ongoing inflation and global supply chain issues, online reach has only grown more critical for struggling businesses. Optimism among U.S. small business owners dropped for six months in a row as of July, according to a statement from the National Federation of Independent Business (NFIB), which also said that expectations for better business conditions had reached an all-time low.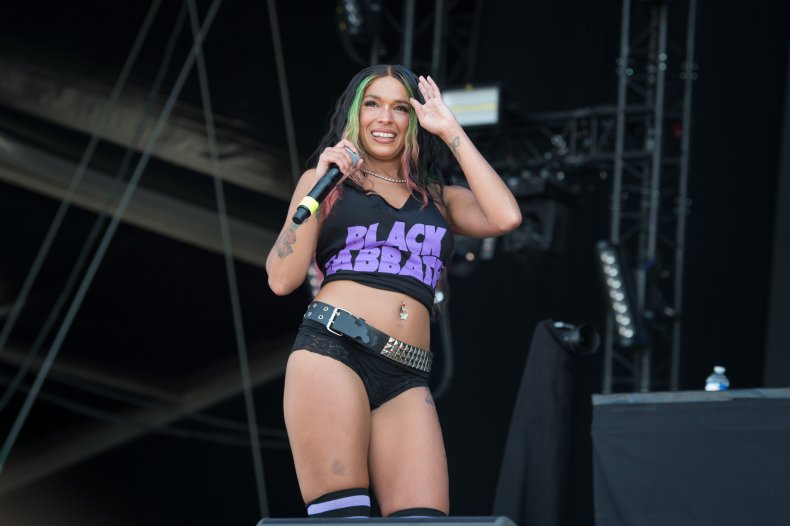 Elated at the prospect of her work being blasted to Princess Nokia's 1 million Instagram followers, Gundersen said she quickly got to work.
"I got super excited, I started on the necklace immediately, I canceled my plans that night," Gundersen said. "I spent three hours on making her necklace. I called my mom 'cause I got so excited, and my sister and some of my friends, and my boyfriend."
Gundersen said she sent a photo of her final product to the management, who told her it was "perfect." According to her, the team directed her to drop the necklace off at Princess Nokia's hotel and told her the rapper would wear it on August 11, during her concert in Oslo.
Gundersen's excited sister managed to score tickets so that they could watch Princess Nokia wearing the necklace live.
But at the concert, Gundersen realized that Princess Nokia was wearing a different necklace—which broke onstage.
"It wasn't my necklace and it was a bit disappointing, to be honest," said Gundersen. "But I thought, 'Hey, she has lots of concerts left, she's gonna wear it tomorrow.' But she didn't."
Ultimately, the jewelry maker said, "I wasn't paid, I didn't get a tag, I didn't get a photo, I didn't get tickets to her show, and I didn't even get a personal thank you."
Princess Nokia's management has disputed that any representatives promised Gundersen her necklace would be worn.
"Neither Princess Nokia nor management promised Plopp Studio that the gifted necklace would be worn at the Oya Festivalen, as alleged in the video," a spokesperson told Newsweek. "Princess Nokia did really like the piece, and very likely may have worn it later in the tour, had Plopp Studio not taken to TikTok to make false statements about promises that were not made."
"After the video appeared, because the designer was clearly upset, we reached out and paid them for the necklace," added the artist's management.
Gundersen's video blew up as viewers fumed over the idea of a celebrity refusing to recognize the small business owner's work.
"They full blown scammed you, I'm so so sorry," said one comment. "Your jewelry is gorgeous and anyone would be lucky to wear it."
"That's so not okay, your piece was beautiful," said another viewer.
Other users said that Princess Nokia made multiple videos disputing Gundersen's story, but the rapper has since deleted her TikTok account.
Newsweek reached out to Gundersen for comment.
Updated 08/29/2022, 4:24 p.m. ET: This story has been updated with comments from a Princess Nokia spokesperson and additional information.