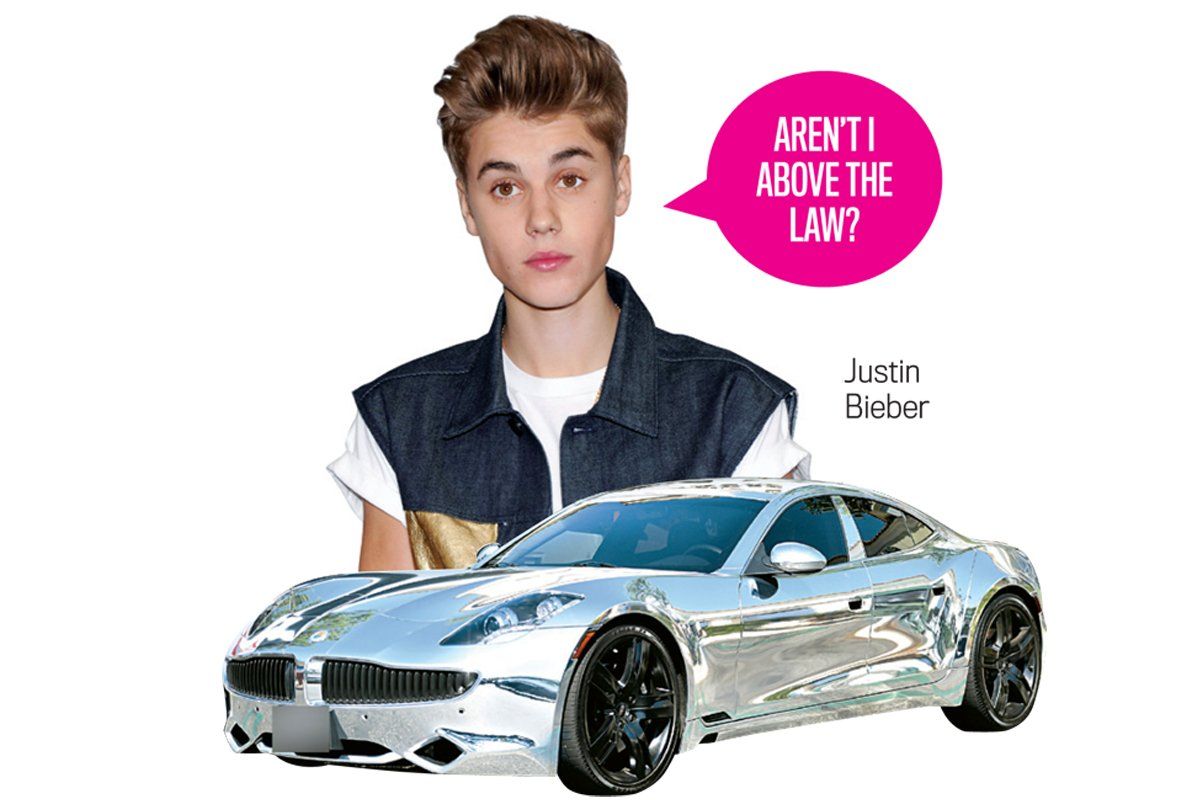 When Justin Bieber was cited for reckless driving last month, the teen heartthrob claimed he was simply trying to avoid aggressive paparazzi. His car, however, made flying under the radar impossible. Bieber's $110,000 Fisker Karma is custom coated with a mirrorlike chrome body wrap. It's a look that's currently all the rage among platinum-selling rappers such as Flo Rida—who chromed out his $2.4 million Bugatti Veyron—pro athletes, and other wealthy spotlight seekers like Scott Disick of Keeping Up With the Kardashians.
"You want to separate yourself from the average Joe? This is the paint job you get," says David Maxwell, sales director for West Coast Customs, the Southern California firm that wrapped Bieber's Fisker in metallic vinyl. "It's so different, no one has it. It's a very expensive process that not everybody can afford."
The price tag for a vinyl chrome wrap at West Coast Customs starts at $20,000 and can climb as high as $60,000 for a chrome paint job. While such upgrades certainly violate codes of good taste, pimping one's ride in chrome does not run afoul of any existing laws despite certain—ahem—glaring liabilities.
Steve Saghdejian, owner of Los Angeles's Specialty Car Craft, says he declined to foil-treat a famous client's vehicle in 2009 because of the danger it could pose on the road. "Just imagine: there's a car on the 405 with the sun glaring down on it. For the person sitting on the other side of the freeway, that glare is like a mirror in their face," Saghdejian says. "The last thing we wanted was to be in a $100 million lawsuit. So we were very hesitant to do it." Saghdejian eventually caved to demand, but he makes clients sign waivers indemnifying Specialty Car Craft and advises them to drive their cars only after sundown. "Our average customer has four to six other cars," he points out.
In the view of Myles Kovacs, editor and CEO of the custom-car bible Dub magazine, which regularly features mirror-finished vehicles such as the rapper Tyga's blinged-out gold Audi R8, the vogue for chrome cars comes down to nouveaux riches wanting to flaunt their affluence. "These guys are new money. They want to be the loudest, the most outrageous, and to be seen," Kovacs says. "It's a changing of the guards. Where you might say, 'Look at that car. It's gross!' Well, guess what? It's the hottest thing on the street right now."
For now. But the arms race to own the flashiest vehicle continues, with cars recently turning up not just in silver but also metallic Smurf blue, Gatorade green, and screaming pink.