Pope Accepts Resignation Of Bishop He Initially Defended In Sex Abuse Scandal
Pope Francis has accepted the resignation of three Chilean bishops at the center of a child sexual abuse scandal involving the South American country's clergy.
The leader of the Roman Catholic Church accepted the resignation of Bishop Juan Barros as well as those of two others in Chile, Archbishop Cristián Caro Cordero of Puerto Montt and Bishop Gonzalo Duarte García de Cortázar of Valparaíso, the church announced on Monday.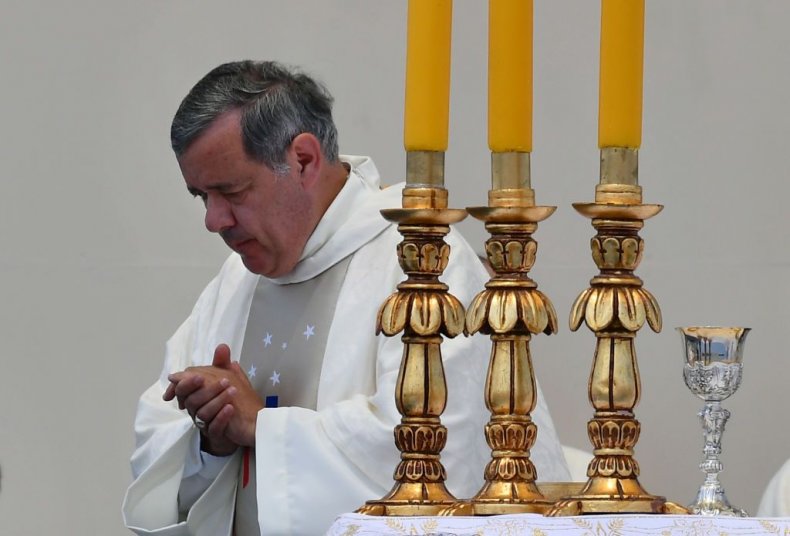 Barros, who is a central figure in the controversy, has been accused of covering up abuse committed by another priest in the 80s and 90s. However, the pope, who hails from Argentina, initially defended the prelate in January, saying the allegations were "slander." He said that the day he saw "proof against Bishop Barros," then he would talk.
"There is not a single piece of evidence against him. It is all slander. Is that clear?" Pope Francis said, according to BBC.
The pope later apologized to victims of Chile's sexual abuse scandal. "I apologize to them if I hurt them without realizing it, but it was a wound that I inflicted without meaning to," he said.
All 34 of Chile's Roman Catholic Bishops offered their resignation to the pope last month. With the pope's announced decision to accept only three, it remains unclear if the other 31 clergy members will remain in their positions.
An entire delegation of bishops deciding to resign is almost unheard of in church history, Al Jazeera reported.
Barros, the most controversial of those who resigned, was appointed to his position in 2015 by Pope Francis. His nomination quickly drew criticism from Chilean adherents, some of the country's other bishops and the pope's own sex abuse prevention advisers. Barros is accused of protecting pedophile priest Fernando Karadima and ignoring the experiences of victims.
Commenting on the situation, the Vatican said Monday that the resignations are a move toward restructuring Chile's conflicted church. Juan Carlos Cruz, the key witness in the abuse case, expressed his approval of the church's decision via Twitter.
"Today begins a new day for the Catholic Church in Chile and hopefully the world," Cruz wrote. "We hope this is the beginning of the end of this culture of abuse and cover-up in the Church. Emotional but great day!"
While a massive sex abuse scandal has gripped the Catholic Church for many years, the scandal in Chile has also grown. Since 2000, some 80 priests have been reported to police.