Pope in Africa: Corruption and Poverty Top Agenda as Francis Arrives in Kenya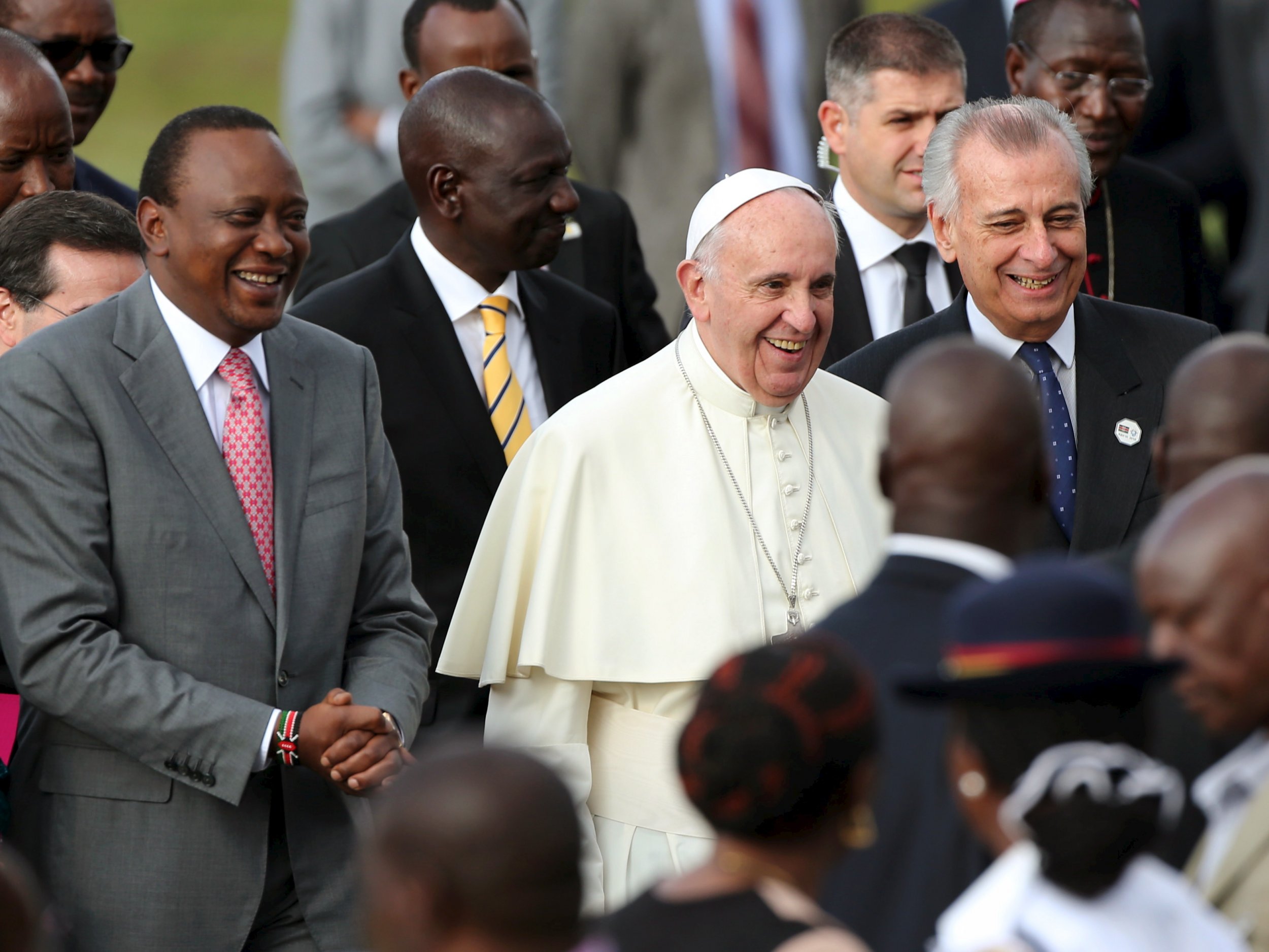 Pope Francis has arrived in Kenya for the start of his first papal visit to Africa amid calls for him to speak out against government corruption and endemic poverty in the East African country.
Kenyan President Uhuru Kenyatta greeted the 78-year-old pontiff when he touched down in the capital Nairobi on Tuesday at the start of a three-day visit to the country, the BBC reported.
The pope will receive a warm welcome in Kenya, where there are around nine million Catholics, equivalent to 22 percent of the population. However UNICEF describes Kenya as one of the most unequal countries in Sub-Saharan Africa, with 42 percent of its population living below the poverty line.
Francis will deliver a mass in the Nairobi slum of Kangemi on Friday and people in similar areas are keen for him to call politicians to account for corruption, according to Nancy McNally, regional information officer in Nairobi for Catholic Relief Services.
"Kenya is a very wealthy country and has a lot of resources, but there's no trickle down effect," says McNally, who visited Kangemi on Wednesday. "He's going to underline the responsibility of governments to their public. People should lead by example and we need good governance and leadership. It's a moral responsibility."
The pope's decision to visit Kangemi was welcomed by a leading Muslim cleric in Kenya. Abdalla Kwamana, the vice-chairman of the Supreme Council of Kenya Muslims, told the BBC's Newsday program that Kenya is often perceived to be "owned by the rich and powerful" and that the pope's visit would enable the slum dwellers to "feel they are a people of substance."
McNally agrees that all religious and ethnic groups are looking forward to the pope's visit.
"Regardless of what religion people are, they're just really excited that he's coming," McNally says. "They're excited about the fact that he's going to the slums...they feel like he's one of them."
Following his meeting with Kenyatta and Kenyan civil authorities on Wednesday, the pope will celebrate Mass at the University of Nairobi on Thursday, with Kenyan media reporting that 1 million people are expected to attend, according to the BBC.
Peter Kaigua, Catholic chaplain at the University of Nairobi, tells Newsweek: "We expect a message of hope. The pope is our father. With all the things that are taking place in the world, we need the voice of hope that comes from somewhere and I think that's what our Holy Father is about, giving hope."
Francis will address the headquarters of the U.N. Environment Programme (UNEP) on Thursday and is likely to speak about the need to tackle global warming ahead of the COP 21 climate summit in Paris, which begins on November 30. Concern for the environment has been a key theme of Francis' papacy: In June, he published a major document in which he stressed the need to tackle man-made climate change.
Rights groups and activists have called on the pope to address a range of issues during his time in Kenya. Human Rights Watch claim to have documented sustained discrimination against Somali refugees and ethnic Somali Kenyans by Kenyan security forces, while African LGBT activists have asked the pope to address the rights abuses faced by non-heterosexual people in the countries he is visiting, the Financial Times reported. Homosexuality is criminalized in 38 out of 53 African states, including each of the three countries Francis will visit: Kenya, Uganda and the Central African Republic (CAR).
"We have real concerns about where Kenya is going for human rights protections," says Maria Burnett, senior Africa researcher at Human Rights Watch. "We certainly hope that we'll hear some strong messaging from the pope during his visit...We see this as a really critical visit for Kenya."
Kenya's government could deploy up to 10,000 police officers to handle the massive crowds expected to follow Francis, the BBC reports, as security fears remain prominent. The Somali militant group Al-Shabab has carried out a number of attacks in Kenya in recent years, including an attack on a university in Garissa in April in which around 150 people, many of whom were Christians, were killed.
Francis played down security fears during his flight from Rome to Nairobi, telling journalists that he was "more worried about the mosquitoes" than any other threats, according to AFP.
Also during his time in Kenya, Francis will speak with President Kenyatta at the State House and address the United Nations (U.N.) office in Nairobi. He departs on Friday for Uganda and will subsequently visit the the CAR.