Pope in Africa: Francis Condemns 'Barbarous Attacks' by Extremists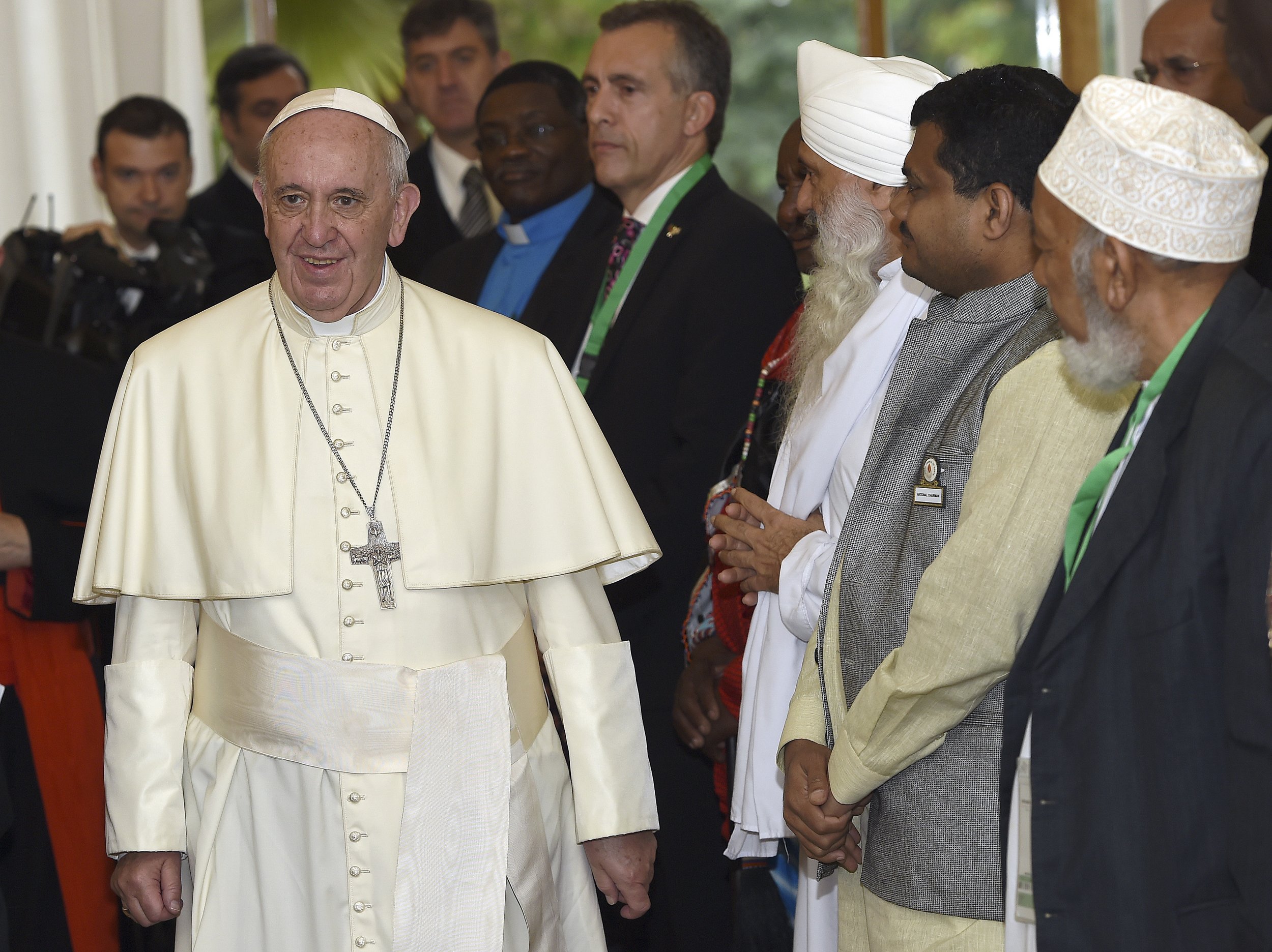 Pope Francis condemned the radicalization of young people that leads to "barbarous attacks" during a meeting on Thursday with religious leaders in Kenya, a country battered in recent years by militant assaults.
The pontiff is in Nairobi for the first leg of a three-part African tour which will also include visits to Uganda and the Central African Republic (CAR). According to AFP , in a meeting attended by local Muslim and Christian leaders, Francis denounced groups that cite religious justification for militant ideologies. "His holy name must never be used to justify hatred and violence," he said.
Kenya has been subject to a wave of attacks by Al-Shabab, a militant group based in Somalia that espouses a fundamentalist interpretation of Islam. The group— which has links to Al-Qaeda —has launched attacks in Kenya in response to the nation's participation in an African Union mission to quash Al-Shabab's rebellion in Somalia. Most notably, Al-Shabab claimed responsibility for a deadly attack in April on Garissa University College, in eastern Kenya, which killed almost 150 people.
Religious militancy is also an ongoing threat in CAR , where Francis will arrive on Sunday. Sporadic violence between rival Christian and Muslim militias has resulted in the deaths of around 90 people in the capital Bangui since late September, and there are currently 470,000 CAR refugees in neighboring countries, according to data from the United Nations refugee agency.
In Thursday's meeting, the pope said that young people are too often "being radicalized in the name of religion to sow discord and fear, and to tear at the very fabric of our societies." Abdulgafur El Busaidy, chairman of the Supreme Council of Kenya Muslims, agreed, saying that the world is "characterized by reckless wars" and that "we are increasingly treated to the very theater of the most absurd," according to AFP.
Upon his arrival in Kenya on Wednesday, Francis also warned that poverty is a factor in pushing people towards joining violent and radical groups. "Experience shows that violence, conflict and terrorism feed on fear, mistrust, and the despair born of poverty and frustration," the pope said when meeting Kenyan President Uhuru Kenyatta, AFP reported.
In another part of Africa, the Sahel region, which encompasses some of the continent's poorest countries, radicalization is an increasing risk to some 41 million young people, a U.N. official warned on Wednesday. According to AP , Hiroute Guebre Sellassie, the U.N. Secretary-General's Special Envoy for the Sahel, told the U.N. Security Council that young people in the region "face hopelessness" and that it risked becoming "a hub of mass migration, and of recruitment and training of terrorist groups and individuals."
The Sahel is a vast belt across Africa, south of the Sahara, which includes Burkina Faso, Chad, Mauritania, Niger and Mali. On Friday, an attack on a hotel in the Malian capital Bamako killed 20 people plus two attackers and has subsequently been claimed by a number of militant groups. Selassie noted that 44 percent of children in the region do not go to primary school and only 36 percent are literate.