Pope Appears to Bless Same-Sex Marriage as U.S. Debates Whether to Turn Back the Clock
Pope Francis says in a newly released documentary that a civil union law providing rights for same-sex couples is necessary, in what are his first remarks as pope in support of the idea.
Francis' comments come as the U.S. appears to be on the verge of a new debate on same-sex marriage with the likely confirmation of a conservative justice to the U.S. Supreme Court and questions from two current justices on the decision that made same-sex marriage legal in 2015.
Francis was asked about the rights of same-sex couples during an interview that appeared in the new documentary Francesco, which debuted Wednesday at the Rome Film Festival.
"Homosexual people have the right to be in a family. They are children of God," Francis said during the interview, according to the Associated Press. "What we have to have is a civil union law; that way they are legally covered."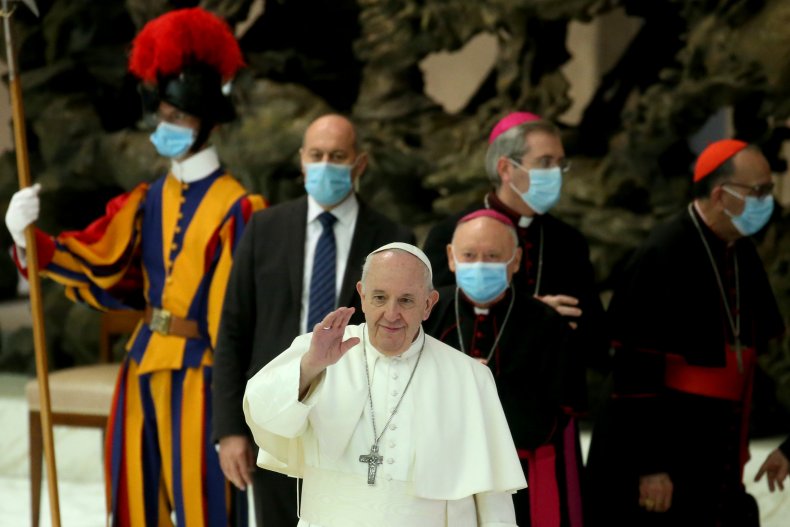 Official documents published by the Offices of the Congregation for the Doctrine of the Faith in 2003 stated that the Roman Catholic Church "teaches that respect for homosexual persons cannot lead in any way to approval of homosexual behavior or to legal recognition of homosexual unions."
Same-sex marriage became legal in the U.S. in June 2015 with the Supreme Court's decision in Obergefell v. Hodges. But President Donald Trump's recent nomination of conservative judge Amy Coney Barrett to replace the late Justice Ruth Bader Ginsburg could tilt the high court to the right, pending Barrett's scheduled confirmation vote next week.
Before Ginsburg's death last month, Chief Justice John Roberts was widely seen as the court's potential swing vote, but Barrett's confirmation is predicted to give the high court a conservative lean that could last decades and may put decisions like the one legalizing same-sex marriage under threat.
In addition to concerns that same-sex marriage advocates have raised about Barrett's confirmation, two conservative justices on the court also issued a statement earlier this month that questioned whether the landmark 2015 case was decided correctly and said it may need to be re-evaluated.
In the statement from associate justices Clarence Thomas and Samuel Alito, Thomas wrote that Obergefell v. Hodges was the result of the Supreme Court's "cavalier treatment of religion" and predicted that the decision would continue to face resistance from Americans who contest it on religious grounds.
Thomas said it "would be one thing" if legislators declared same-sex marriage legal at the national level, "But it is quite another when the Court forces that choice upon society through its creation of atextual constitutional rights and its ungenerous interpretation of the Free Exercise Clause, leaving those with religious objections in the lurch." Thomas added in regards to the 2015 decision, "the Court has created a problem that only it can fix."
In Francis' case, the comments he made in Francesco serve as the first time he has pointedly endorsed same-sex civil unions since his papacy began in 2013, though he has indicated support for same-sex couples for years, according to the AP.
Newsweek reached out to the Vatican for comment but did not receive a response in time for publication.
This story has been updated with additional information and background.