Pope Benedict XVI Mishandled 4 Cases of Sexual Abuse in German Archdiocese: Report
Retired Pope Benedict XVI knew about priests who sexually abused children while he was archbishop in Munich, Germany, in the 1970s and 1980s, something he has denied in the past, according to a report commissioned by the Munich Archdiocese that was released on Thursday.
The Westpfahl Spilker Wastl law firm was commissioned to report on abuse and church officials' handling of allegations between 1945 and 2019, according to The Associated Press.
Lawyer Martin Pusch of Westpfahl Spilker Wastl said at a Thursday press conference that Benedict could be accused of misconduct in four sexual abuse cases.
"Two of these cases concern abuses committed during his tenure and sanctioned by the state," Pusch said. "In both cases, the perpetrators remained active in pastoral care."
AP reported that in a third case, a cleric who had been convicted in a non-German court was employed by the Munich Archdiocese despite Benedict allegedly having knowledge of the conviction.
The law firm also said that Benedict has continued to deny any allegations that he knew about the abuse. However, at the press conference, Pusch insisted that Benedict must have been aware.
"In those cases, those priests continued their work without sanctions," he said. "The church did not do anything."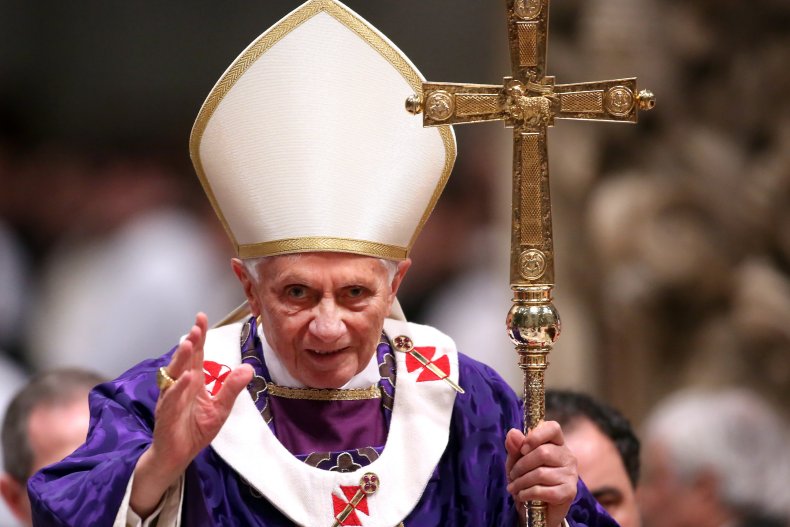 CNN reported that the full report is set for release Thursday. The Vatican said in a statement that it would wait until it is published to make a full comment.
"The Holy See considers that appropriate attention should be paid to the document, whose contents are presently unknown," the statement said. "In coming days ... the Holy See will be able to give it a careful and detailed examination."
Benedict, formerly known as Cardinal Joseph Ratzinger, served as archbishop in Munich from 1977 to 1982.
The abuse scandal first surfaced in Germany in 2010, when a case was uncovered showing Benedict had approved the transfer of a pedophile priest to the Munich archdiocese in 1980, AP reported. He was initially transferred for therapy but was eventually allowed to work again. The same priest would be reprimanded in 1986 for molesting a boy.
Benedict said he was not present at the meeting approving the priest's transfer. However, one of the report's authors, Ulrich Wastl, told AP that the retired pope's alleged lack of knowledge was "hard to reconcile" with church files the firm accessed.
In response to the surfacing of the cases, the retired pope wrote an open letter to Piergiorgio Odifreddi, a mathematician who had once written about Benedict, in the Italian newspaper La Repubblica, according to CNN.
"As far as you mentioning the moral abuse of minors by priests, I can only, as you know, acknowledge it with profound consternation," he wrote in the 2013 letter. "But I never tried to cover up these things."