Pope Condemns Violence, Persecution in Iraq and Syria, in Christmas Message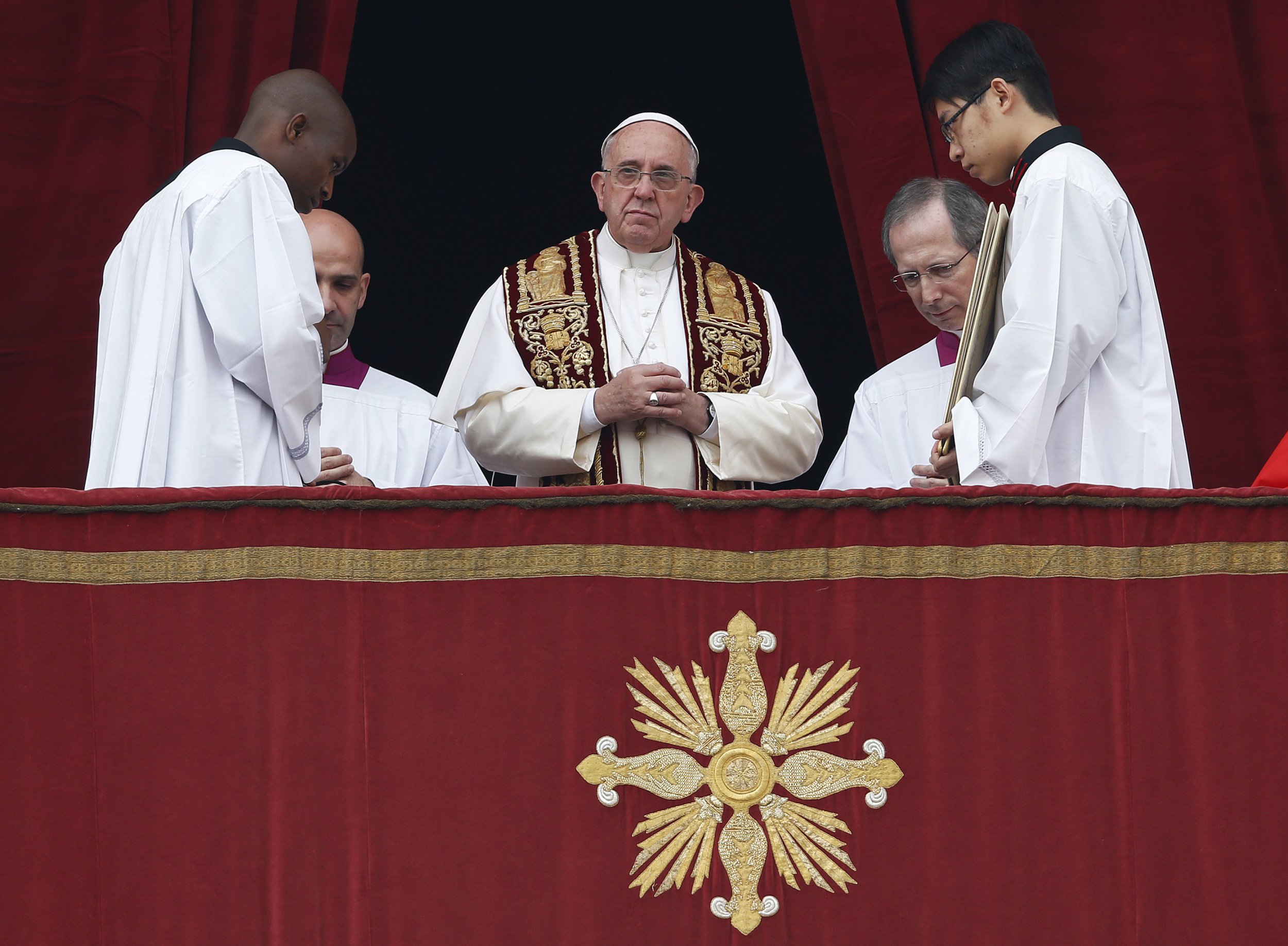 Pope Francis used the traditional Christmas Day address to condemn violence and persecution around the world Thursday, and prayed for peace and fraternity to alleviate suffering.
Thousands gathered in St. Peters Square at the Vatican to hear the pope give his second "Urbi et Orbi" address, or address "to the city and the world," since being named head of the Roman Catholic church in March of 2013. Speaking from a balcony overlooking the square, Pope Francis said:
"Today I ask him, the Saviour of the world, to look upon our brothers and sisters in Iraq and Syria, who for too long now have suffered the effects of ongoing conflict, and who, together with those belonging to other ethnic and religious groups, are suffering a brutal persecution."
Syria's ongoing civil war has left 200,000 dead and the United Nations and neighboring countries are grappling with how to deal with a flood of roughly 3 million refugees fleeing violence between government forces, rebels and militants from the Islamic State. The extremist group has waged a war of terror across Syria and Iraq, wielding control over several thousand miles as it seeks to establish a "caliphate" or self-governing Islamic State.
The Pope asked for peace to be bestowed upon the Middle East and for dialogue to open up between Israelis and Palestinians. He called for suffering to be alleviated in Ukraine and for peace and fraternal existence to likewise reach Nigeria and other parts of Africa, including Libya, South Sudan, the Central African Republic, and the Democratic Republic of the Congo.
The Pope thanked those who have helped treat and fight Ebola in Liberia, Guinea and Sierra Leone, and made again "an urgent appeal that the necessary assistance and treatment be provided."
He focused, too, on children around the world "who are killed and ill-treated," he said, "who are victims of violence, made objects of trade and trafficking, or forced to become soldiers; children, so many abused children." He prayed for comfort for families of the children killed in Pakistan last week when the Taliban attacked a school.
"Truly there are so many tears this Christmas," he said, as he concluded his somber message.
The Pope's Christmas Day message comes after a Monday address to the clergy of the Vatican's Curia, its senior governing body, in which he blasted them for the "catalog of illnesses" afflicting the highest rungs of bureaucracy. The litany of maladies he mentioned includes "rivalry and vainglory," "chatter, grumbling and gossip," "accumulating material goods," and "spiritual Alzheimer's."
The pope "is not starting a witch hunt, he is asking everyone — himself included — for an evangelical mea culpa," i.e. to admit their own faults, Andrea Tornielli, a reporter covering the Vatican for the Italian newspaper La Stampa and its website, Vatican Insider, told the New York Times.
"He is trying to reform hearts and behaviors," Tornielli said.
It seems the pope sees in Christmas the opportunity to emphasize his call for change, from the top echelons of the Vatican to sites of conflict around the world.
The Argentinian pope, who took the reins less than two years ago, has dominated headlines this year with his comments on issues such as evolution, gay marriage and his reported support of talks to reestablish diplomatic ties between Cuba and the United States.