Entrepreneurs Turn to the Pope's Visit to Make a Buck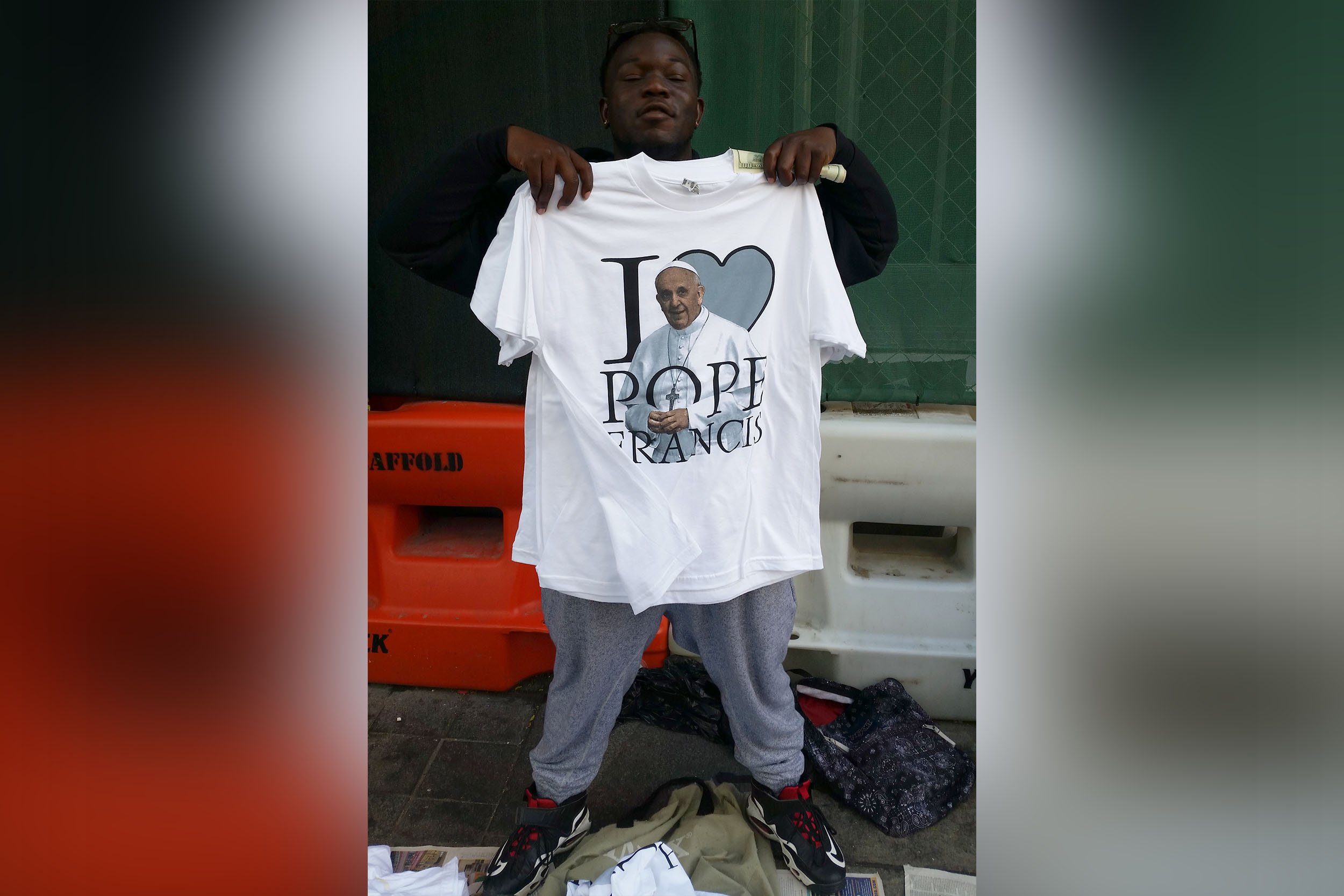 Melvin Washington's hands are full.
He's showing off a white T-shirt with the pontiff's face that reads "I [heart] Pope Francis," in the fashion of the iconic "I 'love' New York" T-shirt. He also has a wad of cash in his left hand. The outermost bank note is a $100 bill.
"T.I said, 'If it ain't about the money," Washington jokes, alluding to the rapper's popular rags-to-riches ballad, which emphasizes the line "stop wastin' my time."
For Washington, the Pope Francis tee is indeed all about the money. Washington makes a living by selling shirts at events across the country. He buys event-appropriate designs online, prints them, and then travels. On Wednesday, he flew from California to Washington, D.C., the pope's first stop in the U.S., with 20 dozen commemorative shirts. A gig or two before this, Washington worked the Chris Brown tour.
"I had intentions of selling the shirts for $20 apiece, but the market down here was $10," he says ruefully. "We went with the market."
Washington is one of many vendors near the World Trade Center memorial Friday morning. While the idea of cashing in on the papal visit might seem cynical, it might reflect a uniquely American perspective on the pontiff—reverence for the Roman Catholic icon, via the Protestant work ethic. Indeed, as faithful congregated near the WTC memorial, vendors hawked their wares with the affected holler of paperboys in black-and-white movies:
"Pope bands! Get your pope bands!"
"Best looking pope buttons in town, guys! Right here."
"The pope is dope!"
Ruthie Coutinho, whose selling pontiff-themed charm bracelets she's calling pope bands, is optimistic she can unload lots of stock.
"We have 14,000 to sell," says the Bloomington, Delaware, resident. The bracelets sell at one for $10, or two for $7. "There's going to be like 1- or 2-million people."
The 37-year-old Catholic adds: "I know these are popular and would sell like crazy." Coutinho is donating 20 percent to Catholic Charities, she says.
Robert Serrano, of Hackensack, New Jersey, has set up a stand and has ambitions beyond a day of sales.
"I'm promoting my website, Printedcoins.com," he explains. (Per the website: "The idea to put a baseball card on a paper coin was the basic idea for the business.") "I decided to put some pope stuff together and come down and be a street vendor for a little while."
As Serrano sells circle-shaped decals and keychains emblazoned with the pope's face, he reflects on what Francis would think of his products.
"I think he'd be OK with it if it was done tastefully," he opines. "I think he'd see an opportunity for people in business to make a living."