Pope Accepts Resignation of Bishop Who Failed to Report Priest's Suspected Child Abuse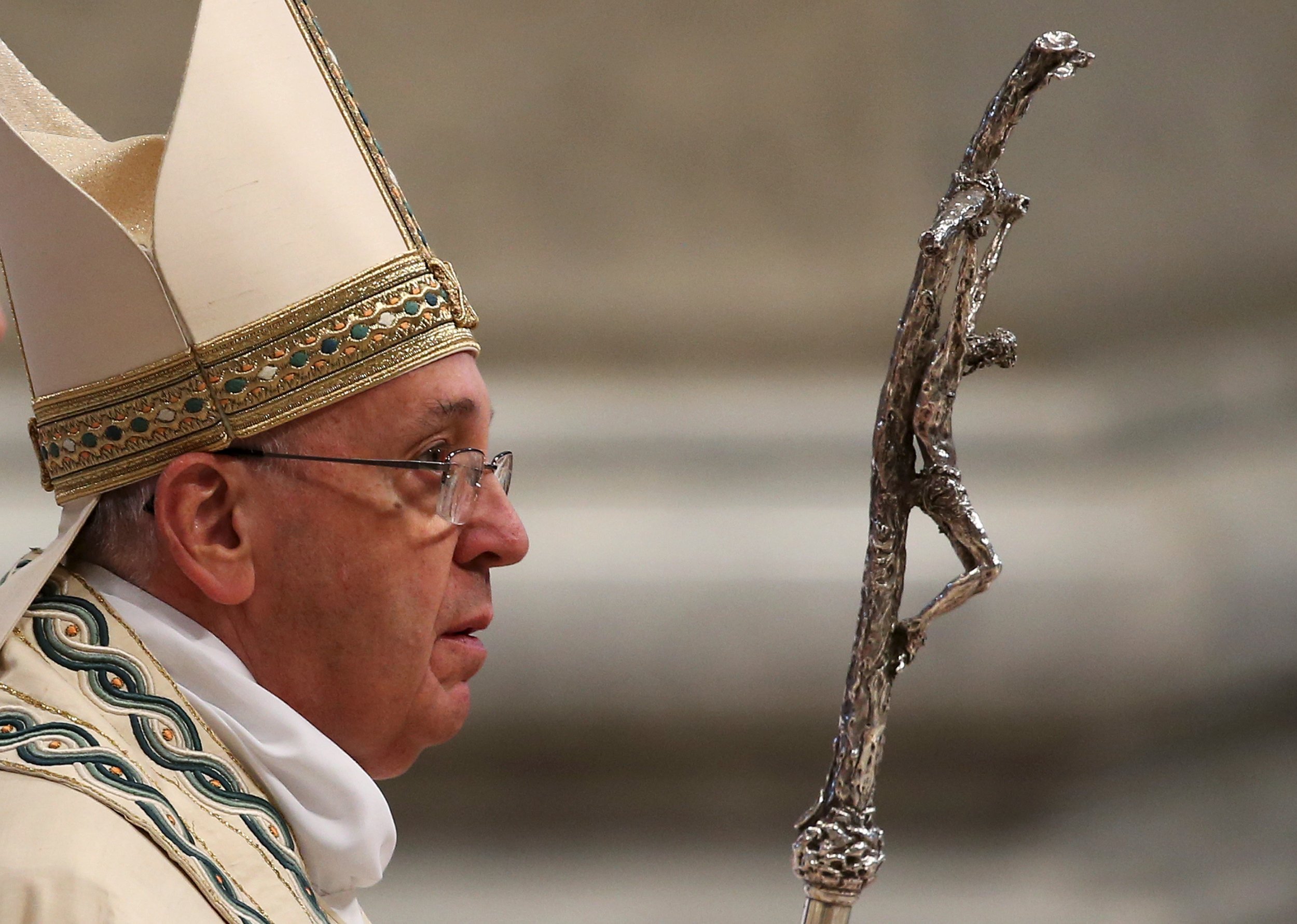 Updated | Pope Francis on Tuesday accepted the resignation of Bishop Robert Finn of the Diocese of Kansas City-St. Joseph, Missouri, who in 2012 pleaded guilty in Clay County circuit court to a misdemeanor charge of failure to report suspected child abuse by one of the priests in his diocese. The announcement was given a single sentence in the Vatican Information Service's emailed morning news bulletin, listed under "Other Pontifical Acts."
Finn submitted his resignation last Tuesday, according to Jack Smith, communications director for the Diocese of Kansas City-St. Joseph. Diocesan officials learned Friday that Francis planned to accept it, Smith told Newsweek.
In December 2010, Finn failed to contact police when a computer technician informed him that he had discovered hundreds of lewd photographs of young girls on the laptop of Shawn Ratigan, a priest in Finn's diocese, some of which were believed to have been taken by Ratigan. According to The New York Times,
Bishop Finn sent Father Ratigan to live in a convent and told him to avoid contact with minors. But until [the following] May the priest attended children's parties, spent weekends in the homes of parish families, hosted an Easter egg hunt and presided, with the bishop's permission, at a girl's First Communion, according to interviews with parishioners and a civil lawsuit filed by a victim's family.
Ratigan was arrested after the second-ranking officer in the diocese, Monsignor Robert Murphy, contacted the police about the material on Ratigan's laptop in mid-May 2011.
Ratigan later pleaded guilty to five child pornography charges in 2012 and was sentenced to 50 years in prison. Two weeks after Ratigan's arrest, Finn removed another priest, Michael Tierney, from his parish after finding "recent reports of Father Tierney's sexual abuse of minors in the early 1970s were credible," according to a law firm asked by Finn to conduct an independent investigation into the diocese's handling of the incident.
Finn was sentenced to two years' probation and ordered to start a program for diocesan employees to detect signs of child abuse and to create a fund to pay for counseling for victims, according to The New York Times. "I truly regret and am sorry for the hurt that these events have caused," he said when the verdict was announced.
"It has been an honor and joy for me to serve here among so many good people of faith," Finn said in a statement Tuesday. "Please begin already to pray for whomever God may call to be the next Bishop of Kansas City-St. Joseph."
Some Kansas City Catholics and Catholic watchdog groups are glad to see Finn go, The Boston Globe's Crux reports. The Survivors Network of Those Abused by Priests, or SNAP, called Finn's resignation "a tiny but belated step forward."
"Finn's departure will, in the short term, make some adults happier. By itself, it won't, in the long term, make many kids safer," SNAP Director David Clohessy said in a statement. He thinks the Vatican should go further. "There were dozens of church staff who could and should have stopped Father Shawn Ratigan's crimes by simply calling 911," he said. "But they protected themselves and their jobs by staying silent. They too should be ousted by the Vatican."
Anne Doyle of BishopAccountability.org, a Waltham, Massachusetts, group that seeks to hold Catholic bishops accountable for not reporting sexual abuse by priests, agrees. "The pope must show that this decision represents a meaningful shift in papal practice—that it signals a new era in bishop accountability," she said in a statement Tuesday. "But what no pope has done to date is publicly confirm that he removed a culpable bishop because of his failure to make children's safety his first priority. We urge Pope Francis to issue such a statement immediately. That would be unprecedented, and it would send a bracing message to bishops and religious superiors worldwide that a new era has begun."
The Catholic League, a conservative group, has stood behind Finn since he was charged in 2012. In a statement Tuesday, Catholic League President Bill Donohue defended his organization's support for the bishop, called Finn's critics "vicious" and wrote:
Though no child was ever touched or abused by Ratigan, it is clear that he never belonged in the priesthood. But Bishop Finn did not take a cavalier attitude toward his misconduct. If he had, Ratigan's problem would have been ignored altogether, counting on the fact that no one ever called his office saying Ratigan had abused his child.
Francis is considering a proposal drafted by a special commission on child sexual abuse. While the exact details of the proposal are unknown, The Associated Press and Religion News Service report that it contains suggestions for how to punish bishops who failed to protect minors from sexual abuse by priests.
While Finn has resigned from his post in the diocese, he will remain a Catholic bishop with all attendant rights, including being allowed to practice Mass. "He's still a bishop in good standing," Smith said.