Pope Francis Vows to Hold Accountable All Involved in Clergy Sex Abuse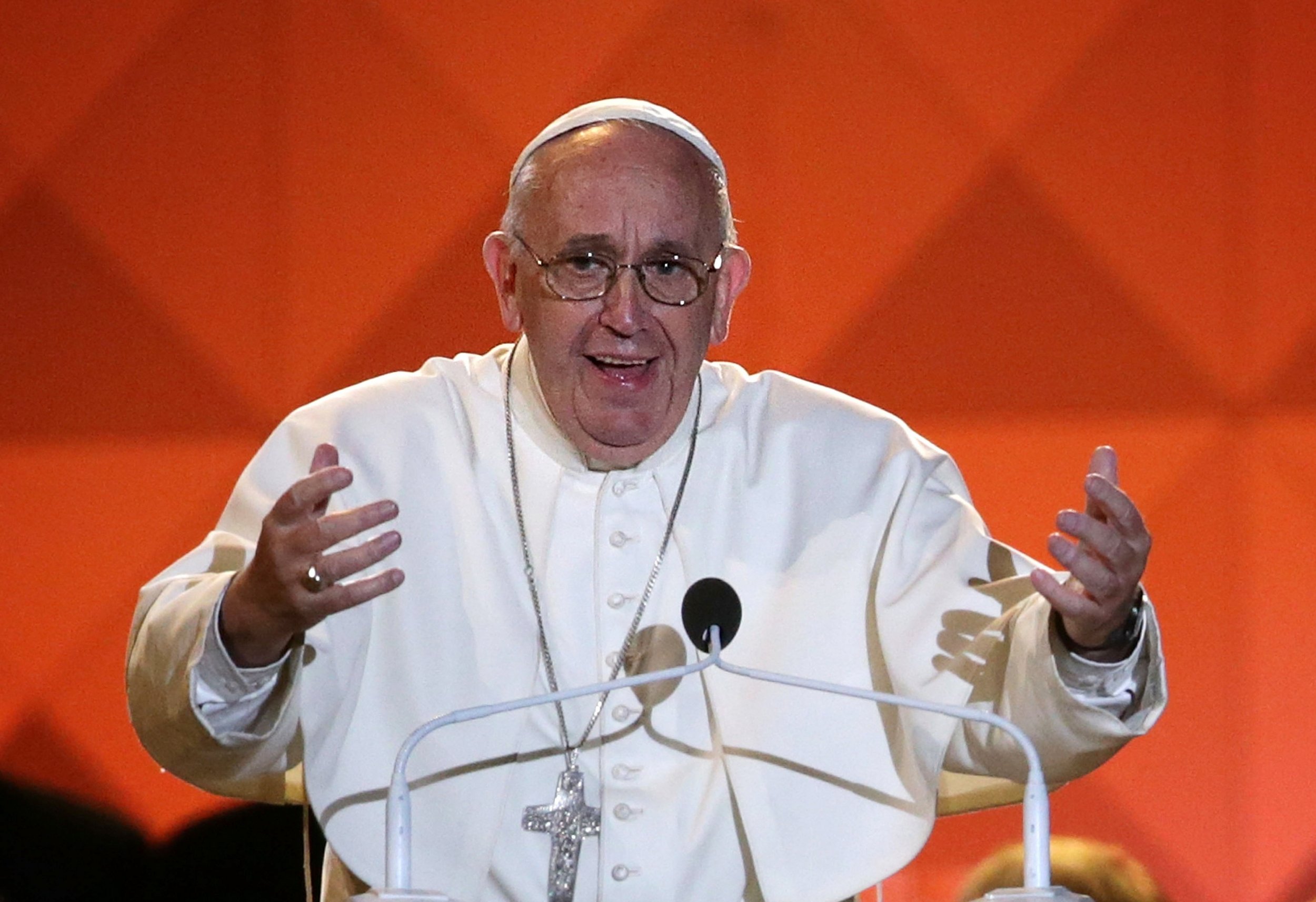 Updated | PHILADELPHIA (Reuters) - Pope Francis met on Sunday with five adults who were abused by Catholic clergy when they were children and vowed to hold responsible all involved in the crime or cover-ups.
While the pope has met with victims of sexual abuse in Rome, this was his first meeting with them on a foreign tour. Philadelphia has been the most publicly scarred in the U.S. Church abuse scandal out of any of the cities visited by Francis, who ends his six-day U.S. tour later in the day.
"I have in my heart these stories of suffering of those youth that were sexually abused," Francis told bishops.
"The people who had the responsibility to take care of these tender ones violated that trust and caused them great pain. God weeps for the sexual abuse of children."
Vatican spokesman Father Federico Lombardi said that at the morning meeting in Philadelphia's seminary the pope "expressed participation in their suffering and pain and shame."
"He renewed the Church's commitment to listen to victims and treat them with justice, to punish the guilty and that crimes of abuse would be fought with an effective program of prevention in the Church and in society," the spokesman said.
Reports that priests had sexually abused children and bishops had covered up their actions emerged in 2002, growing into a scandal that has rocked the Roman Catholic Church.
Victims' groups say the church has not done enough. As many as 100,000 U.S. children may have been the victims of clerical sex abuse, insurance experts said in a paper presented at a Vatican conference in 2012.
Francis spoke to his bishops, before heading on to visit a group of inmates at a Pennsylvania prison and saying Mass for an expected crowd of 1.5 million people.
The first Latin American pope has focused his U.S. trip on immigration, urging Americans to lay aside any hostility to newcomers and addressing adoring crowds of Latino Catholics in his native Spanish.
Francis, who has emphasized humility and service over pomp and circumstance since being elected pope two years ago, will next travel to Philadelphia's Curran-Fromhold Correctional Facility, where inmates made the hand-carved wooden chair he will use during the day's closing Mass.
That open-air mass will take place under tight security. There is a heavy police presence around Philadelphia, with large stretches of downtown closed to vehicle traffic and pedestrians entering a 1.6 mile (2.6 km) corridor being subject to search.
The leader of the world's 1.2 billion-member Roman Catholic Church has met crowds at each step of his six-day visit, which included the first-ever papal address to Congress and a speech to the United Nations General Assembly in New York, before his arrival in Philadelphia on Saturday.
The Archdiocese of Philadelphia has been the subject of multiple damaging grand jury reports relating to the abuse scandal, which by the Church's own estimate has had 6,400 credibly accused clergy between 1950 and 2013 nationwide.
Some 12 U.S. dioceses have filed for bankruptcy in part due to hefty settlements paid out to victims, which have topped $3 billion nationwide.
This article has been updated with more details about the pope's meeting and the abuse scandal.