Pope Francis: After U.S. Gun Control Marches, Church Leader Wants Youth to Keep Shouting
With the "March for our Lives" rally fresh in the minds of hundreds of thousands of gun control supporters who took to U.S. streets in protest this weekend, the leader of the Catholic Church has called on young people not let themselves be silenced.
Kicking off Holy Week services on Palm Sunday, in the lead up to Easter, 81-year-old Pope Francis addressed the tens of thousands of people who had gathered in St. Peter's Square, Vatican City, and referenced a number of bible passages including lessons that could be learned from the story of the crucifixion.
"Young people, you have it in you to shout." Francis said. "It is up to you not to keep quiet. Even if others keep quiet, if we older people and leaders keep quiet, if the whole world keeps quiet and loses its joy, I ask you: Will you cry out?"
His comments came the day after widespread demonstrations took place in response to the February school shooting in Parkland, Florida. He did not directly address the rally but repeatedly called on youthful voices to be listened to. The marches were organised and promoted by teenage survivors of the attack.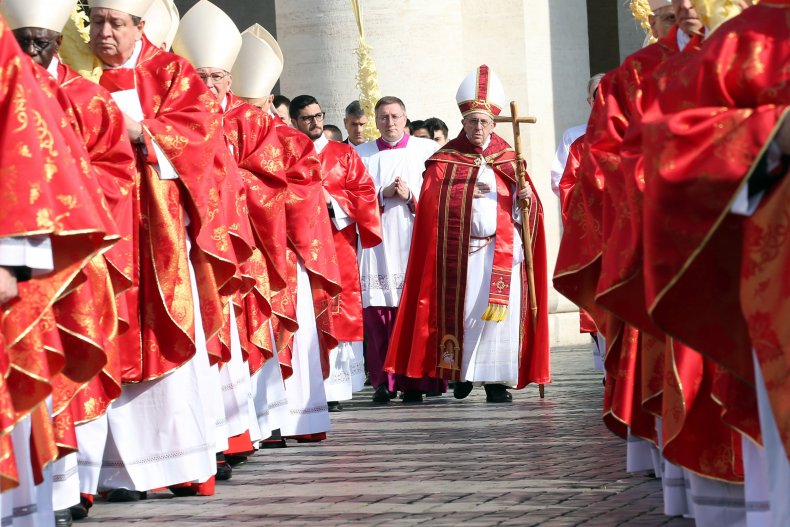 "Dear young people, the joy that Jesus awakens in you is a source of anger and irritation to some, since a joyful young person is hard to manipulate," Francis continued. "The temptation to silence young people has always existed.
"There are many ways to silence young people and make them invisible. Many ways to anesthetize them, to make them keep quiet, ask nothing, question nothing," he added. "There are many ways to sedate them, to keep them from getting involved, to make their dreams flat and dreary, petty and plaintive."
Referencing the Sunday speech on his official Twitter profile, which has amassed more than 17 million global followers, Francis' account wrote: "Dear young people, never get tired of being instruments of peace and joy among your peers!"
The church leader has been known to speak out about political issues and in the past has waded into debates on nuclear weapons, sex crimes and fake news.
Last year, in a Twitter post widely believed to have been a subtle jab at U.S. president Donald Trump over his decision to recognize Jerusalem as the capital of Israel, he wrote: "Political activity must truly be conducted at the service of the human person, with respect for creation and for the common good."
The two men have clashed over several issues in the past, and Trump blasted Pope Francis over a visit to Mexico's border back in 2016.
Trump—then president-elect—wrote on Facebook: "If and when the Vatican is attacked by ISIS, which as everyone knows is ISIS's ultimate trophy, I can promise you that the Pope would have only wished and prayed that Donald Trump would have been President because this would not have happened."