Just A Sprinkle Of Glitter: Pope Says Beauty Vlogs Combat Aggression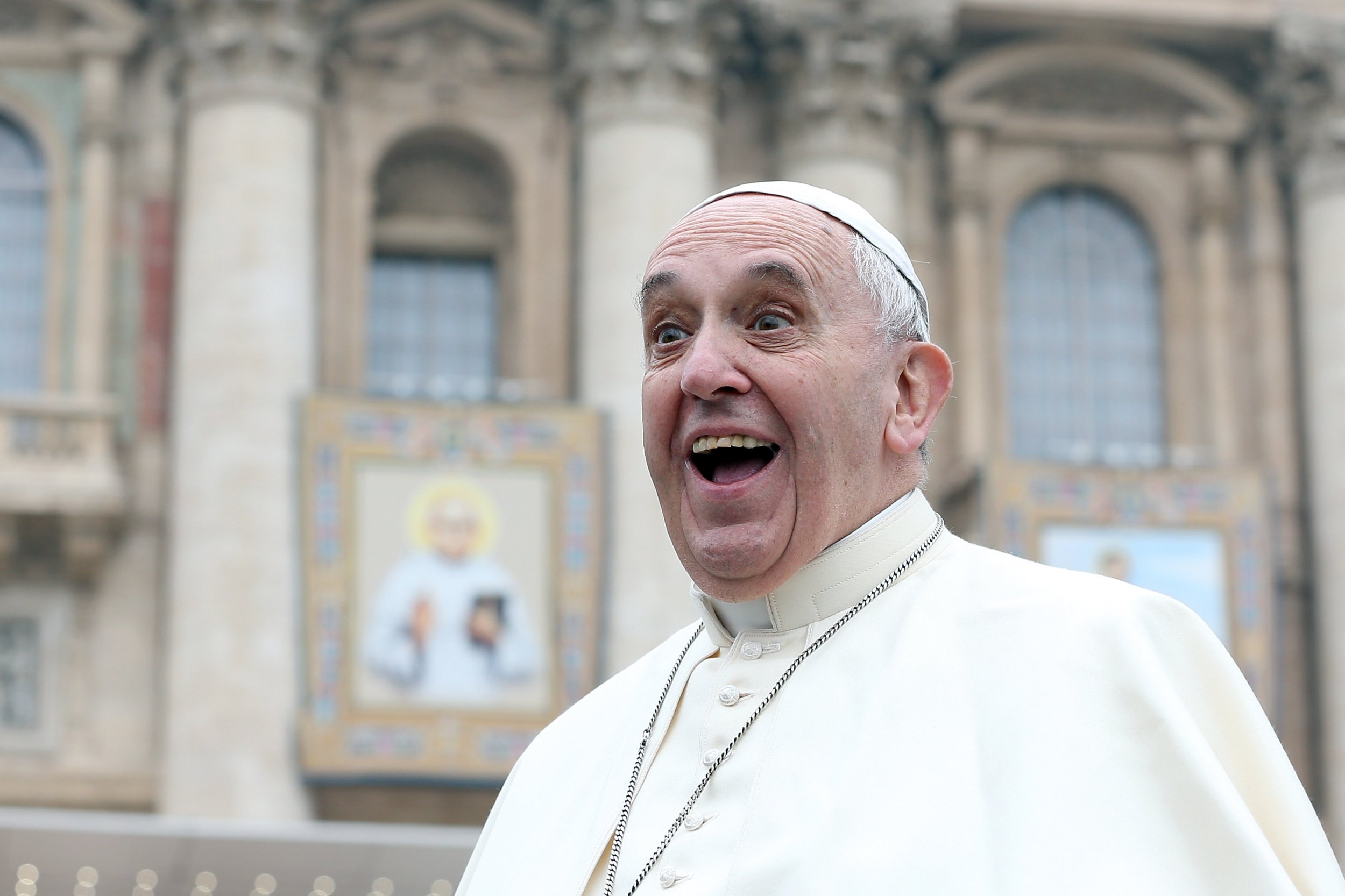 Perhaps Pope Francis is not the technological dinosaur he makes out.
The 79 year-old Argentine pontiff has previously described himself as a "disaster with machines" and says he has not watched TV since 1990 after making a vow to the Virgin Mary to tune out.
But during a meeting with 12 vloggers from around the world in the Vatican on Sunday, Francis revealed an unexpected penchant for online beauty tips, according to the Guardian.
Among those addressed by the pope was Louise Pentland, a British vlogger known for her YouTube channel Sprinkle of Glitter, which has almost 2.5 million subscribers. Recent videos on the channel provide advice on making flower crowns and fashion tips for plus-size women, as well as more reflective videos aimed at inspiring her young female fans. Francis praised Pentland for her reflections on beauty. "To preach beauty and show beauty helps neutralize aggression," said the pope.
Others attending the meeting included Hayla Ghazal, who blogs from Dubai with beauty tips for Arab girls; American vlogger Matthew Patrick, who provides in-depth analysis of video games; and Mexican lifestyle guru Dulce Candy, who emigrated to the U.S. as a child and served in the U.S. army.
The pope said that the bloggers had an important role to play in reaching out to young people isolated in modern society. "You can create a virtual identity; you belong to this circle at least virtually. From that you can start taking a path of optimism and hope," said Francis.
Despite his self-professed technological failings, the pope has millions of followers to his nine-language Twitter accounts and launched an Instagram account in March, which has already garnered 2.5 million followers. Francis has described the Internet as a "gift from God" but has also warned young people not to waste time by chatting excessively on smartphones.
Sunday's meeting was part of a larger educational initiative run by the Vatican called Scholas Occurentes ("Schools Meet"), which aims to promote dialogue and cooperation between children and young people in education in more than 80 countries. The event was also attended by a number of Hollywood stars—notably George Clooney, Salma Hayek and Richard Gere, who were awarded with medals for their contributions to the initiative.
The Vatican has taken several steps to improving its digital engagement with the faithful, including hosting a meeting between Francis and Eric Schmidt, the chairman of Google parent company Alphabet Inc, in January, though neither party would comment on what was discussed. Sunday's meeting also marked the launch of a new website allowing members of the public to put questions to the pope, who is to answer them in a forthcoming book.