Pope Francis: Governments Should Address Climate Change or Leave Earth in Ruins
In a papal address Friday, Pope Francis told a Vatican assembly that climate change threatens to leave the Earth a desolate wasteland if international governments don't combat the crisis.
"There is a real danger that we will leave future generations only rubble, deserts and refuse," he said.
The conference marked the third anniversary of Francis' encyclical letter "Praise Be," which affirmed the church's stance on climate change as a moral issue, scientifically backed, that required action to protect the welfare of Earth and its people. Francis wrote the letter ahead of the 2015 Paris climate conference, where 195 countries agreed to cut greenhouse gas levels in half to prevent global temperatures from rising more than 3.6 degrees Fahrenheit.
But almost three years since the Paris Agreement was struck, carbon dioxide emissions and greenhouse gases continue to rise, a "cause for real concern," Pope Francis said.
Francis implored governments Friday to honor the agreement and to develop sustainable practices to prevent the climate crisis. The pope also asked institutions like the World Bank and International Monetary Fund to play a more active role in protecting the environment.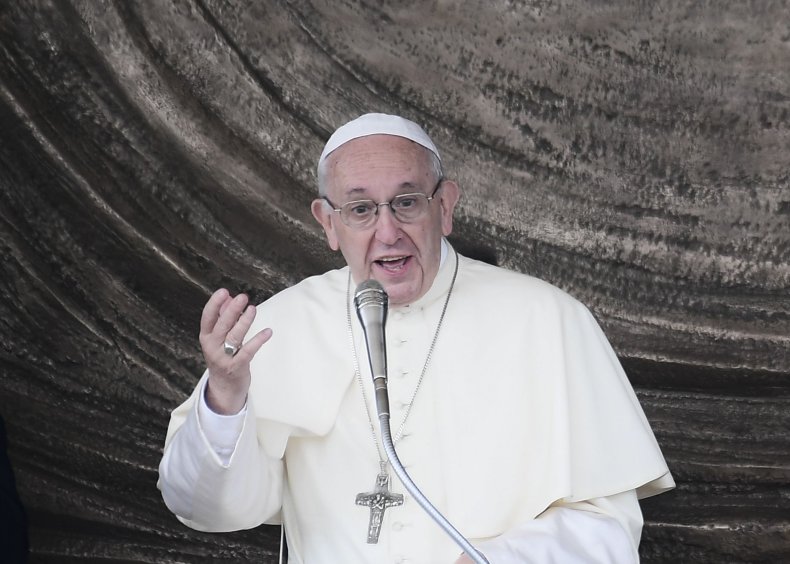 The Friday address is one of several actions Pope Francis has taken to encourage the public and officials to address global warming. He held a clean energy conference at the Vatican in June with executives of oil firms like BP and Exxon Mobil and urged them to monitor their environmental impact and develop high-efficiency, low-pollution energy sources.
"Our desire to ensure energy for all must not lead to the undesired effect of a spiral of extreme climate changes due to a catastrophic rise in temperatures, harsher environments and increased levels of poverty," he told the oil executives. "There is no time to lose."
In 2019, Pope Francis will hold a three-week meeting to develop the Catholic Church's plan to combat deforestation in the Amazon following the United Nation's 2017 announcement of its Interfaith Rainforest Initiative, an alliance between religious leaders and communities to protect rainforests and partner with indigenous people, governments and businesses in countries in which rainforests are threatened.
Francis has supported taking action to combat climate change throughout his papacy, calling it "one of the principal challenges facing humanity in our day" in the encyclical. His emphasis has largely remained on the poor in developing countries, who will likely experience global warming's impact most severely since their economies and subsistence rely on farming and agriculture.
The Catholic Church's staunch support of the scientific evidence proving climate change stands in sharp opposition to the Trump administration's denial of and dubiousness toward climate change's existence. In 2017, President Donald Trump withdrew the United States from the Paris climate accord, though the country may remain if it's allowed to lower its pledged reduction in greenhouse gas emissions.