Pope Francis Says 'Every Nation' Should Be Fighting To Protect Rights Of Migrants And Refugees
Pope Francis has called on "every nation" in the world to work to protect "the dignity and rights of migrants and refugees."
Speaking in an address in Bangkok, Thailand on Thursday, the Pope called for migrants, asylum seekers and refugees to be made welcome in all nations.
"The global crisis of migration cannot be ignored," he said, in a speech published on the Vatican's website.
Describing "the movements of migration" as "one of the defining signs of our time," the Pope said that the "phenomenon...represents one of the principal moral issues facing our generation."
"I express my hope that the international community will act with responsibility and foresight, will work to resolve the issues that have led to this tragic exodus, and will promote safe, orderly and regulated migration," Pope Francis said.
"May every nation devise effective means for protecting the dignity and rights of migrants and refugees, who face dangers, uncertainty and exploitation in their quest for freedom and a decent life for their families," he continued, adding: "It is not just about migrants; it is also about the face we want to give to our societies."
Of course, the Pope's comments come as the Trump administration's own treatment of migrants, asylum seekers and refugees has continued to face international scrutiny and condemnation.
While the U.S. government faced widespread backlash over its widely-condemned family separation policy, the Trump administration continues to enforce hardline immigration policies, including its "Remain in Mexico" rule, which has seen tens of thousands of migrants and asylum seekers forced to stay in Mexico while their immigration cases are processed in the U.S.
The Trump administration has also begun rolling out plans to send asylum seekers to Guatemala as part of its "safe third country" agreement with the nation to accept asylum seekers from the U.S.
According to CNN, the U.S. has already started deporting asylum seekers to the country, despite many having fled the Central American region to make their way to the U.S. border.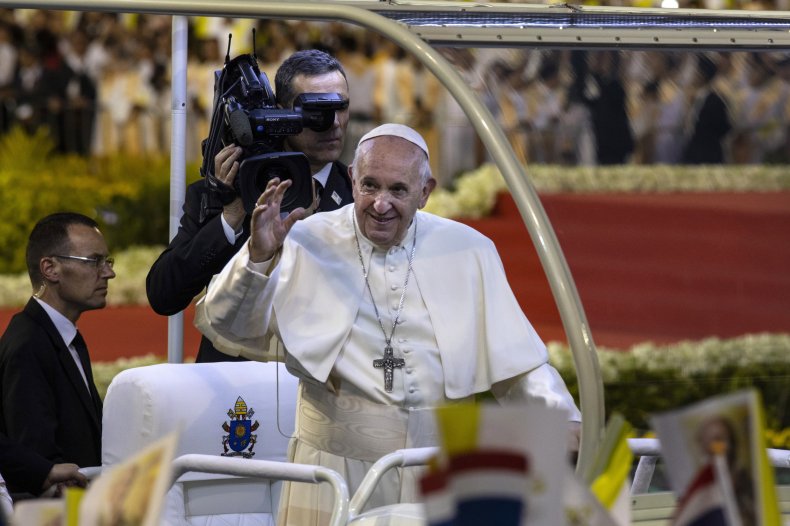 In addition to calling on the international community to do more to support migrants, asylum seekers and refugees, Pope Francis also praised the Thai government on its efforts to address the "scourge" of human trafficking.
"Here I think, too, of all those women and children of our time, especially those who are wounded, violated and exposed to every form of exploitation, enslavement, violence and abuse," he said.
"I express my appreciation for the Thai government's efforts to extirpate this scourge, and for all those private individuals and organizations working to uproot this evil and to provide ways to restore their dignity," the Pope added.