Pope Francis Compares Consumption of Fake News to Eating Feces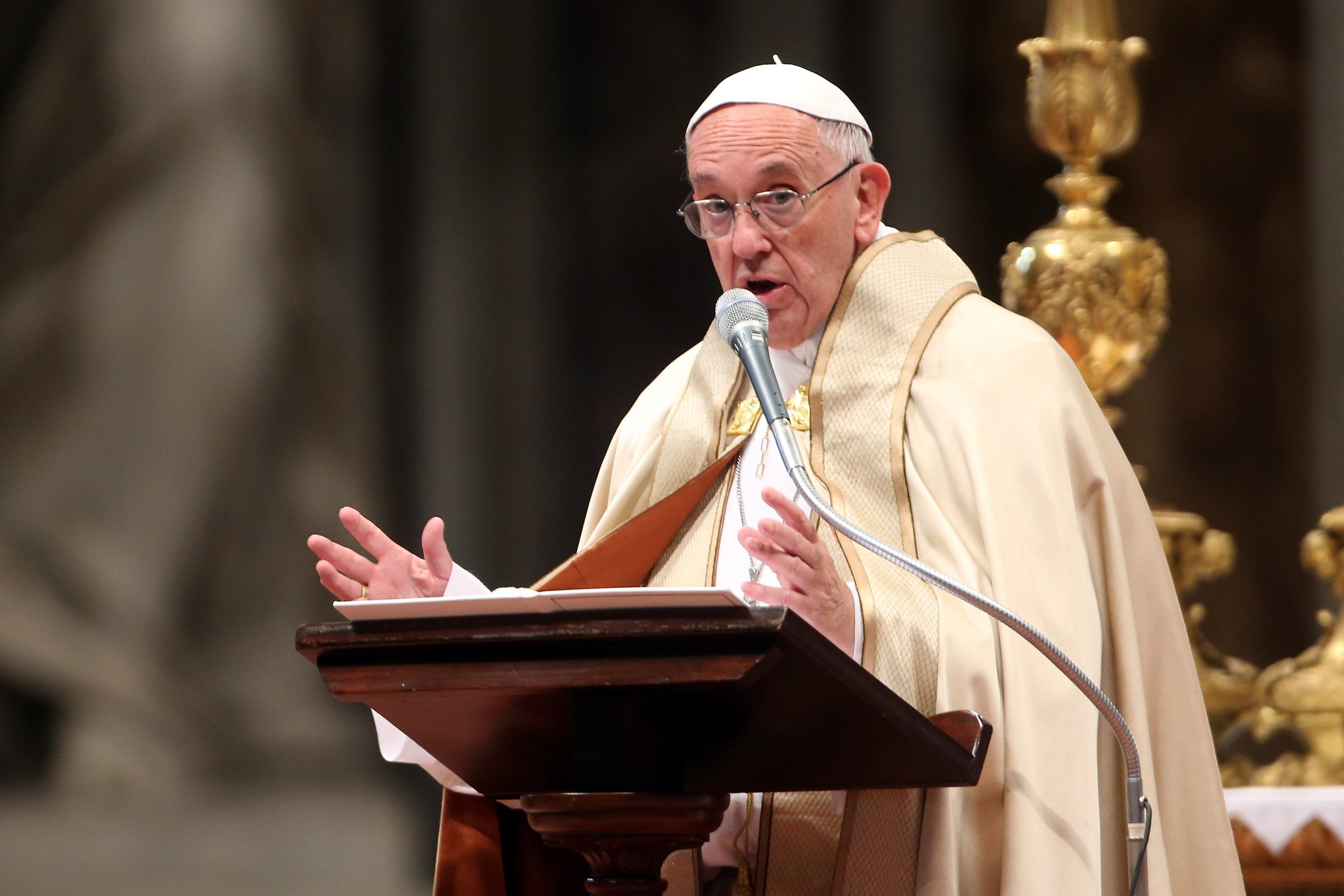 Pope Francis has condemned media outlets for promoting fake news to discredit public figures, comparing its consumption to "coprophagia," or eating feces.
In an interview with the Belgian Catholic weekly Tertio, the pontiff said that the spreading of disinformation was "probably the greatest damage that the media can do" and it had a "very great responsibility" not to slander others and fall into "coprophilia," an obsessive interest with excrement.
"I believe that the media should be very clear, very transparent, and not fall prey—without offence, please—to the sickness of coprophilia, which is always wanting to communicate scandal, to communicate ugly things, even though they may be true," he said. "And since people have a tendency towards the sickness of coprophagia, it can do great harm."
His comments come after a U.S. election campaign that has led to concerns that social media platforms had aided the spread of false information, and potentially influenced voters. Particular criticism was leveled at Mark Zuckerberg's Facebook, which has announced new steps to combat false information on the service.
The leader of the Catholic world was himself subject to fake news in the run-up to Donald Trump's election victory, with some fake news outlets claiming that he had endorsed the U.S. president-elect.
The false news site Ending The Fed, which propagated the story, also published widely-shared fake stories that claimed that Hillary Clinton sold weapons to the Islamic State militant group (ISIS), that FBI director James Comey received millions of dollars from the Clinton Foundation, and that Clinton had been disqualified from running in the presidential race.
"The means of communication have their own temptations, they can be tempted by slander, and therefore used to slander people, to smear them, this above all in the world of politics," the pope said. "They can be used as means of defamation. No one has a right to do this. It is a sin and it is hurtful."
Francis has previously used the comparison of coprophagia to make his point about disinformation in the Italian media, telling La Stampa in 2012, when he was a cardinal, that "journalists sometimes risk becoming ill from coprophilia and thus fomenting coprophagia, which is a sin that taints all men and women—that is, the tendency to focus on the negative rather than the positive aspects."