Pope Francis Compares Homophobes With Nazis, Says Persecution Represents 'a Culture of Waste and Hate'
During a speech at an international conference on criminal law, Pope Francis compared the persecution and hatred of homosexuals to Nazism, another demonstration of his evolution around the LGBTQ community.
"It is not coincidental that at times there is a resurgence of symbols typical of Nazism," Pope Francis said.
"And I must confess to you that when I hear a speech [by] someone responsible for order or for a government, I think of speeches by Hitler in 1934, 1936," he told the World Congress of the International Association of Penal Law (AIDP). "With the persecution of Jews, gypsies, and people with homosexual tendencies, today these actions are typical [and] represent 'par excellence' a culture of waste and hate. That is what was done in those days and today it is happening again."
The progression of Pope Francis' attitude toward the LGBTQ community began in 2013 when he sent shockwaves throughout the Catholic Church, and world at large, by telling reporters, "If someone is gay and searches for the Lord and has good will, who am I to judge?"
This stance could not have been further from the pope's predecessor, Benedict XVI, who wrote in 2005 that homosexuality was "a strong tendency ordered toward an intrinsic moral evil," and an "objective disorder."
In 2014, Pope Francis said the church could be open to same-sex civil unions, something he had spoken of as archbishop of Buenos Aires. While he reiterated the church's teaching that marriage is between "a man and a woman," he also said with civil unions, different cases should be evaluated in their variety.
The pope began a series of meetings and dialogues with LGBT individuals and activists in 2015, including those excluded from their parish communities, gay and transgender prisoners in Naples and a gay Paraguayan activist in South America.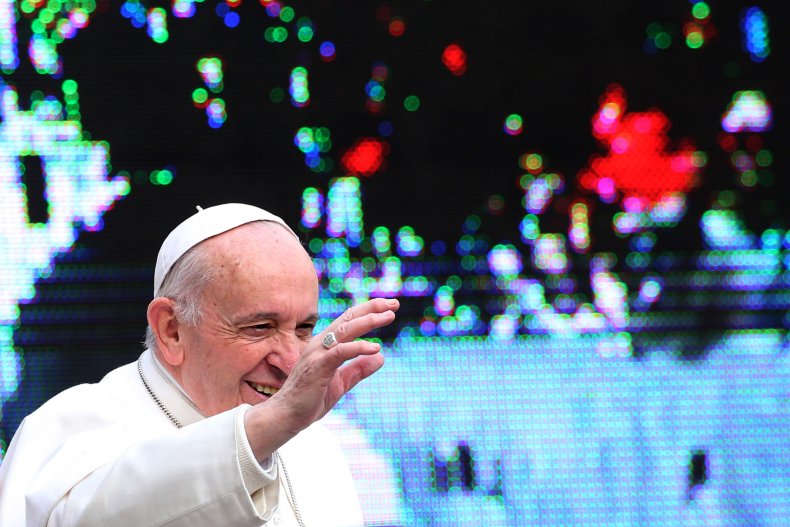 Jayne Ozanne, founder and director of Accepting Evangelicals, a group supporting Christians in "faithful, loving same-sex partnerships," met with the pope at the Vatican and spoke with him about the dangers of conversion therapy.
Ozanne, a British lesbian evangelical, shared with the pope research on conversion therapy, which purports to "cure" homosexuality and change gender identity. This included the high rate of suicide attempts by people who have tried conversion therapy, something the pope reportedly showed concern over.
"[He] seemed to understand what conversion therapy was," Ozanne told Reuters. "I thought he was extremely warm, he was very pastoral. He seemed concerned ... I felt very embraced."
Ozanne said after she showed him her foundation's research, Pope Francis took her hands in his and said, "Please pray for me as I pray for you."