Pope Francis Denounces 'Cancel Culture,' Says It Leaves No Room for Freedom of Expression
Pope Francis warned on Monday about the "one-track thinking" caused by "cancel culture" as well as the spread of misinformation related to COVID-19 and vaccines.
In comments made during an address to diplomats, the pope cautioned against "a form of ideological colonization, one that leaves no room for freedom of expression and is now taking the form of the 'cancel culture' invading many circles and public institutions."
Reuters reported that the pontiff said the words "cancel culture" in English while otherwise speaking in Italian during the long speech. The news agency speculated that he chose to do so because the topic is a point of controversy in English-speaking countries like the U.S.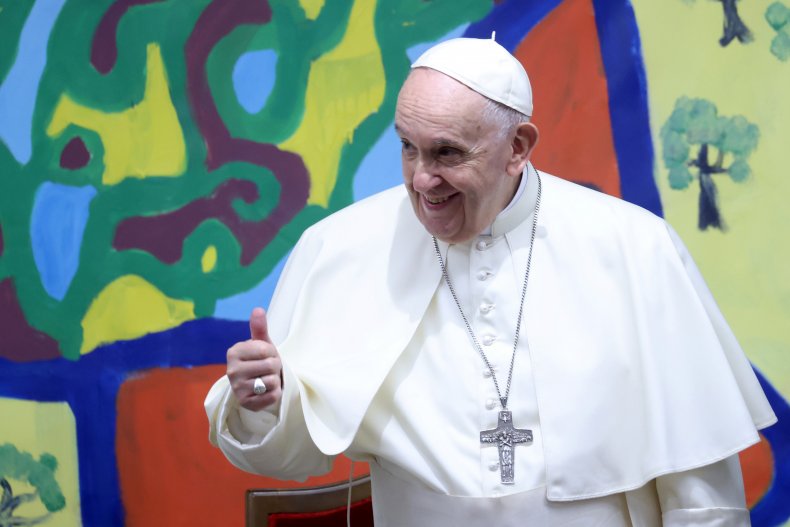 "Under the guise of defending diversity," a move by society to "cancel" people or situations "ends up canceling all sense of identity, with the risk of silencing positions that defend a respectful and balanced understanding of various sensibilities," Francis said.
Doing this causes "one-track thinking" that attempts "to deny history or, worse yet, to rewrite it in terms of present-day categories, whereas any historical situation must be interpreted in the light of a hermeneutics of that particular time, not that of today," he said.
The pope did not cite any specific examples of "cancel culture."
Monday's address is often referred to as the pope's annual "State of the World," where he speaks to diplomats from around the globe. According to the National Catholic Reporter, his Monday speech was made to representatives from 183 countries.
During the address, the pontiff made a strong case for more multilateral diplomacy, saying issues such as migration, the coronavirus pandemic and climate change can be properly addressed only through cooperation between nations.
"What is needed instead is a recovery of our sense of shared identity as a single human family," he said, adding that the "alternative can only be growing isolation."
A large portion of the address found the pope criticizing "baseless information" and "poorly documented facts" about COVID-19. He also strongly urged people to get vaccinated.
"Vaccines are not a magical means of healing, yet surely they represent, in addition to other treatments that need to be developed, the most reasonable solution for the prevention of the disease," the pope said.
He placed part of the blame for pandemic misinformation and misunderstandings about vaccines on leaders. The pontiff said more of a commitment is needed from governments to "engage citizens so that they can feel involved and responsible" about prevention and immunization.
"The lack of resolute decision-making and clear communication generates confusion, creates mistrust and undermines social cohesion, fueling new tensions," Francis said. "The result is a 'social relativism' detrimental to harmony and unity."