Pope Francis: Eco-Warrior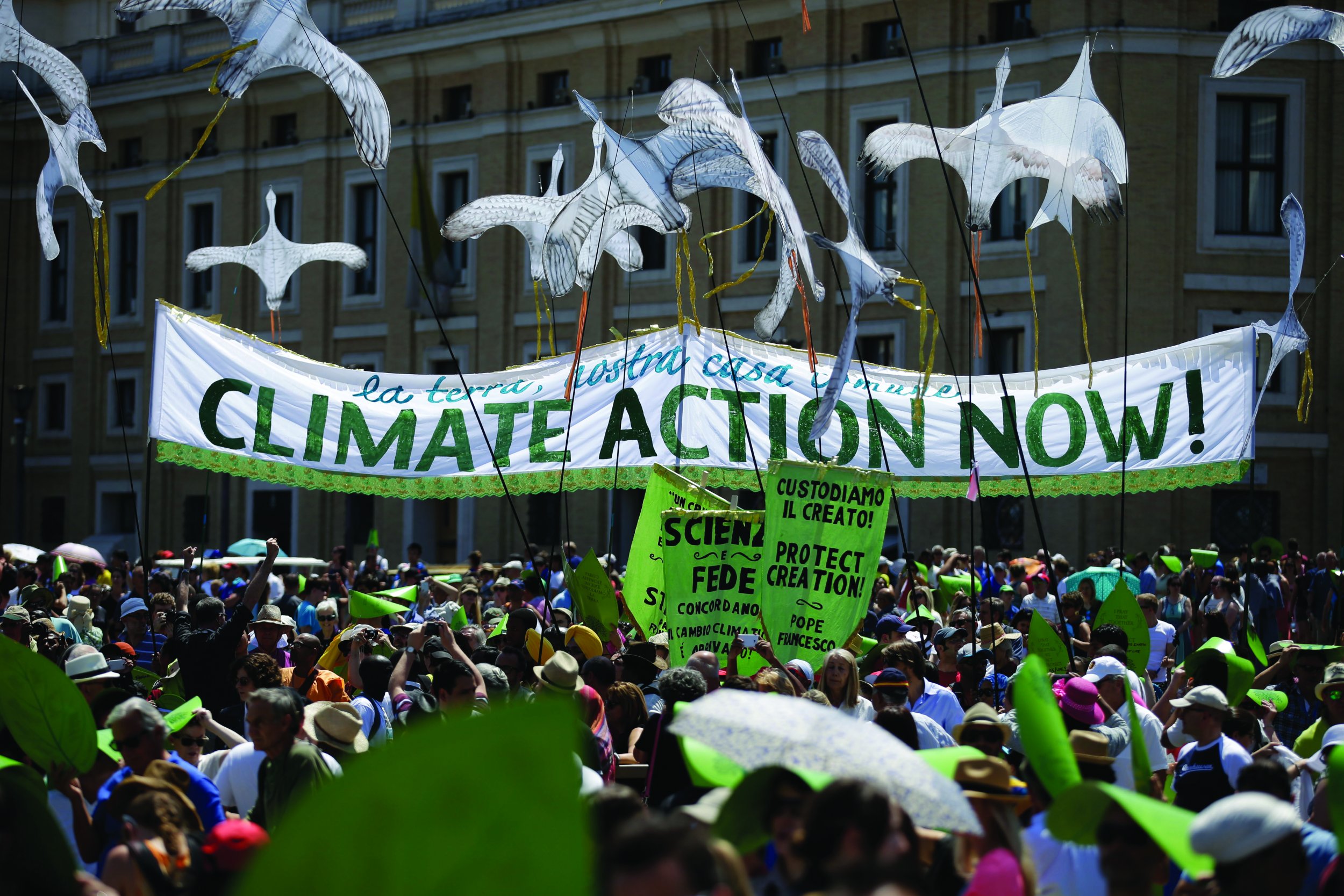 Ahead of Pope Francis's visit to the United States in September, Newsweek Special Editions looks at some of the topics the progressive pope has tackled, encluding the environment and climate change.
Few papal encyclicals can be lauded as "eagerly awaited" by the public at large like May 2015's Laudato Si', a 184-page letter "On care for our common home." In the treatise, which is addressed to everyone on Earth, Francis goes into remarkable detail—all of it underpinned by a sense of scientific fact and civic responsibility—about pollution, overuse of resources, changing landscapes and declining biodiversity. "Greater investment needs to be made in research aimed at understanding more fully the functioning of ecosystems and adequately analyzing the different variables associated with any significant modification of the environment," Francis writes.
He begins the letter by invoking his namesake St. Francis of Assisi's "Canticle of the Creatures," in which the naturalist saint says, "Praise be to you, My Lord, through our sister, Mother Earth, who sustains and governs us," before going on to list previous ecological efforts by his predecessors, including Paul VI and St. John Paul II. He quotes the latter pope's first encyclical, in which John Paul II laments that human beings see "no other meaning in their natural environment than what serves for immediate use and consumption," showing that the pope's missive on global warming falls within a long-established tradition for the Holy See. Francis's Laudato Si', however, goes a great deal further than any of his predecessors dared.
"Humanity has the ability to work together in building our common home," says point 12 of Francis's encyclical. "I urgently appeal, then, for a new dialogue about how we are shaping the future of our planet. We need a conversation which includes everyone, since the environmental challenges we are undergoing, and their human roots, concern and affect us all." Francis's writing practically drips with contempt for a current global leadership that, to him, has failed to address climate change in a meaningful way. "Regrettably, many efforts to seek concrete solutions to the environmental crisis have proved ineffective, not only because of powerful opposition but also because of a more general lack of interest," Pope Francis says. "Obstructionist attitudes, even on the part of believers, can range from denial of the problem to indifference, nonchalant resignation or blind confidence in technical solutions. We require a new and universal solidarity. As the bishops of Southern Africa have stated: 'Everyone's talents and involvement are needed to redress the damage caused by human abuse of God's creation.' All of us can cooperate as instruments of God for the care of creation, each according to his or her own culture, experience, involvements and talents."
The Ecological Society of America was quick to praise Francis's letter, calling it an "eloquent plea for responsible Earth stewardship." Political pundits from both sides of the proverbial aisle also praised the pope's plea. What Francis appears to have accomplished with the common-sense language of Laudato Si' is putting climate change in terms of moral obligation that people of all religions can understand. And according to experts at Yale University, "The release was timed to attract global attention in advance of UN climate talks in Paris later this year and the pope's upcoming addresses to the UN and the U.S. Congress." Francis is talking about climate change right
as the world is poised to explore ideas like his "integral ecology," which takes into account both the planet and the people who call it home—and envisions a brighter future for both.
This article appears in Newsweek's Collector's Edition, Pope Francis The American Journey, by Issue Editor James Ellis