Pope Francis Says Fear 'Makes Us Crazy' in Response to Trump's Border Wall Proposal
In beginning his tour to Central America, Pope Francis criticized President Donald Trump's border wall on the basis that fear makes people crazy.
On Wednesday, while on the way to Panama, a reporter asked Francis about Trump's proposition to build a wall along the southern border of the United States and Mexico. In response to the question, Francis told reporters, including one from the Associated Press, "It is the fear that makes us crazy."
This isn't the first time the pope has rebuked Trump's campaign promise to build a wall. In February 2016, before Trump became the Republican nominee, Francis said someone who thinks about building walls and not bridges is "not Christian."
Trump responded with the claim that a leader, especially one who is a religious leader, had no right to question another man's faith or religion and said the pope has an "awfully big wall" at the Vatican.
Francis reiterated his stance against a border wall while speaking at his weekly general audience in February 2017, shortly after Trump took office. He didn't call Trump out by name but he referenced Trump's repeated claim that Mexico would pay for the border wall.
"A Christian can never say 'I'll make you pay for that.' Never!" Francis said, according to Reuters. "That is not a Christian gesture. An offense is overcome with forgiveness, by living in peace with everyone."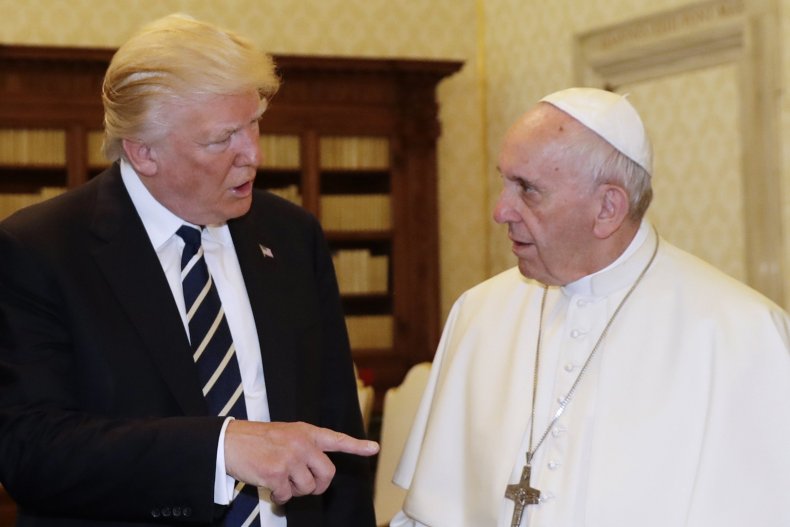 Francis again emphasized that Christians should "not raise walls but bridges" and shouldn't respond to evil with evil but instead opt to "overcome evil with good."
The pope also criticized Trump for his administration implementation of a policy of separating children from their parents after crossing the United States border illegally. He called the policy "contrary to our Catholic values" and "immoral," during an interview with Reuters. Francis acknowledged that it wasn't easy but said, "Populism is not the solution."
He blamed populists for "creating psychosis" on the issue of immigration and said, "Populism doesn't resolve things." Instead, he called for "acceptance," "study," and "prudence."
Francis was born in Argentina to Italian immigrants. He is the first Latin American pope. His trip to Central America is his first foreign trip of 2019, and while in Panama he will speak at World Youth Day, which is expected to draw about 150,000 people, according to Reuters. It's the first papal visit to Panama since 1983 and on Wednesday morning, Francis posted a request on Twitter for people to pray for "this very beautiful and important event on the path of the church."