Pope Kisses Holocaust Survivors on Visit to Auschwitz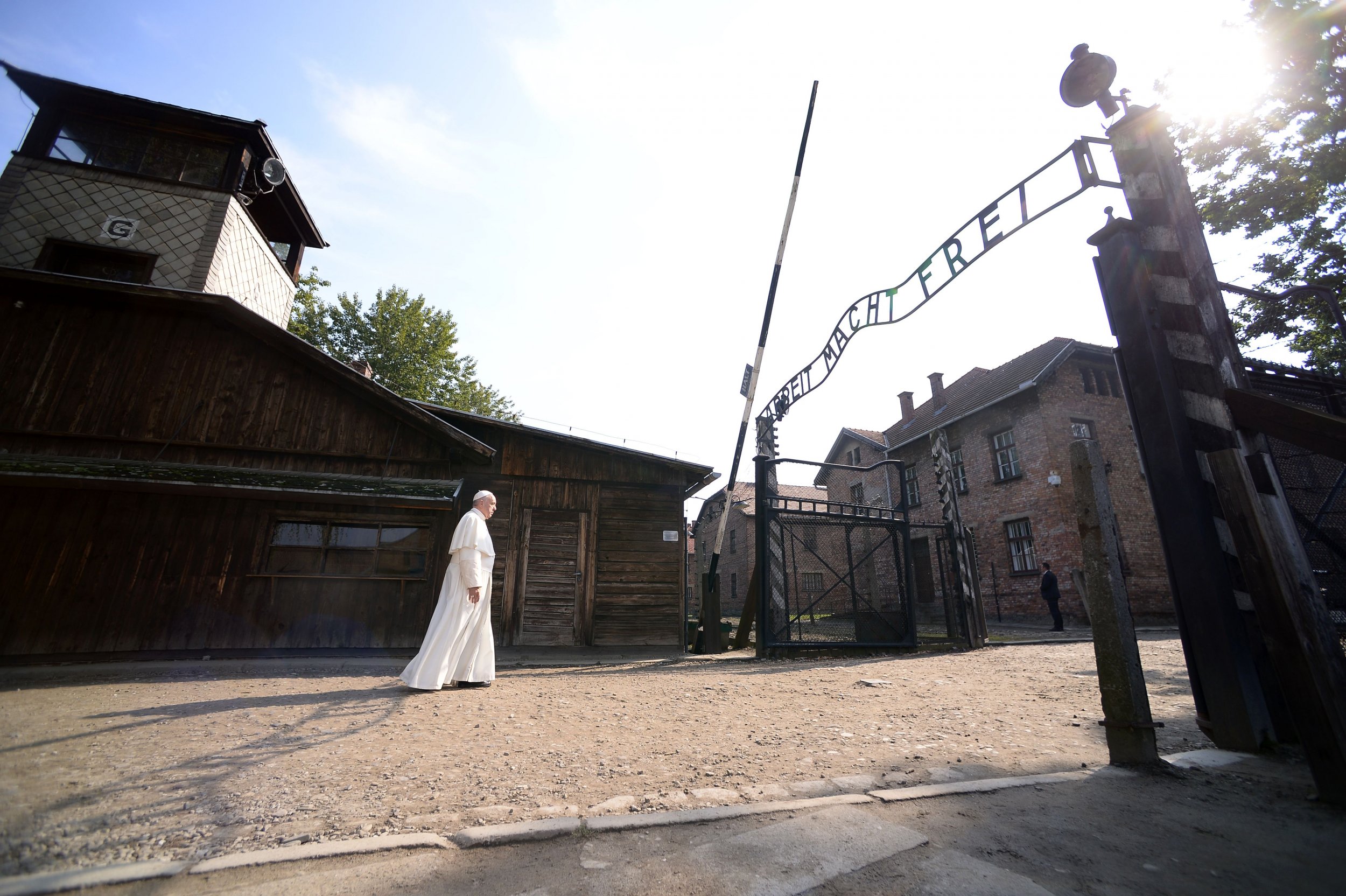 On Friday the Pope visited the Nazi death camps in Auschwitz-Birkenau, Poland as part of his first visit to eastern Europe. The concentration camp was the site of the largest mass murder by the Nazi party: Over a million Jews; 75,000 non-Jewish Poles; 18,000 Roma, and 15,000 Soviet prisoners of war were killed there by fascist Germans during World War II.
Pope Francis became the third pontiff in history to visit the sombre historical landmark, after Pope John Paul II in 1979, and Pope Benedict in 2006.
He spent over 15 minutes sitting alone in deep contemplation and prayer, before walking around the camp in complete silence.
"I would like to go to that place of horror without speeches, without crowds—only the few people necessary. Alone, enter, pray. And may the Lord give me the grace to cry," said Pope Francis prior to the visit.
Next to 'Death Wall,' where so many thousands of inmates were executed, he lit a large white candle.
He met former inmates who survived the terrors of the camp. He kissed them on their cheeks, before Poland's chief rabbi recited Psalm 130 in Hebrew. "From the depths I have cried out to you, O Lord," the psalm begins.
The 266th Pope, dressed in white robes and a skull cap, was accompanied by Father Stanisław Ruszała, the parish priest of Markowa, a village in south-eastern Poland. In 1942, Nazi soldiers killed two churchgoers and their seven children who lived there because they hid eight Jews. Andrzej Duda, the Polish president was also in attendance, as well as the country's prime minister Beata Szydło.
"There are places and tragedies which make you at a loss for words, where actually there are no words to express what so many still see as unimaginable," said Piotr Cywiński, the director of the Auschwitz-Birkenau State Museum.
"It [the world] is increasingly internally divided, threatened with terrorism and deterioration of human rights. It is a world where human solidarity is slowly being worn down. If 15 years ago someone had told us that we would so hysterically react to aiding refugees from war-torn territories, I would never have believed it," he continued.
The Pope wrote in the memorial's guest book: "Lord, have pity on your people. Lord, forgive so much cruelty."
Francis will be in Poland for a total of five days, on a trip marking 1,050 years since the country's adoption of Christianity.