Pope Francis flies to Ireland on Saturday for the World Meeting of Families, while the Catholic Church battles yet another clerical sexual abuse scandal.
Survivors of sexual abuse have demanded that the Catholic Church pay for a full investigation into the claims that more than 1,000 children have been molested in the past 70 years. A document released by a grand jury in Pennsylvania revealed that more than 300 priests had been sexually abusing children in the state.
Pope Francis flies to Dublin from Rome Fiumicino Ariport at 8:15 a.m. and touch down at 10:30 a.m. local time. He will be taken straight to Aras an Uachtarain, the home of Irish President Michael D. Higgins. Pope Francis will be treated to a welcome ceremony at 11:15 a.m.
At lunchtime, he will travel to Dublin Castle where he will deliver a speech and meet with diplomatic corps, civil society and authorities. At 3:30 p.m. Pope Francis will visit St Mary's Pro-Cathedral before stopping in at the Day Center for Homeless Families of the Capuchin Fathers.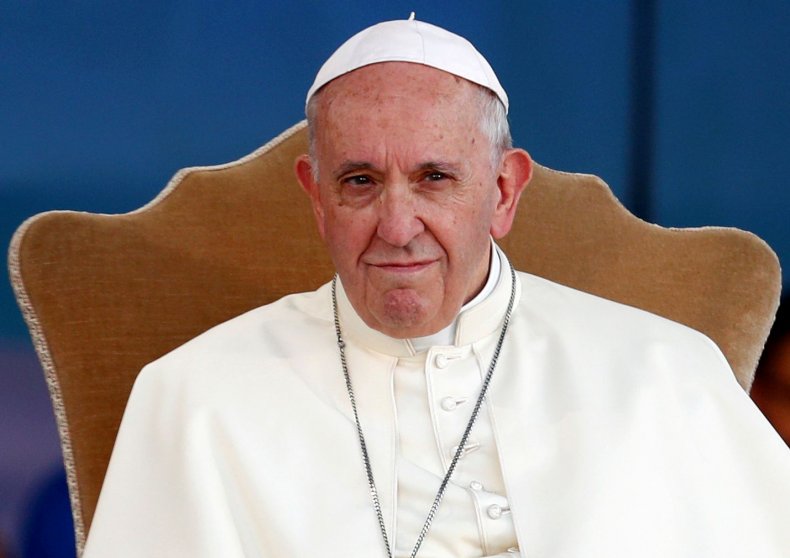 Pope Francis will arrive at the Feast of Families festival in Croke Park Stadium at 7:30 p.m. and deliver another speech.
On Sunday morning, the pope flies to the Knock Shrine in Republic of Ireland's north. He will return to Dublin at midday for lunch with the Papal Delegation, and will hold a holy mass in Phoenix Park at 3 p.m. before meeting with the bishops in the Convent of the Dominican Sisters.
Following one last speech, Pope Francis returns to Rome at 11 p.m.
Sexual abuse scandals within the Catholic Church have been exposed across the globe, including Ireland. In 2009, a report detailed how Catholic-run schools and orphanages had an "endemic" problem of sexual and psychological abuse. Dublin streets will likely be packed with devoted Catholics, however many demanding that the pope needs to do more will likely be there in protest.
According to a Faith Survey, the majority of people in the Republic of Ireland still identify as Roman Catholic—78.3 percent. In 2015, however, Ireland held a referendum to legalize gay marriage, which goes against the Catholic faith. Irish residents voted in favor of legalizing gay marriage—62 percent for, 38 percent against—and Ireland's first gay couple were married on November 16 that year.
Earlier this year, Ireland held another referendum, this time to legalize abortion. Pope Francis has previously shown an openness to gay marriage, but he has not made similar statements about abortion. A vote was held on May 25 and residents voted overwhemlingly in favor of legalizing abortion—66.4 percent for, 33.6 percent against. As of January 1, 2019, women will be able to seek an abortion during the first 12 weeks of pregnancy.
Pope Francis has responded to the sexual abuse numbers exposed in Pennyslvania, saying the pain of the victims and families is shared by the Church. He is planning to meet with victims of sexual abuse in Ireland, according to Vatican spokesperson Greg Burke. "The important thing for the pope is to listen," Burke said, reported ABC News.