Pope Francis in Ireland: Giant Drive-Thru Confession Box Allows Catholics to 'Repent Decades of Sin in Seconds'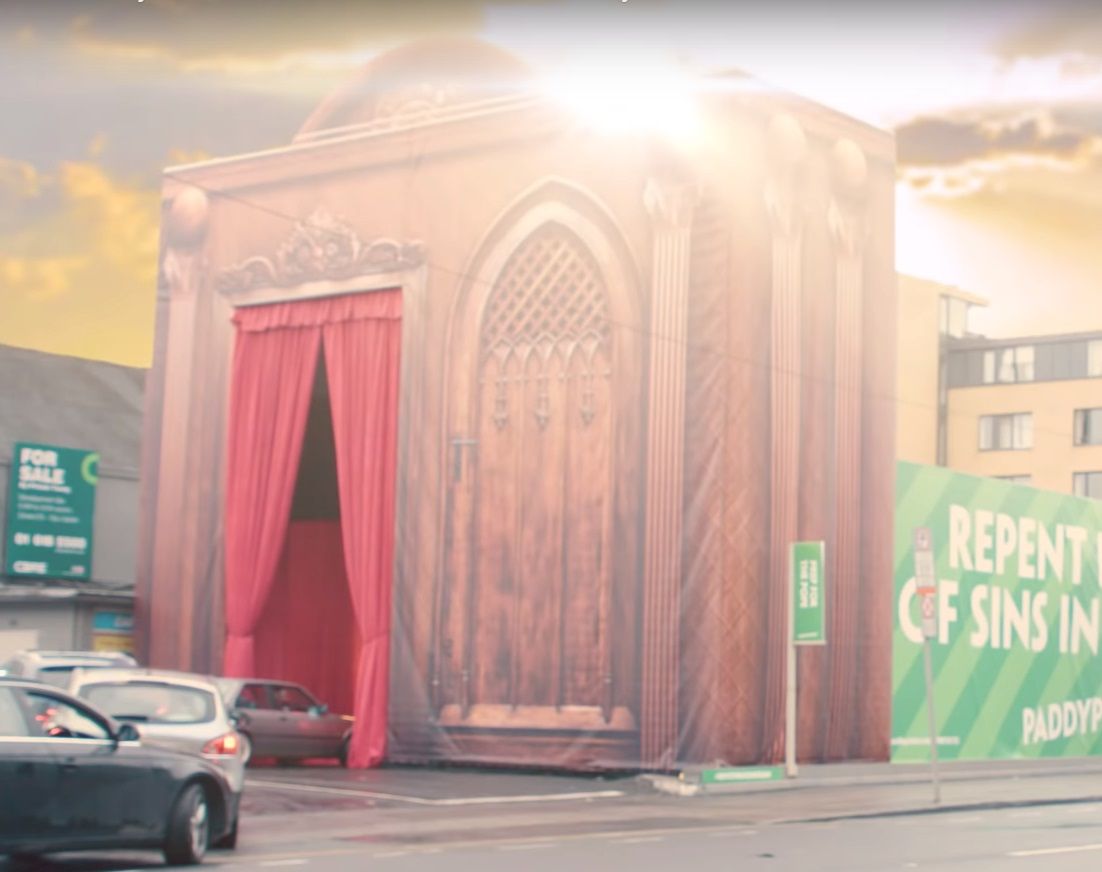 Irish bookmaker Paddy Power, known for its publicity stunts and outrageous marketing campaigns, has pulled off another spectacle—this time for a visit by Pope Francis to Ireland.
The gambling company built a giant drive-thru confession box "to help the people of Ireland repent decades of sins in seconds," according to its Irish head of PR Rachael Kane, who referred to it as "an express lane to eternal salvation for Ireland's lapsed Catholics."
Pope Francis is due to visit Ireland on August 25 and 26. He will hold a number of meetings, including with Irish bishops, and make an address to the World Meeting of Families, a gathering of thousands of Catholics in Dublin's Phoenix Park.
It was in Phoenix Park that the last pontiff to visit Ireland, Pope John Paul II in 1979, held mass. Pope Francis will hold mass there too on the Sunday of his visit. And it is just outside of Phoenix Park that Paddy Power set up its drive-thru confession box.
"Ireland has changed a lot since the last Pope's visit—gay marriage is legal, we've repealed the Eighth Amendment, and even secretly cheered for England in the World Cup," a Paddy Power spokesperson said in a statement.
"With decades worth of sins clocked up since then, we're providing a convenient means to complete your contrition with your keys still in the ignition.
"And if the Catholic hierarchy have anything they'd like to get off their chests too, they are more than welcome to take a spin through our mega drive-thru confession box while they're here."
The Vatican and the Irish Catholic Bishops' Conference did not immediately respond to requests for comment.
Pope Francis has faced criticism from Irish Catholics for his apparent silence during the country's recent Eighth Amendment referendum in which voters overturned a constitutional ban on abortion. It followed a referendum in which Irish voters backed legalizing gay marriage.
Paddy Power has repeatedly sparked controversy over its marketing campaigns. In 2012, it faced a backlash after producing a TV commercial about a horse racing event for ladies, which asked the audience to "spot the stallions from the mares" by guessing which women were transgender.
A 2010 commercial featured a match between teams of blind football players. They lose the ball and a cat runs onto the pitch, which one of the players mistakes for the ball, kicking the feline intruder into a tree. The commercial received more complaints to the U.K. broadcast regulator Ofcom than any other that year.
It wasn't the first time Paddy Power topped the league of complained about commercials.
In 2002, a Paddy Power billboard featured two elderly women labeled with betting odds crossing the road as a truck approached with the caption "Let's make things more interesting." It received the highest number of complaints to Britain's advertising watchdog that year.