Pope Francis Met Kim Davis in Washington: New York Times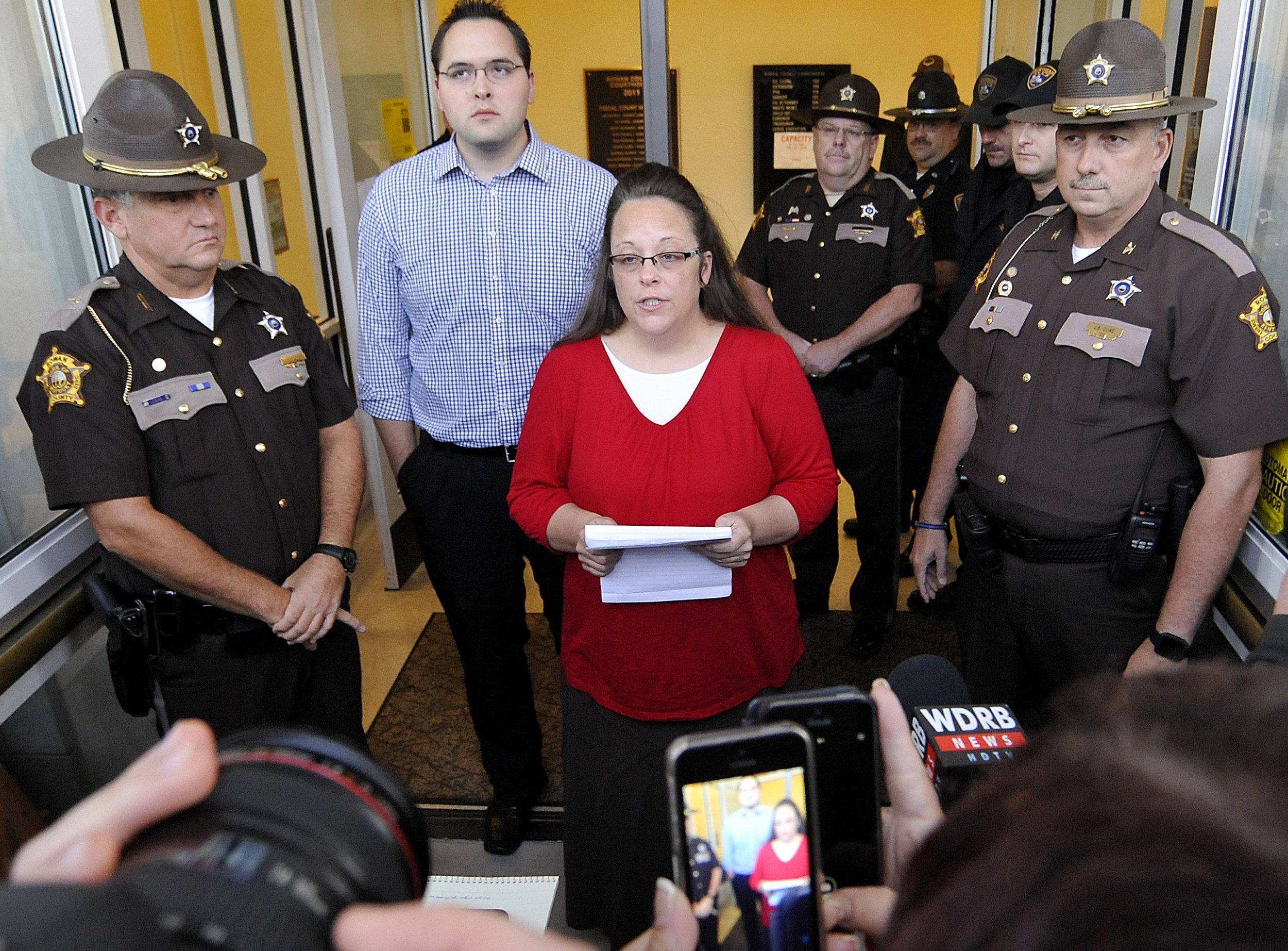 Kentucky Clerk Kim Davis met with Pope Francis during his recent visit to the United States, Vatican spokesman Federico Lombardi confirmed to The New York Times on Wednesday.
Earlier this month, the state of Kentucky jailed Davis for five days for refusing to issue marriage licenses to same-sex couples, in defiance of a June Supreme Court ruling that upheld the 14th Amendment requirement that states do so. Davis's refusal vaulted the small-town bureaucrat to the national stage, where she was praised by conservatives—including two Republican presidential hopefuls: former Arkansas Governor Mike Huckabee and Texas Senator Ted Cruz. Both men, who visited Davis in Kentucky, lauded her as a paragon of defiance in the face of what they said was the government forcing its own morals on individuals.
On Tuesday evening, right-leaning Catholic publication Inside the Vatican wrote of Davis's alleged meeting with the pope:
On Thursday, September 24, in the afternoon after his historic address to Congress, just a few minutes before flying to New York City, Pope Francis received, spoke with, and embraced Kim Davis—the Kentucky County Clerk who was jailed in early September for refusing to sign the marriage licenses of homosexual couples who wished to have their civil marriages certified by the state of Kentucky.

Also present was Kim's husband, Joe Davis.

Kim and her husband had come to Washington for another purpose—Kim was to receive a "Cost of Discipleship" award on Friday, September 25, from The Family Research Council at the Omni Shoreham Hotel.
The article's author, Inside the Vatican editor-in-chief Robert Moynihan, wrote that Davis relayed her account of the meeting to him directly. According to Moynihan, the pope told Davis, "Thank you for your courage." Moynihan also wrote, "Vatican sources have confirmed to me that this meeting did occur."
Initially, the Vatican told multiple publications, including the Times, that it would neither confirm nor deny that the meeting occurred, and the Times altered its headline on the story from "County Clerk Who Denied Gay Couples Visited Pope" to "Kim Davis, Kentucky Clerk, Is Said to Have Met Pope." The headline was later changed again to "Kim Davis, Kentucky County Clerk, Met Pope Francis" after the Vatican's confirmation. A receptionist at the Apostolic Nunciature, the Vatican's embassy in Washington, D.C., where the meeting is alleged to have taken place, tells Newsweek that the Nunciature is not denying that the meeting took place.