Pope Francis Leads Subdued Easter Mass Behind Closed Doors
Addressing rows of near-empty pews inside Vatican City's St. Peter's Basilica, Pope Francis led an unorthodox Easter Mass Sunday before a handful of physical attendees and thousands of virtual spectators amid the coronavirus pandemic.
The ceremony was live streamed by multiple outlets, including the Vatican's official news site and YouTube channel, so global patrons heeding social distance requirements could watch from home.
Francis closed Sunday's ceremony with his annual "Urbi et Orbi" ("To the City and to the World" in Latin) blessing, which is typically delivered to crowds gathered outside in St. Peter's Square. The message acknowledged somber circumstances brought on by the COVID-19 outbreak and encouraged people to uplift one another through "the contagion of hope" amid challenging times.
"This is a different contagion, a message transmitted from heart to heart," Francis said, noting that "for many, this is an Easter of solitude, lived amid the sorrow and hardship that the pandemic is causing, from physical suffering to economic difficulties."
Like Sunday's Easter proceedings, all of the Vatican's Holy Week events have been closed to the public due to concerns about the coronavirus, which has taken more than 110,000 lives since December of last year. Italy has reported the highest death toll, with at least 19,000 fatalities reported as of Sunday morning, according to Johns Hopkins University's latest data. After Italy's Prime Minister Giuseppe Conte imposed a nationwide lockdown on March 9, the Vatican announced that general visitors were no longer invited to attend its upcoming celebrations.
"Because of the current global public health emergency, all the Liturgical Celebrations of Holy Week will take place without the physical presence of the faithful," the Prefecture of the Papal Household said in statement. "Furthermore, this Prefecture informs that until April 12 the General Audiences and the Angelus presided over by the Holy Father will be available only in live streaming on the official Vatican News website."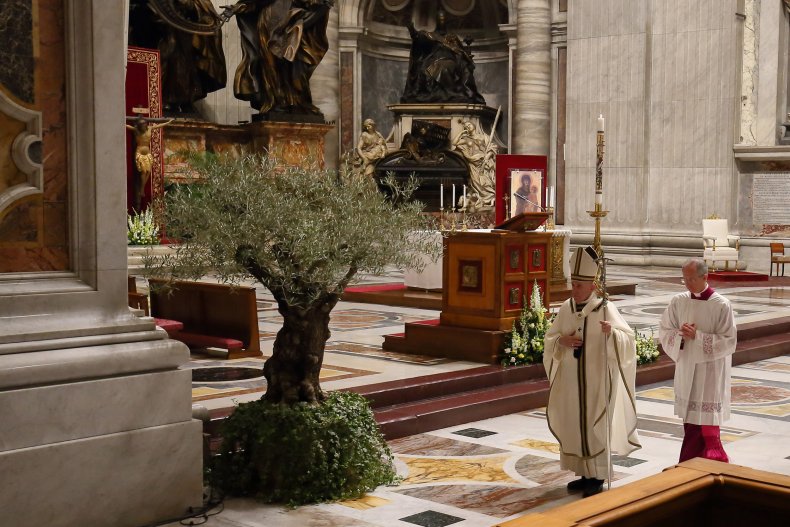 Legislatures around the world have implemented similar restrictions prohibiting nonessential movements and social gatherings, including those held for religious purposes. Last week, Jerusalem's Church of the Holy Sepulchre closed for the first time since the Black Death in 1349.
"Easter is a time for life," said Archbishop Pierbattista Pizzaballa outside the church Sunday morning, according to Reuters. "Despite the sign of death we are seeing everywhere, life will prevail, as long as someone is giving life out of love for the others. Happy Easter."
Churches across United Kingdom, France, Spain, Germany, Egypt, South Korea, Lebanon and New Zealand, among other countries, were also closed to the public on Easter. The Church of England's Archbishop of Canterbury, Justin Welby, held this year's service in his kitchen and asked supporters to tune in via live stream.
"Our towns are closed but our hearts are open," Welby wrote on Twitter Sunday morning, "and our spirit is bigger than ever."
Not all churches in the United States, however, are closed this Easter Sunday due to the pandemic--an issue that has been the source of controversy as well as legal battles. On Saturday, the Kansas Supreme Court let an order from Kansas Governor Laura Kelly stand to restrict church gatherings to 10 people, which got pushback from the state's GOP lawmakers who wanted to continue in-person services on Easter.