Pope Francis Needs to Debate His Critics Over Heresy Allegations, Cardinal Says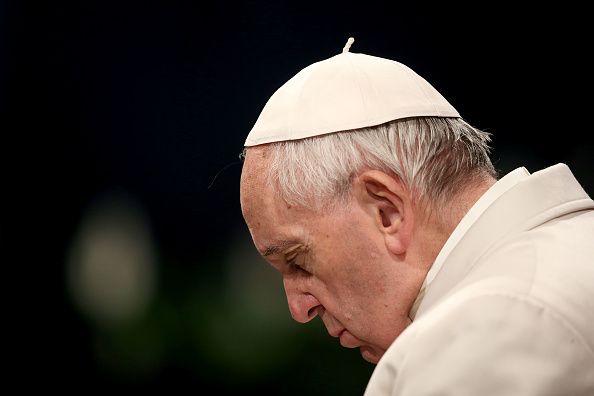 Pope Francis has been hailed as a progressive and slammed for deviating from Catholic tradition. Most recently, he's been criticized and questioned by a group of conservative Roman Catholic theologians, priests and scholars who accused him of promoting heretical positions. For the most part, the pope has remained silent. After this most recent affront, will he finally debate his critics? At least one cardinal thinks it's time.
Cardinal Gerhard Müller, the prefect emeritus of the Congregation for the Doctrine of the Faith, believes Pope Francis should have a theological "disputation" with his critics. That's jargon for a debate using a specific formalized method to uncover and establish truths in theology or sciences. In this case, Müller told the National Catholic Register on Tuesday the disputation would be about "the different and sometimes controversial interpretations of some statements in Chapter 8 of Amoris Laetitia."
Amoris Laetitia, or "The Joy of Love," was the pope's apostolic exhortation on love and family released in April 2016. In the controversial document, he opened the door for civilly remarried Catholics to receive Communion, among other changes. But it was this modification in particular that most angered the few dozen of his tradition-minded critics who issued a formal "filial correction" for spreading heresy, the first since Pope John XXII was given one in 1333. The 25-page letter they wrote—accusing him of more than half a dozen heretical stances—was delivered to Pope Francis in July, but only released (to the Associated Press) on Saturday.
It's not the first time he's been criticized or asked to clarify what are relatively progressive positions for the leader of the Catholic Church. A few months after he released "The Joy of Love," for example, 45 Catholic scholars, prelates and clergy sent an appeal to the College of Cardinals in the hopes that the pope would "repudiate" what they called "a number of statements that can be understood in a sense that is contrary to Catholic faith and morals." In September 2016, four cardinals sent the pope dubia, or formal questions aimed at clarifying church teaching, to settle confusion about the controversial "Joy of Love" document. There have been six major initiatives related to the pope's positions on family and marriage in the last two years, according to the National Catholic Register, but Francis has thus far kept mum.
Müller called for "more dialogue and reciprocal confidence" instead of "polarization and polemics," emphasizing that the pope "deserves full respect for his person and divine mandate, and on the other hand his honest critics deserve a convincing answer," he said. His suggestion is to convene representatives of the dubia as well as the more recent filial correction to conduct a debate with the pope.
The Catholic Church's "permanent principle and foundation of its unity and communion in Jesus Christ is the current pope, Francis, and all bishops in full communion with him," Müller said. "We must avoid a new schism and separations from the one Catholic Church." That can only be achieved, he seems to be saying, if the pope and his critics get together to hash out their differences.