Pope Francis Mass in Ireland Has Low Attendance Amid Abuse Scandal Revelations
Less than one-quarter of the crowd expected to attend Pope Francis's mass in Phoenix Park, Dublin, came to the Sunday event, amid large-scale protests against child sex abuse in the church.
Organizers made more than 500,000 tickets available for the first papal visit to Ireland since 2.5 million people saw Pope John Paul II in October 1979. Heavy rain and poor weather were blamed for the fact that only 130,000 people came out to see Pope Francis. Members of the gardai, the Irish Republic police force, confirmed to TheJournal.ie that attendance was well below organizer expectations.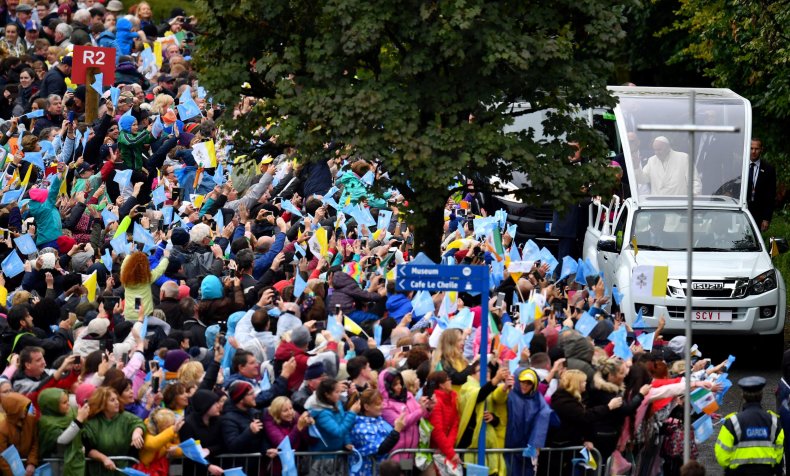 But protests over ongoing sexual abuse scandals and decades of cover-ups have rocked the international Catholic Church's leaders and members, which the Vatican estimates at nearly 1.2 billion people worldwide.
Late Saturday, a former senior Vatican official said the pope should step down, accusing him of knowing more about the scandals than he had said.
Deviating from his prepared address, Pope Francis addressed the clerical abuse scandals after the Vatican was criticized for waiting several days to proclaim "shame and sorrow" over a damning Pennsylvania grand jury report.
"We ask forgiveness for the abuses in Ireland, abuses of power, of conscience, and sexual abuses perpetrated by members with roles of responsibility in the church," he said.
Photos emerged on social media showing protests and graffitti along the Dublin streets on which the pontiff's Popemobile traveled to Phoenix Park. But many of the 130,000 attendees told local publications they were excited to see Pope Francis in the pouring rain, which they cited as the cause for the reduced attendance.