Pope Francis Says People Who Choose Pets Over Having Kids Are Selfish
Pope Francis on Wednesday criticized couples who have chosen to have pets instead of children, calling their decision "a form of selfishness."
The pope, 85, made the comments while speaking to a general audience about adoption and orphans in relation to St. Joseph, Jesus' father.
When pets "take the place of children," he said, it "takes away our humanity."
He continued, "We see that people do not want to have children, or just one and no more. And many, many couples do not have children because they do not want to, or they have just one—but they have two dogs, two cats...Yes, dogs and cats take the place of children.
"Yes, it's funny, I understand, but it is the reality. And this denial of fatherhood or motherhood diminishes us, it takes away our humanity. And in this way, civilization becomes aged and without humanity because it loses the richness of fatherhood and motherhood. And our homeland suffers, as it does not have children," he said.
Francis said couples who cannot have children should turn to adoption instead of having pets as substitutes for kids.
"How many children in the world are waiting for someone to take care of them?" Francis said. "Having a child is always a risk, either naturally or by adoption. But it is riskier not to have them. It is riskier to deny fatherhood, or to deny motherhood, be it real or spiritual."
The pope also implied there might be a problem with people who opt out of parenthood.
"A man or woman who do not develop the sense of fatherhood or motherhood, they are lacking something, something fundamental, something important," he said.
The pontiff's message soon began trending highly on social media, where many users took issue with his stance. Some seized on the opportunity to criticize the Catholic Church as an institution for its decades of allegedly ignoring sexual abuse, while others chastised the celibate pope since he has no children of his own.
Some celebrities also disagreed with Francis on Twitter, including comedian Sarah Cooper, who wrote, "Spoken by a pope who's clearly never had a dog."
Journalist Maria Shriver praised the pontiff but opposed his message. She tweeted, "I love this Pope, but I disagree here. Couples have to decide what's right for them. Having a family is a personal decision. I feel very confident that Jesus would agree."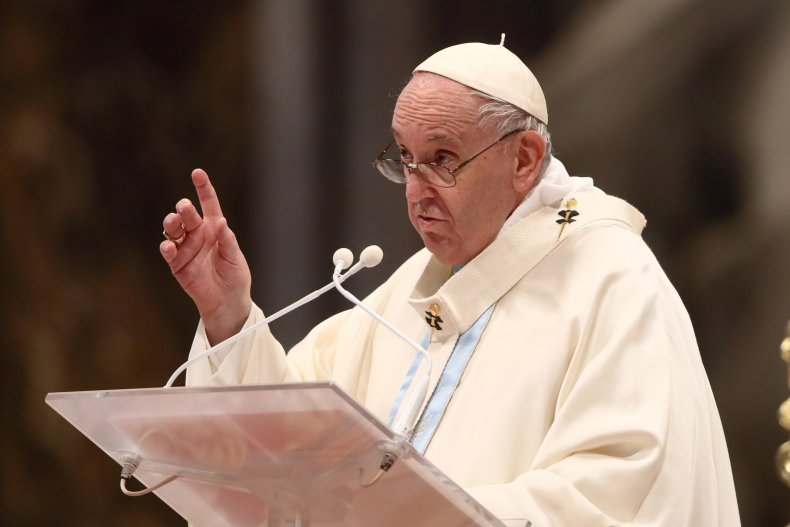 Update 01/05/22, 4:45 p.m. ET: This story has been updated to include more of Pope Francis' speech and reactions from Twitter users.