Pope Francis Slams 'Elderly and Haggard' EU in Speech to Parliament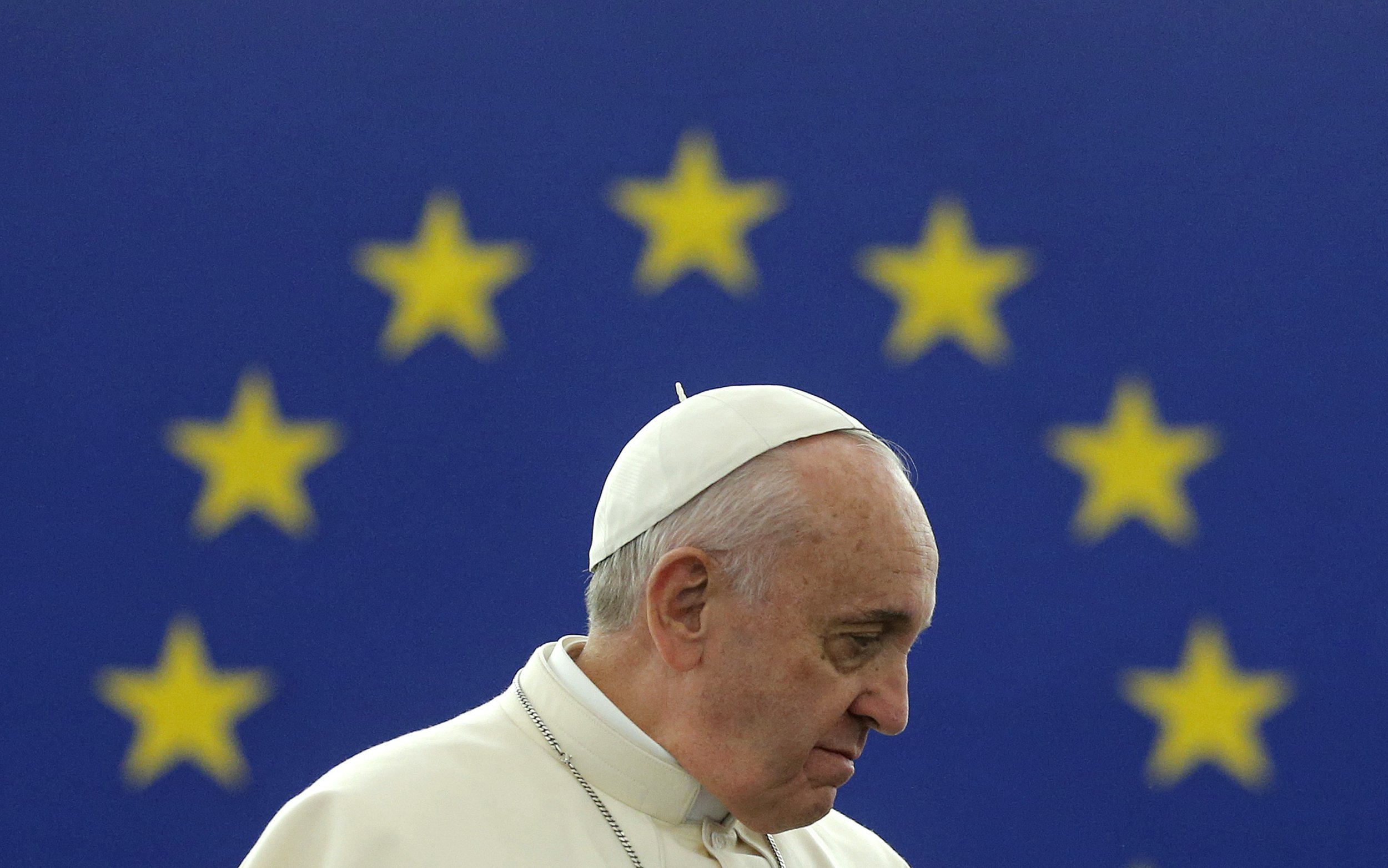 A little over a quarter of a century after Pope John Paul II hailed the European Union as a "beacon of civilization", Pope Francis, addressing the European Parliament on Tuesday, made it clear that after 20 months in the Vatican, he could not think more differently.
Standing before 700 MEP's in Strasbourg, Argentinian-born Pope Francis - the first non-European to hold office in almost 1,300 years - criticized the EU in a strongly worded speech, accusing it of passing a series of aged, bureaucratic and narcissistic policies that have left Europe "elderly and haggard".
The four-hour visit to Strasbourg was the shortest ever made by any Pope abroad, and only his second European trip outside of Italy during his time in office.
However, the message of his 36-minute speech was clear: the Roman Catholic Church's traditionally unconditional support for the EU is, well, conditional.
Francis, 77, described the continent as a "grandmother, no longer fertile and vibrant" saying it risked "slowly losing its own soul".
"We encounter a general impression of weariness and ageing," he told the assembly.
Francis criticised Europe as having become hostage to a "uniformity" of Eurozone policies that dictate public spending and undermine democracy.
"It is no secret that a conception of unity seen as uniformity strikes at the vitality of the democratic system, weakening the rich, fruitful and constructive interplay of organisations and political parties," he said.
"Unity does not mean uniformity," he added, criticising "uniform systems of economic power in the service of unseen empires".
Attacking the West's contemporary "throwaway culture", Francis said that human rights were being forgotten, especially those of "the poorest of the poor", in favour of individualistic egotism.
"Men and women risk being reduced to mere cogs in a machine that treats them as items of consumption to be exploited, with the result that – as is so tragically apparent – whenever a human life no longer proves useful for that machine, it is discarded with few qualms, as in the case of the terminally ill, the elderly who are abandoned and uncared for, and children who are killed in the womb," he said.
This, he said was "downright harmful" to the peoples of Europe, causing the rest of the world to view it with "aloofness, distrust and suspicion".
Also harmful, he said are the EU's damaging immigration policies. "The absence of mutual support within the European Union runs the risk of encouraging... solutions which fail to take into account the human dignity of immigrants, and thus contribute to slave labour and continuing social tensions."
He called for a "united response" following the deaths of thousands of migrants who drowned trying to cross the Mediterranean from Northern Africa and the Middle East to Europe.
"We cannot allow the Mediterranean to become a vast graveyard," he said.
In his final words in a speech devoted to the centrality of human dignity, Pope Francis called on secular Europeans to recognize Christianity, seen "in the beauty of our cities, and even more in the beauty of the many works of charity and constructive cooperation throughout this continent".
"This history, in large part, must still be written. It is our present and our future. It is our identity. Europe urgently needs to recover its true features in order to grow, as its founders intended, in peace and harmony, since it is not yet free of conflicts," he said.