Sinful: Pope Francis Slams 'Ugly' Cell Phone Use During Mass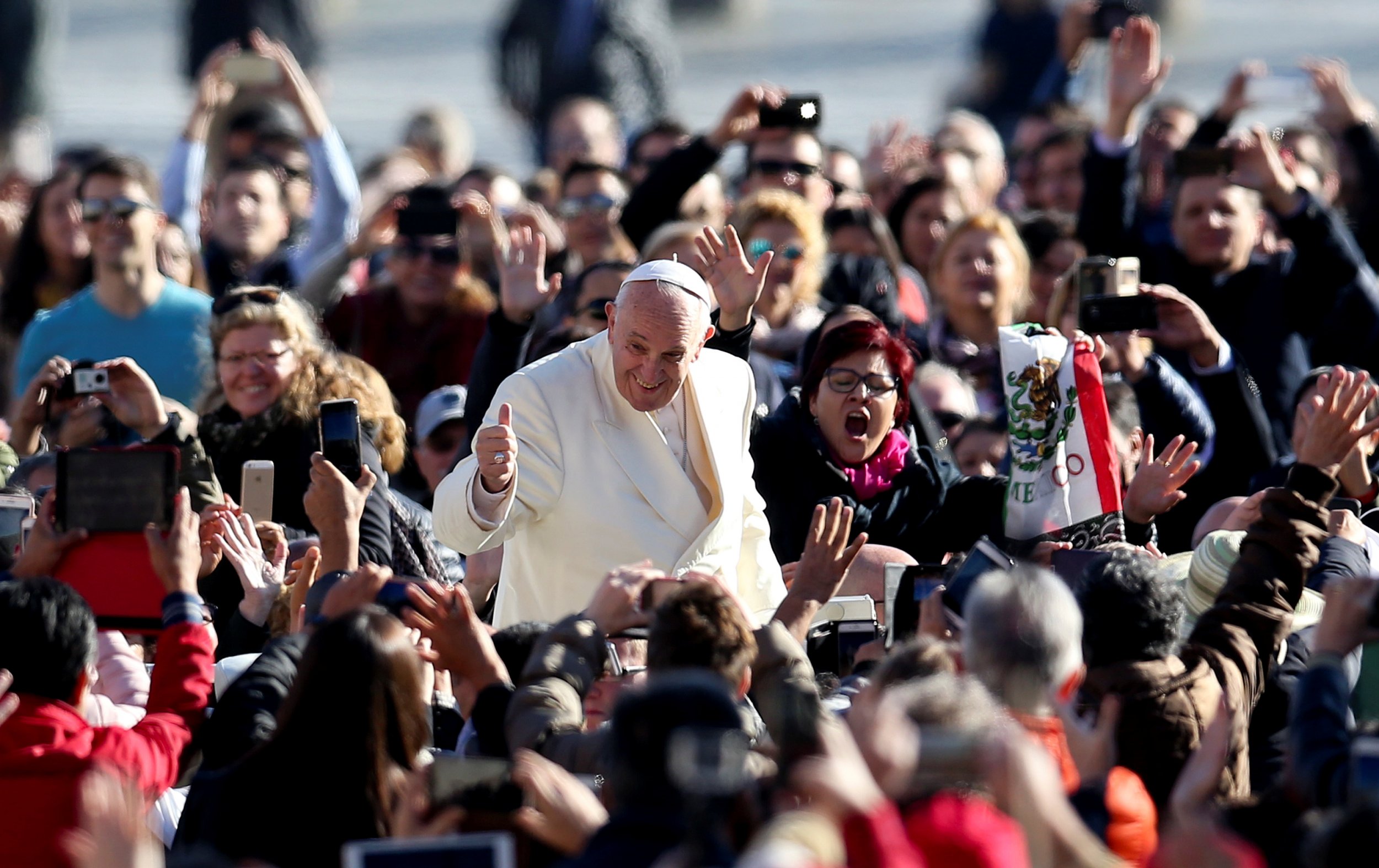 Rude cell phone use isn't a sin—yet. But you might not want to keep pushing Pope Francis' buttons on the issue.
During his weekly address in St. Peter's Square Wednesday, the pope slammed the use of cell phones during mass, calling it "a very ugly thing."
"The priest says 'lift up your hearts.' He does not say, 'lift up your cell phones to take pictures,'" Pope Francis said. "It's a bad thing! And I tell you that it gives me so much sadness when I celebrate here in the Piazza or Basilica and I see so many raised cellphones, not just of the faithful, even of some priests and even bishops."
The reportedly improvised remarks were an ardent plea from the leader of the Catholic Church to worshippers. He doesn't want smartphones to distract churchgoers from the ritual of the Eucharist, which is the "heart of the Church."
"The Mass is not a show: it is to go to meet the passion and resurrection of the Lord," Francis said. "The Lord is here with us, present. Many times we go there, we look at things and chat among ourselves while the priest celebrates the Eucharist... But it is the Lord!" He added, "Think: when you go to Mass, the Lord is there! And you're distracted. (But) it is the Lord!"
This isn't the first time the pope has shared his disappointment with those who are distracted by technology and other material desires. He has implored priests and nuns in training to not pursue "the latest smartphone, the fastest car." He has wondered aloud if young people waste too much time in useless things: chatting on the internet or with your mobile phone." And he has criticized those who bring their technology to the dinner table. "A family that almost never eats together, or that never speaks at the table but looks at the television or the smartphone, is hardly a family," he said during a 2015 weekly audience.
Francis' feelings about cell-phone use might stem from one of his first experiences as pope. In 2013, he was named the 266th head of the church, and he stepped out on the balcony at St. Peters to greet the world he was faced with a sea of screens.
Since ascending to the throne of St. Peter, Francis has reportedly not been seen using a cell phone in public, let alone during mass. He'd like the world's Catholics to follow his example and put away the phones—at the dinner table, at mass and in life. If they don't, there could be hell to pay.