Pope Francis Tells Catholics, We Can't 'Turn a Blind Eye' to Racism While 'Claiming to Defend' Sacredness of Human Life
Pope Francis spoke out against racism while addressing the death of George Floyd during a public speech delivered to Catholics around the world last week.
His address on June 3 took issue with what he called the "sin of racism" existing among those who say they fight for all human life.
"We cannot tolerate or turn a blind eye to racism and exclusion in any form and yet claim to defend the sacredness of every human life," Francis said.
"Today, I join the church in Saint Paul and Minneapolis, and in the entire United States, in praying for the repose of the soul of George Floyd and of all those others who have lost their lives as a result of the sin of racism."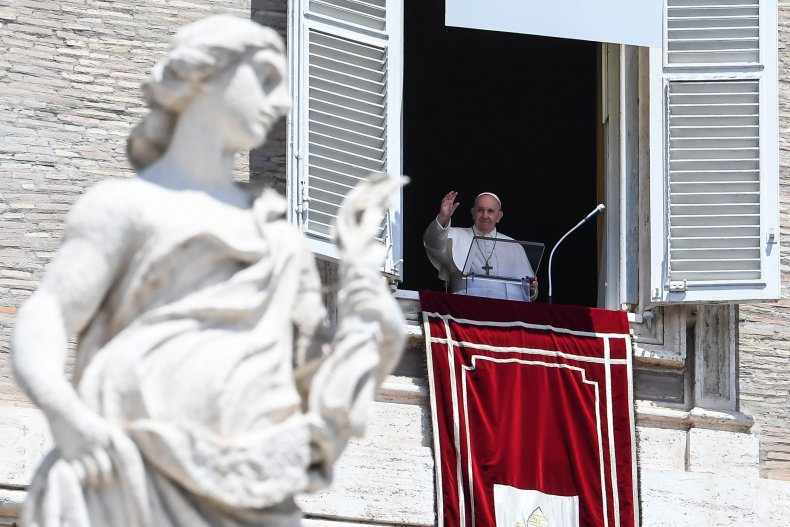 Since ascending to the papacy in 2013, Francis has become known for his liberal theological leanings, more liberal than those of his immediate predecessors. While he's advocated for civil rights and been a proponent for the poor in other countries, he has stayed true to the Catholic belief that abortion is not in line with the faith (and even compared the procedure to contracting a "hitman" last year). Racism does not jibe with the belief system that defends human life at all stages, Francis said in his address.
The pope's speech came as religious and government leaders throughout the U.S. decided how best to advise their followers on the protests that erupted in the wake of May 25, the day on which Floyd, a 46-year-old black man, died while in police custody in Minneapolis. While Texas' deputy governor said Americans needed to "turn to God" to end racism, Bishop Mark Seitz in El Paso took a different approach by kneeling with protesters, a move the Associated Press reported Francis praised during a phone call with Seitz last week.
"That's what our Catholic Christian faith is all about: It's about the fact that God has loved humanity enough—not just one group, one person, one period of historical time—but he's loved humanity enough that he chose to become one of us," Seitz said in a video statement shared with Newsweek about his call with Francis.
"When it comes to racism, clearly this is a sin that causes division, and it is against the will of God," Seitz said.
In another sign of his push for unity among Catholics in America, Francis also quoted the United States Conference of Catholic Bishops' calls for nonviolent protests. In a statement issued May 31 by Archbishop José H. Gomez of Los Angeles, the conference president condemned Floyd's "senseless and brutal" death but said the violence that had occurred in the first few days of protests was not the right way to address it.
"The violence of recent nights is self-destructive and self-defeating. Nothing is gained by violence and so much is lost," Gomez's statement read, words that Francis echoed in his own address on June 3.
Francis' comments on protests against police violence and racism in America occurred as President Donald Trump's support among Catholic Americans appeared to be slipping a few months before the 2020 presidential election. According to a Pew Research Center poll conducted in late April and early May, Trump's support among white Catholics was on the decline in what researchers believed was a response to the president's handling of the coronavirus pandemic, and a poll published by the Public Religion Research Institute last week similarly showed his support among Catholics was declining in the days following Floyd's death.