Pope Francis is Treating 3,000 Homeless People to Ice-cream
Pope Francis is treating 3,000 homeless people in Rome to ice-cream to mark his name day, the feast of St George, in his latest act of charity for the destitute.
The Office of Papal charities as cited by Italian news agency Ansa said that the ice-cream would be given to those receiving assistance at soup kitchens and homeless centres in the Italian capital.
In a statement, the Vatican said the Pope wants to celebrate "with the most needy and the homeless of Rome."
The gesture comes amid a week of warm weather in Rome, where temperatures have risen to levels not usually seen until summer.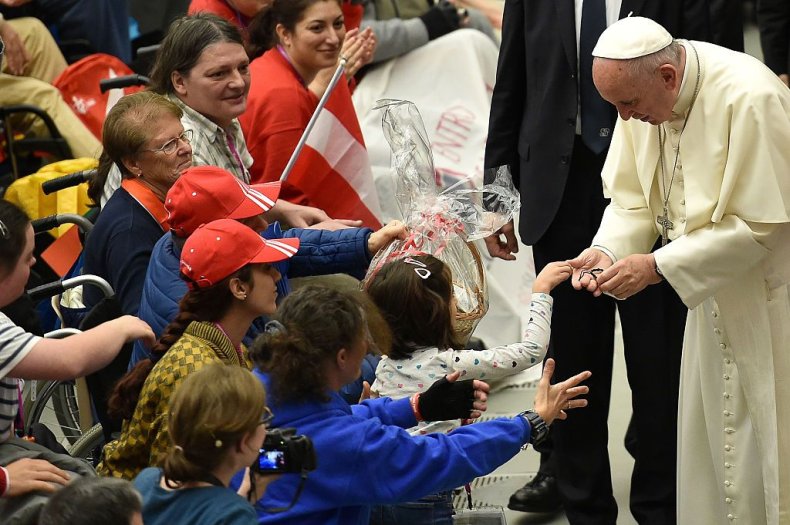 Francis has emphasised the importance of charity during his time in the Vatican, and used public celebrations to draw attention to the plight of the poor.
He marked his 78th birthday in 2014 by ordering the distribution of thousands of sleeping bags to Rome's rough sleepers.
For his 80th birthday he invited a group of homeless people to share breakfast, which included pastries from his native Argentina.
In November, he gave away a white and yellow Lamborgini sports car worth $200,000 which he had been gifted, to be auctioned for money to help Christians whose homes were destroyed by militant group Islamic State (ISIS) in Iraq, as well as female victims of human trafficking and forced prostitution.
Name days are marked in some Catholic and Orthodox Christian countries, where people celebrate the day of the saint associated with their given name.
In accordance with tradition, the pope took on a new name—Francis I—when he was elected to the office in 2013. His birth name is Jorge Mario Bergoglio.