Pope Francis Urges Education for Young Afghans Amid Resettlement of Refugees
Pope Francis on Sunday called on educating young Afghans as they seek new lives as refugees, after the Taliban gained control of Afghanistan last month.
"I also pray for the internally displaced so that they have help and necessary protection. May young Afghans receive an education, which is an essential good for human development," he said during his weekly blessing at St. Peter's Square, Reuters reported.
Education and women's rights and freedoms were different when the Taliban ruled Afghanistan from 1996 to 2001. At that time, women were banned from education and work, and they were forced to wear a veil in public.
An Afghan women's rights activist told Newsweek on Thursday that schools now will be operating differently under the Taliban law where boys and girls can no longer be in the same classrooms.
Additionally, some students need to have the approval of the Quetta Shura— a Taliban council that puts governance structures— before they resume their education. According to the activist, the Taliban will also decide the conditions in which girls can obtain an education.
A Taliban representative told Fox News on Friday that women's rights will be maintained under their rule despite doubts about those claims.
"There will be no issue about the women's rights. No problem about their education, their work," said Taliban spokesperson Suhail Shaheen.
Many Afghans who were evacuated by the U.S. are currently waiting in transit areas that include American military and NATO bases in Qatar, Germany, Italy, Saudi Arabia, United Arab Emirates and Kuwait, among others, according to CBS News. The evacuees in those transit spaces are currently waiting to overcome their immigration obstacles in order to be able to enter the U.S, Reuters reported.
"I pray that many countries welcome them and protect those who are seeking a new life," Pope Francis said on Sunday.
Other Afghans who fled the country were able to cross to neighboring countries such as Pakistan.
"In these moments of upheaval, in which Afghans are seeking refuge, I pray for the most vulnerable among them," said the pontiff.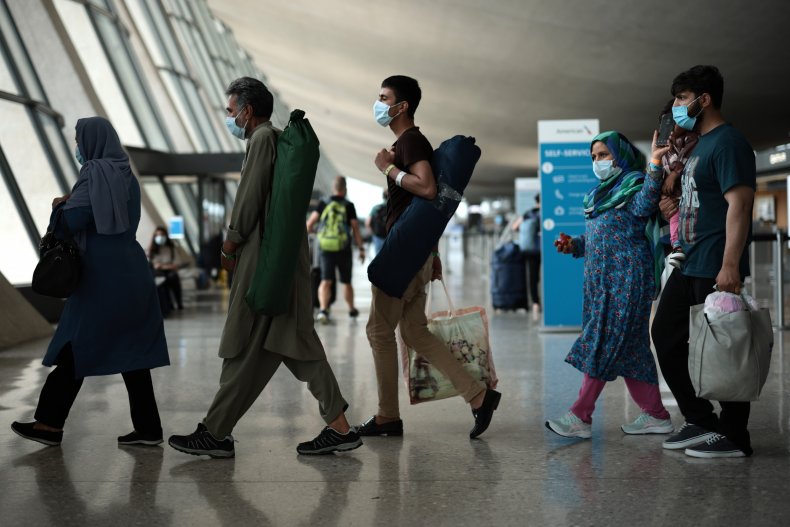 Homeland Security Secretary Alejandro Mayorkas said America is set to resettle over 50,000 Afghans who were evacuated when American troops were leaving Afghanistan in August.
Those Afghan evacuees include visa holders, applicants for the Special Immigrant Visas, U.S. permanent residents, and journalists who are at risk under Taliban rule.
Mayorkas said on Friday that Afghan evacuees are expected to enter the country as part of an "enduring commitment" to help allies who assisted the U.S. throughout the 20-year-old war
"We have a moral imperative to protect them [Afghan Allies], to support those who have supported this nation," Mayorkas said.