Pope Francis Urges Parents of Gay Children to Pray, Seek Psychiatric Help
Pope Francis told parents of gay children to look for psychiatric help and have a dialogue with them during a press conference on his flight from Dublin to Rome on Sunday.
"Don't condemn. Dialogue. Understand, give the child space so he or she can express themselves," Francis told reporters, according to the Associated Press. "Ignoring a child with this tendency shows a lack of motherhood and fatherhood. This child has the right to a family. And the family not throwing him out."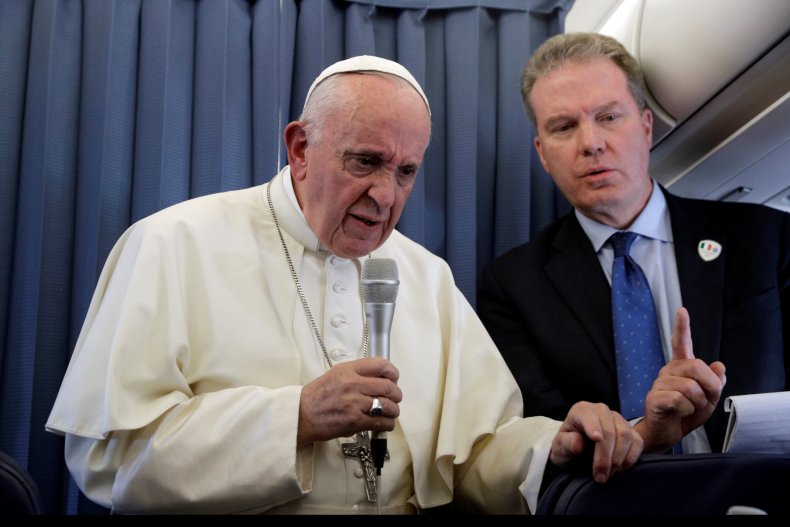 Francis told reporters that he would suggest prayer to a father whose child comes out as gay. "There have always been gay people and people with homosexual tendencies," Francis said, according to the Associated Press.
"When it (homosexuality) shows itself from childhood there is a lot that can be done through psychiatry, to see how things are. It is something else if it shows itself after 20 years," the pope said. On Monday, the Vatican backed away from the comments, saying that Francis did not mean that homosexuality is a mental illness.
"When the Pope referred to 'psychiatry', it is clear that he was doing it to highlight an example of 'things that can be done'. But with that word he didn't mean to say that it (homosexuality) was a 'mental illness'," a Vatican spokeswoman told Agense France-Presse according to France 24.
The pope's two-day visit to Ireland was the first time in 39 years that a pope visited that country. Sexual and institutional abuse was the predominant subject throughout Francis's visit. He ended the ninth World Meeting of Families with a mass at Phoenix Park in Dublin.
"We ask forgiveness for the abuses in Ireland, abuses of power, of conscience and sexual abuses perpetrated by members with roles of responsibility in the church. In a special way, we ask pardon for all the abuses committed in various types of institutions run by males or female religious and by other members of the church," Francis said as part of a prayer during the mass, The Guardian reported. "We ask for forgiveness."
During a meeting in May, Francis told Juan Carlos Cruz, a gay man who was abused by a Chilean priest, that God was accepting of him.
"He told me, 'Juan Carlos, that you are gay does not matter. God made you like this and loves you like this, and I don't care. The pope loves you like this. You have to be happy with who you are," Cruz told El Pais, according to The Guardian.
In 2013, Francis made remarks suggesting more acceptance of homosexuality by the church during a press conference that lasted an hour and 20 minutes on a flight back to Rome from Brazil.
"If someone is gay and he searches for the Lord and has goodwill, who am I to judge? The catechism of the Catholic Church explains this very well. It says they should not be marginalized because of this [orientation] but that they must be integrated into society," Francis told reporters, according to The Guardian.
Pope Francis Urges Parents of Gay Children to Pray, Seek Psychiatric Help | World