New York's Homeless Say Pope's Visit Won't Help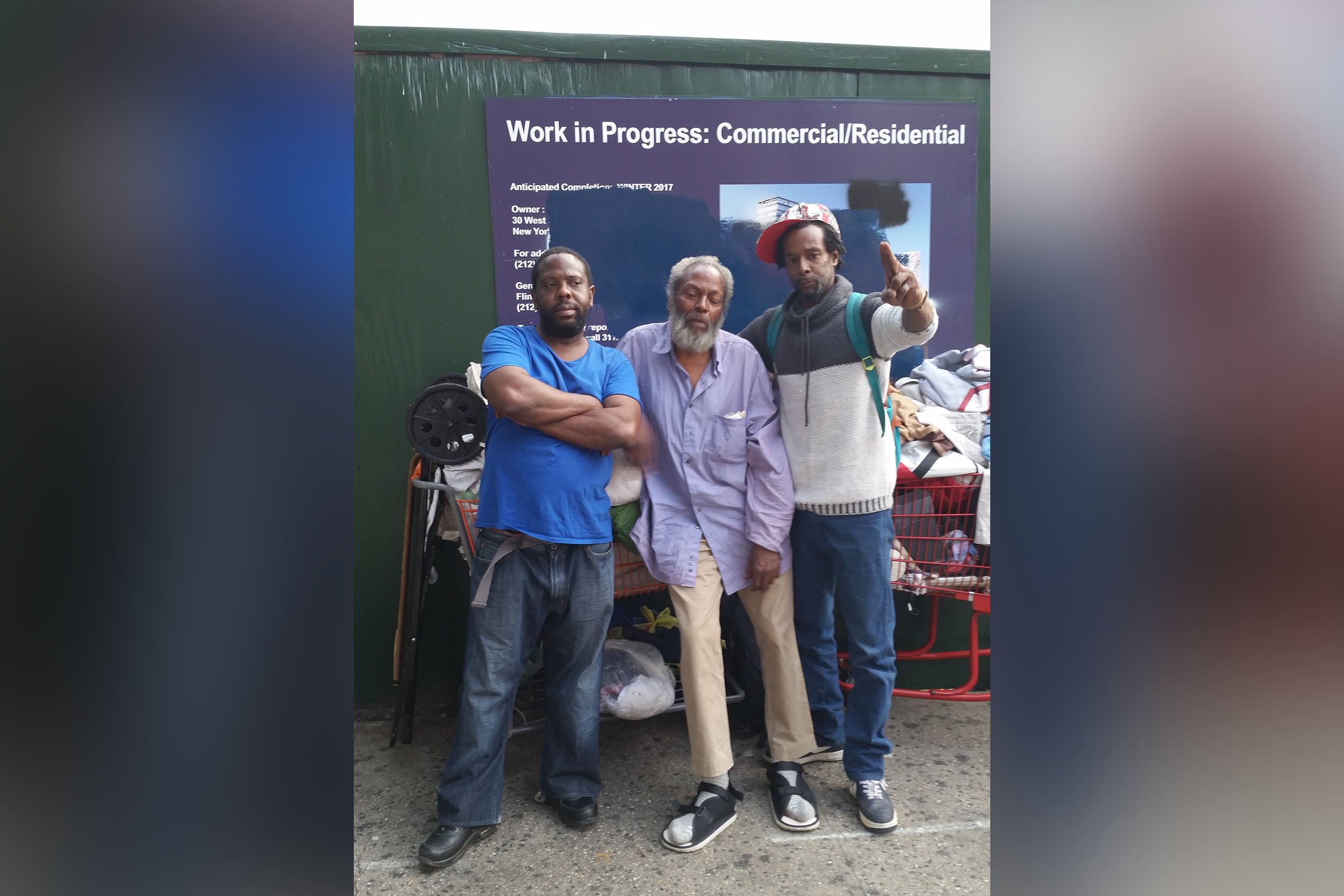 While New Yorkers are heralding the arrival of Pope Francis, whom many believe has fought inequality far more than any other modern pope, the pontiff's visit here has generated mixed reactions among the city's homeless.
At the corner of 125th Street and Park Avenue in East Harlem, a block that has drawn extensive media attention in discussions about the city's growing homeless population, some men who live here are angry that city resources have been dedicated to the pope instead of being used to help them.
"I think it's a terrible idea. What is he coming to town for?" Anthony Rainey, 61, tells Newsweek. "I don't think he's going to get no blessings coming here. He won't get none from me—I don't think he's doing anything intelligent, not for the real people."
Rainey says he's a U.S. Marine Corps veteran and has been on the street for several years, sleeping between two shopping carts and struggling with broken bones.
"And all that money, they could have got me a crib, and the pope has got too many cribs," he says, later noting, "He coming in here, wasting up all this money, people could have had houses. We don't need to see him.
Rainey, who was raised Baptist but is now an atheist, adds, "I mean, maybe his believers do."
Ian G., who would provide only an initial and not a last name, expresses similar sentiments.
"We live here. We're struggling. Why do we care about him coming here for one day for an hour?" he says, referring to the pontiff's planned visit to a neighborhood school later this week. "He ain't doing a damn thing for us—he gotta go."
The 37-year-old says that the pope's New York City visit has exacerbated a reported citywide crackdown on the homeless. The number of 311 complaints about homeless persons has shot up 60 percent since Mayor Bill de Blasio took office, according to a DNAinfo.com New York report. Under de Blasio, officials disbanded the homeless camp at the intersection where Ian G. lives.
Ian says that the pope's planned visit to an East Harlem school has further intensified police scrutiny.
In a statement to Newsweek, the New York Police Department said, "The NYPD Homeless Outreach Unit has been working with other city agencies and partners in an effort to provide services to the homeless long before the planned papal visit, and we will be continuing these outreach efforts long after he departs."
"I'm trying to figure out, Who's this person? Because the pope means nothing to me—I'm a Baptist Christian. I'm not a Roman Catholic, so that means nothing to me," says Ian G., who's been on the street one year. "So you can't tell me somebody that means nothing to me is coming and I got to go—they're forcing us out."
Maria Walles, who is Catholic, lives in a shelter with her husband. "I always respected the pope. He's dear to my heart," she says. While Walles, 45, is excited about the pope's visit—she has a ticket to his procession—she's also a little disappointed. Walles believes Francis wants to help the poor but wishes he was in New York City for a longer period so she could show him what homeless residents endure.
"I don't really have no problem with him being here. I just want him to know about our concerns, about the homeless situation," Walles, a member of the advocacy group Picture the Homeless, says, later explaining that she'd love to have a one-on-one talk with the pontiff. "If I was able to sit down and talk to him, I'd tell him what's going on—I'd even do some type of tour."
William Burnett, a Picture the Homeless board member, is Catholic and was formerly homeless. Many Picture the Homeless members are very excited about Francis's visit—even non-Catholics and atheists, he says. While Francis's call for economic equality isn't novel for a pope, he strikes many homeless people as more accessible than his predecessors, partly due to his social media-friendly style of communication, Burnett explains. But some Picture the Homeless members' elation is tempered by fear that officials will use his visit to displace the homeless.
"Even those who are excited about the pope have some bad feelings about the visit," he says, later noting, "They're using the pope's visit as an excuse to do that."
He adds, "I can't imagine the pope approving of that, but the city is using him as an excuse to do that."
Despite this, Burnett's faith remains strong enough for him to attend the papal procession. Though Burnett admits to being rusty in Latin, he even made a sign in the language that translates to "Pope Francis, the homeless welcome you to New York City."
Unfortunately, Burnett says, he won't be able to carry it.
"I'm told you can't have signs at the procession," he says. "I would like to have made a T-shirt, but it's too late."