Where Will Pope Francis Go in the U.S.?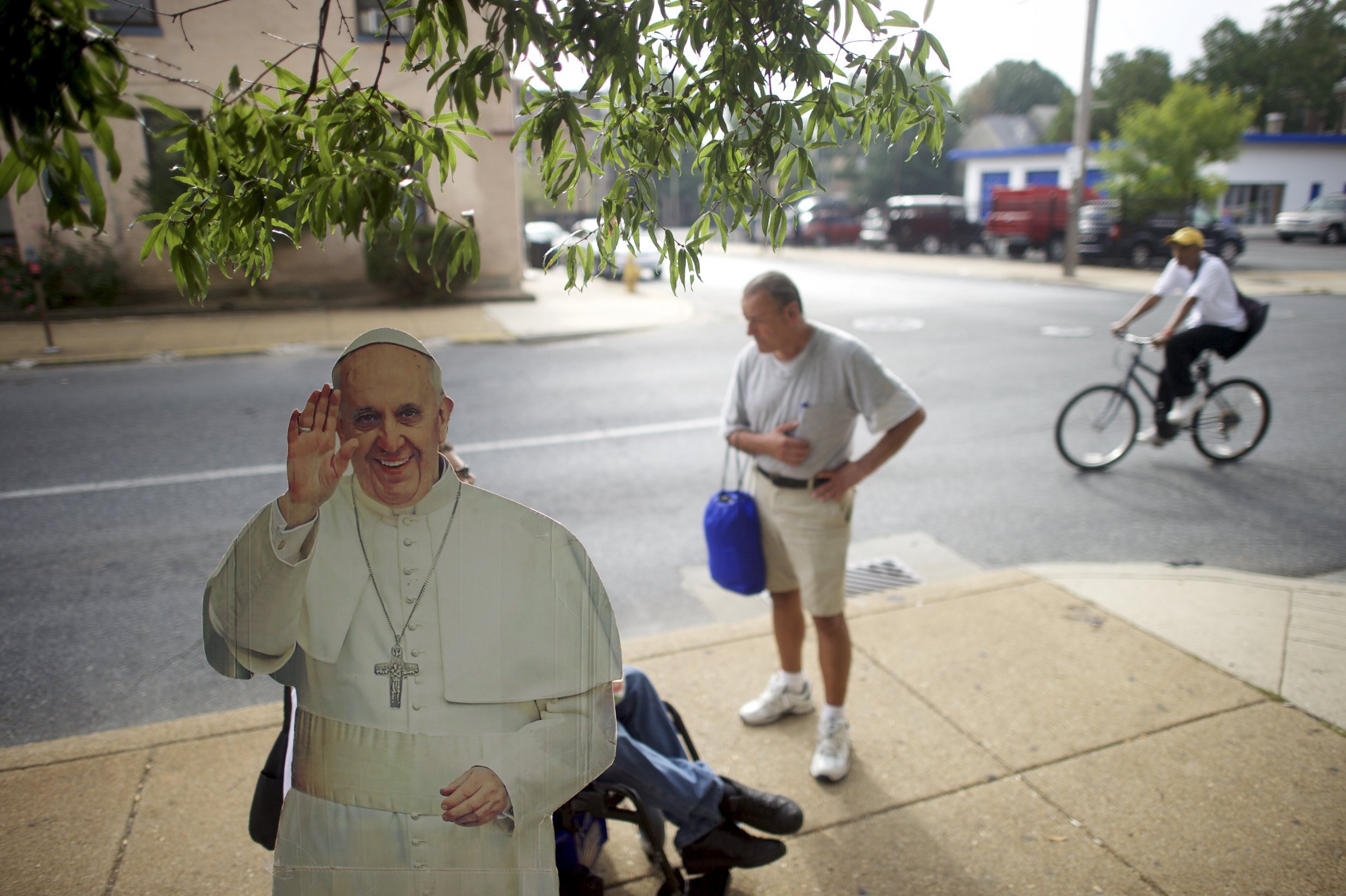 Updated | Pope Francis arrived on U.S. soil on Tuesday afternoon for his first visit to the country since he was elected to lead the Roman Catholic Church in March 2013.
His six-day itinerary includes stops in three eastern cities: Washington, D.C., New York and Philadelphia. He first landed at Joint Base Andrews in the country's capital. On Wednesday, the pope will participate in a welcoming ceremony on the South Lawn of the White House and canonize 18th-century Spanish Franciscan missionaryJunípero Serra during a Mass at the Basilica of the National Shrine of the Immaculate Conception. He will become the first pontiff to address a joint meeting of Congress at the U.S. Capitol on Thursday.
The 78-year-old pope will arrive in New York by 5 p.m. on Thursday, then conduct an evening prayer at St. Patrick's Cathedral. The next day, he will address the United Nations General Assembly, deliver a multireligious service at the National September 11 Memorial and Museum, motorcade through Central Park and celebrate Mass at Madison Square Garden, an indoor arena above Pennsylvania Station.
Related: A Brief History of Pope Francis in the Headlines
Over the weekend, he will travel to Philadelphia, where he will talk about immigration during an address at Independence Mall, a three-block section of the city's Independence Historical Park. Before leaving for Rome on Sunday, the pope will hold Mass at the World Meeting of Families and speak with organizers and volunteers there. The event is held every three years by the Holy See's Pontifical Council for the Family. It is the world's largest Catholic gathering of families.
The Catholic leader set off his nine-day travel itinerary last week by touring Cuba, where he celebrated Mass in Havana's Revolution Square and met with former President Fidel Castro. The pope previously wrote letters to both Obama and Castro requesting that they resolve humanitarian questions of common interest. His personal plea is credited by some with contributing to the thawing of more than five decades of tense U.S.-Cuban relations last December.
Francis is the first Jesuit and Latin American pontiff, who succeeded Pope Benedict XVI more than two years ago. He is viewed by many people around the world as a progressive leader because of his significant rhetorical breaks with Catholic tradition. Some people believe that despite his progressive image, he hews closely to the Vatican's conservative ideals.
Forty-five percent of Americans are Catholic, or are connected to the religion, a September report by the Pew Research Center found. Many Catholics surveyed in the report said they would like the church to be more flexible and open toward non-traditional families.
A new poll released ahead of his U.S. visit showed that 8 in 10 of American Catholics approve of the direction in which he is leading the church. Worldwide, more than 6 in 10 Catholics view him favorably.
In preparation for Pope Francis's visit, the U.S. Conference of Catholic Bishops has prepared a "virtual pilgrimage," as well as an interactive map to track the pope's travels.
This story has been updated to include Pope Francis's arrival to the U.S.