Pope Francis Is Really and Truly Releasing a Rock Album Called 'Wake Up!'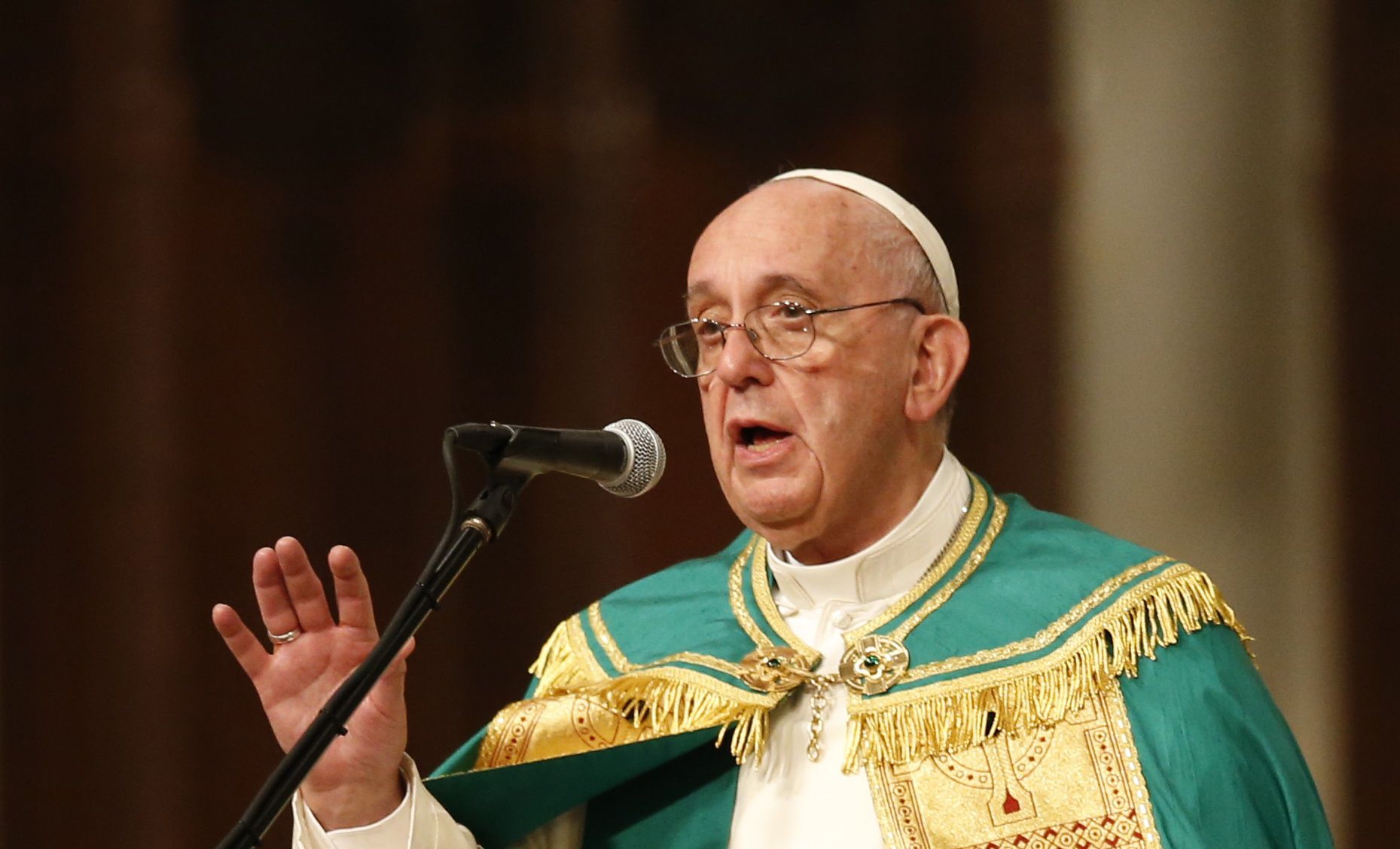 Pope Francis will release an album of his speeches and chanting set to progressive rock–inspired music this November.
This is for real—those tweets you've been seeing about his holiness's new track aren't jokes. The album is titled Wake Up! and will feature recordings of the pontiff "delivering sacred hymns and excerpts of his most moving speeches" set to music supervised by producer and artistic director Don Giulio Neroni, Rolling Stone reports. Pope Francis will address listeners in Italian, English, Spanish and Portuguese on Wake Up!, covering topics ranging from the environment—which he emphasized in an address to Congress—to world peace and the duty of vigilance.
The pope's musical project was revealed Friday on the occasion of the leader's ongoing visit to the United States. The finished product is set to arrive on November 27, though you can preorder the album on iTunes today. Those who pay for the album early will get a download of the track "Wake Up! Go! Go! Forward!" The song combines dramatic horns and rushing rock guitars with a recording of the pope urging a South Korean audience to "Wake up! Wake up! The Lord speaks of a responsibility that the Lord gives you. It is a duty to be vigilant."
Rolling Stone compares the pope's song to the acclaimed post-rock group Godspeed You! Black Emperor, which is probably not a sentence any member of Godspeed You! Black Emperor expected to exist. The song was composed by Tony Pagliuca, who was a member of the 1970s progressive rock group Le Orme.
Here's Neroni explaining his contributions to Rolling Stone:
"For many years, I've been the producer and the artistic director of albums by the Pope. I had the honor to work with John Paul II, Benedict XVI and now Pope Francis," Neroni tells Rolling Stone. "As in the past, for this album too, I tried to be strongly faithful to the pastoral and personality of Pope Francis: the Pope of dialogue, open doors, hospitality. For this reason, the voice of Pope Francis in Wake Up! dialogues music. And contemporary music (rock, pop, Latin etc.) dialogues with the Christian tradition of sacred hymns."
Pope Francis, who has served as head of the Catholic Church since 2013, is presently spreading his message in New York City. He visited the site of the World Trade Center on Friday morning.
The Wake Up! track listing appears below.
1. "Annuntio Vobis Gadium Mangum"
2. "Salve Regina"
3. "Laudato Sie…"
4. "Poe Que' Sufren Los Ninos"
5. "Non Lasciatevi Rubare La Speranza!" |
6. "La Iglesia No Puede Ser Una Ong!"
7. "Wake Up! Go! Go! Forward!"
8. "La Fa Es Entera, No Se Licua!"
9. "Pace! Fratelli!"
10. "Per La Famiglia"
11. "Fazei O Que Ele Vos Disser"