Pope Francis Is Worried About Nuclear War and Calls for Ban on Nukes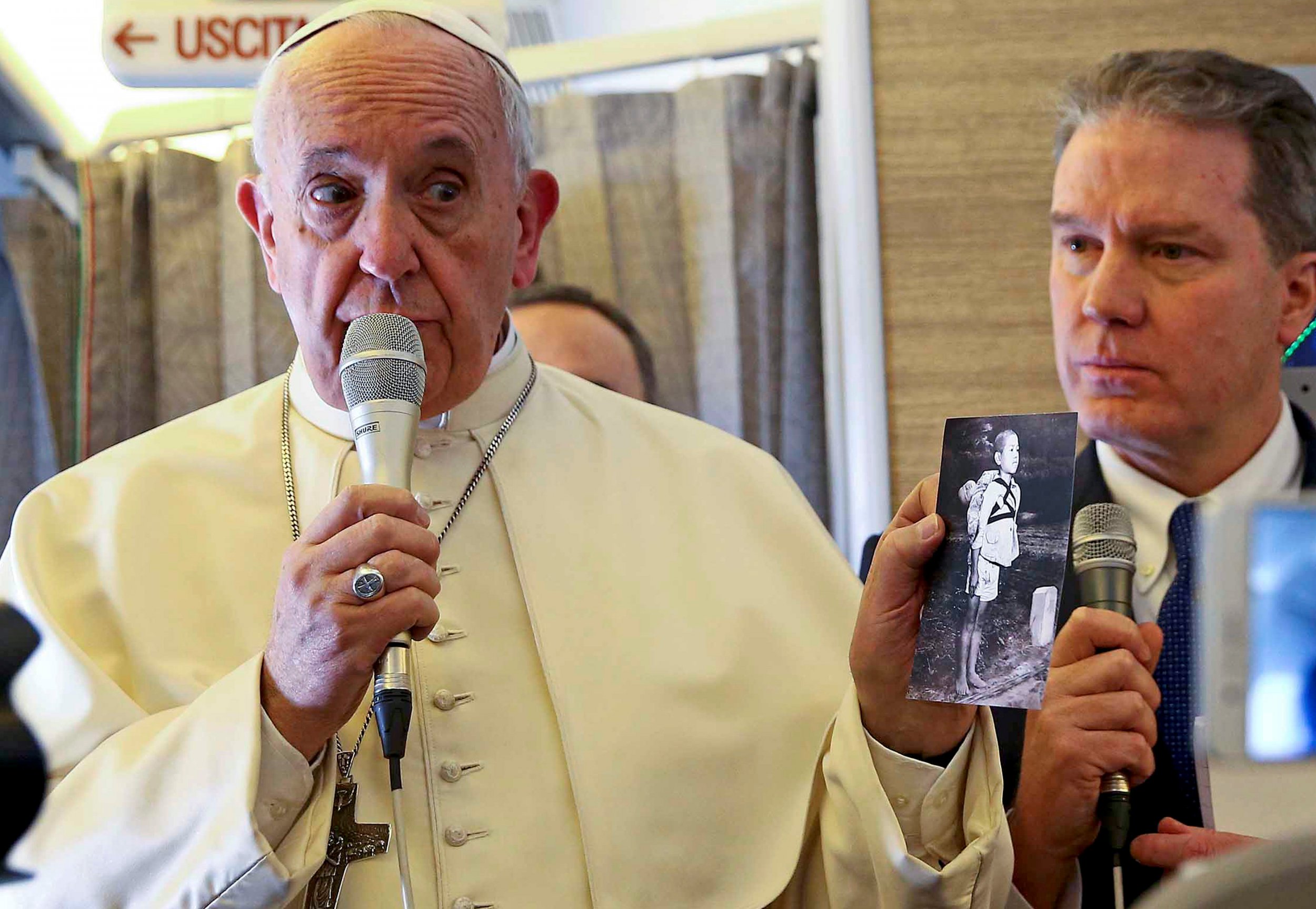 Pope Francis discussed his fears of nuclear war while on his way to Chile on Monday.
The pontiff distributed a picture he described as "the fruit of war" and marked with his own signature to raise awareness about the dangers of nuclear conflict. The photo was captured by American photographer Joseph Roger O' Donnell and shows a Japanese boy carrying his dead younger brother on his shoulders following the U.S. atomic bombing of Nagazaki.
"I found it by chance" the pope told reporters, quoted in Italian news agency Ansa. "Such image moves more than a thousand words. And I wanted to share it with you," he said.
The pope did not mention North Korea, the only country to have tested a nuclear device in the 21st century, or Hawaii, where an emergency ballistic missile launch alert was sent by mistake over the weekend, sparking mass panic, but did say what is on many people's minds in response to a journalist asking whether he is afraid of nuclear war breaking out.
"Yes, I am really afraid. I think we are at the very limit. One accident is enough to precipitate things. So we have to destroy the weapons, acting towards a global nuclear disarmament," he said.
A leaked draft of the Nuclear Posture Review 2018 authored by the Department of Defense indicated that the pope's hopes for a future without nukes were not going to become a reality any time soon, as the U.S. is set to loosen the rules around developing, testing and using nuclear weapons.
The Vatican is one of 122 members of the U.N. General Assembly who have agreed to a draft treaty on the prohibition of nuclear weapons. Notably, none of the nine countries known to possess the world's 15,000 nuclear warheads (the U.S., the U.K., Russia, Israel, France, Pakistan, India, China and North Korea) participated in the process or adopted the convention.
The pontiff has often mentioned the need for a global ban on nukes in recent speeches. The topic was one of the main issues he discussed in his "State of the World" address, an annual speech delivered to diplomats in Vatican City last week, and also dedicated one of his Sunday prayers in December to a world without nuclear weapons.