Pope Francis Says He Asked God to Stop Coronavirus With His Hand, Thanks Health Workers and Volunteers
Pope Francis has said that he asked for divine intervention in the coronavirus pandemic and called on people to use these troubled times to get closer to their loved ones.
The head of the Catholic Church has mostly been restricted to the walled confines of the Vatican and since the national lockdown in Italy was imposed on March 9, has been live-streaming his daily mass from his Santa Marta residence, Catholic news service Crux Now reported.
On Sunday, he left the Vatican and went to the centre of a deserted Rome to pray at the Basilica of Saint Mary Major [Santa Maria Maggiore]. He then walked along the Via del Corso to reach the church of San Marcello al Corso, which is home to a crucifix venerated by the Catholic faithful and was carried throughout the Italian capital in 1522 to ward off the Great Plague, Vatican News reported.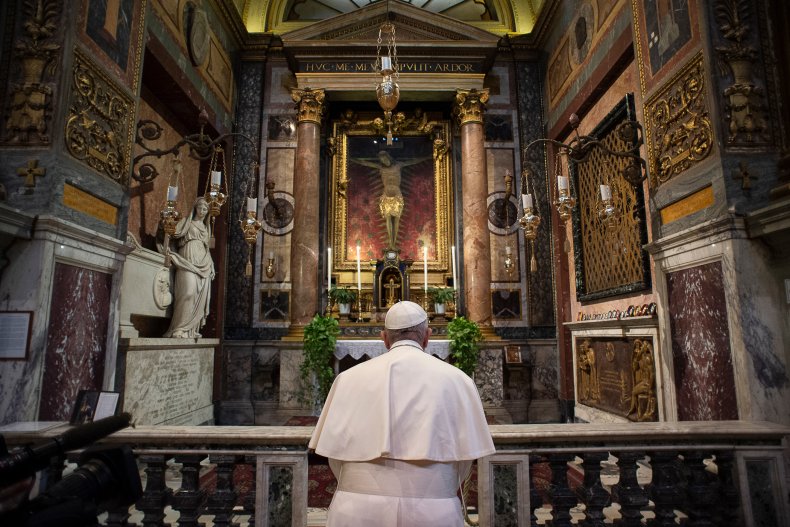 When asked by La Repubblica journalist Paolo Rodari what he prayed for at the two churches, the pontiff replied: "I asked the Lord to stop the epidemic: Lord, stop it with your hand. That's what I prayed for."
The pope also said that with many people now at home, it provided an opportunity for people to carry out "small, concrete gestures" to loved ones, such as a "caress for our grandparents, a kiss for our children, for the people we love. These are important, decisive gestures. If we live these days like this, they won't be wasted," he said.
"Sometimes, we only experience a virtual form of communication with one another. Instead, we should discover a new closeness. More concrete relationships made of attention and patience. This language made of concrete gestures must be safeguarded. In my opinion, the pain of these days should open us up to this concreteness," the pope said.
Earlier in March, the 83-year-old tested negative for the coronavirus, after he was seen coughing and blowing his nose during a service on Ash Wednesday, which signifies the start of Lent for Christians. In a sermon, he called on his clergy to show their support and solidarity for the medical workers dealing with the pandemic.
He reiterated his support for medical workers, telling La Repubblica, "I thank those who give themselves in this way to others. They are an example of this concreteness."
"And I ask everyone to stay close to those who have lost loved ones, to be close to them in every possible way. Consolation must now be everyone's commitment." Newsweek has contacted the Vatican for further comment.
The pope celebrated a mass in the Casa Santa Marta chapel on Wednesday morning, during which he prayed for those whom the virus had killed and "for health care providers who have given their life in service for the sick," according to the Vatican News.