The Pope Should Be Questioned in Sex-Abuse Cases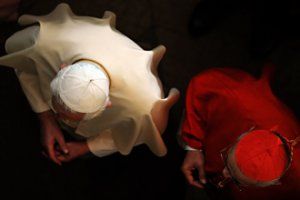 Detain or subpoena the pope for questioning in the child-rape scandal? You must be joking! All right then, try the only alternative formulation: declare the pope to be above and beyond all local and international laws, and immune when it comes to his personal and institutional responsibility for sheltering criminals. The joke there would be on us.
The case for bringing the head of the Catholic hierarchy within the orbit of law is easily enough made. All it involves is the ability to look at a naked emperor and ask the question "Why?" Mentally remove his papal vestments and imagine him in a suit, and Joseph Ratzinger becomes just a Bavarian bureaucrat who has failed in the only task he was ever set—that of damage control. The question started small. In 2002, I happened to be on Hardball With Chris Matthews, discussing what the then attorney general of Massachusetts, Thomas Reilly, had termed a massive cover-up by the church of crimes against children by more than a thousand priests. I asked, why is the man who is prima facie responsible, Cardinal Bernard Law, not being questioned by the forces of law and order? Why is the church allowed to be judge in its own case and enabled in effect to run private courts where gross and evil offenders end up being "forgiven"? This point must have hung in the air a bit, and perhaps lodged in Cardinal Law's own mind, because in December of that year he left Boston just hours before state troopers arrived with a subpoena seeking his grand-jury testimony. Where did he go? To Rome, where he later voted in the election of Pope Benedict XVI and now presides over the beautiful church of Santa Maria Maggiore, as well as several Vatican subcommittees.
In my submission, the current scandal passed the point of no return when the Vatican officially became a hideout for a man who was little better than a fugitive from justice. By sheltering such a salient offender at its very heart, the Vatican had invited the metastasis of the horror into its bosom and thence to its very head. It is obvious that Cardinal Law could not have made his escape or been given asylum without the approval of the then pontiff and of his most trusted deputy in the matter of child-rape damage control, then cardinal Joseph Ratzinger.
Developments since that time have appalled even the most diehard papal apologists by their rapidity and scale. Not only do we have the letter that Cardinal Ratzinger sent to all Catholic bishops, enjoining them sternly to refer rape and molestation cases exclusively to his office. That would be bad enough in itself, since any person having knowledge of such a crime is legally obliged to report it to the police. But now, from Munich and Madison, Wis., and Oakland, come reports of the protection or indulgence of pederasts occurring on the pope's own watch, either during his period as bishop or his time as chief Vatican official for the defusing of the crisis. His apologists have done their best, but their Holy Father seems consistently to have been lenient or negligent with the criminals while reserving his severity only for those who complained about them.
As this became horribly obvious, I telephoned a distinguished human-rights counsel in London, Geoffrey Robertson, and asked him if the law was powerless to intervene. Not at all, was his calm reply. If His Holiness tries to travel outside his own territory—as he proposes to travel to Britain in the fall—there is no more reason for him to feel safe than there was for the once magnificently uniformed General Pinochet, who had passed a Chilean law that he thought would guarantee his own immunity, but who was visited by British bobbies all the same. As I am writing this, plaintiffs are coming forward and strategies being readied (on both sides, since the Vatican itself scents the danger). In Kentucky, a suit is before the courts seeking the testimony of the pope himself. In Britain, it is being proposed that any one of the numberless possible plaintiffs might privately serve the pope with a writ if he shows his face. Also being considered are two international approaches, one to the European Court of Human Rights and another to the International Criminal Court. The ICC—which has already this year overruled immunity and indicted the gruesome president of Sudan—can be asked to rule on "crimes against humanity"; a legal definition that happens to include any consistent pattern of rape, or exploitation of children, that has been endorsed by any government.
In Kentucky, the pope's lawyers have already signaled their intention to contest any such initiative by invoking "sovereign immunity," since His Holiness is also an alleged head of state. One wonders if sincere Catholics really desire to take refuge in this formulation. The so-called Vatican City, a political nonentity covering about 0.17 square miles of Rome, was created by Benito Mussolini in 1929 as part of his sweetheart deal between fascism and the papacy. It is the last survival of the political architecture of the Axis powers. Its bogus claim to statehood is now being used to give asylum to men like Cardinal Law.
In this instance the church damns itself both ways. It invites our challenge—this is where the appeal to the European Court of Human Rights becomes relevant—to its standing as a state. And it calls attention to the repellent origins of that same state. Currently the Holy See has it both ways. For example, it is exempt from the annual State Department Human Rights Report precisely because it is not considered a state. (It maintains only observer status at the United Nations.) So, if it now does want to claim full statehood, it follows that it should receive the full attention of the State Department for its "lay" policies, and, for that matter, the full attention of the Justice Department as well. (First order of business—why on earth are we not demanding the extradition of Cardinal Law? And why is this grave matter being left to private individuals to pursue?)
It is very difficult to resist the conclusion that this pope does not call for a serious investigation, or demand the removal of those responsible for a consistent pattern of child rape and its concealment, because to do so would be to imply the call for his own indictment. But meanwhile why are we expected to watch passively or wonder idly why the church does not clean its own filthy stable? A case in point: in 2001 Cardinal Castrillón of Colombia wrote from the Vatican to congratulate a French bishop who had risked jail rather than report an especially vicious rapist priest. Castrillón was invited this week to conduct a lavish Latin mass in Washington. The invitation was rightly withdrawn after a storm of outrage, but nobody asked why the cardinal could not be held as an accessory to an official Vatican policy that has exposed thousands of American children to rapists and sadists.
Only this past March did the church shamefacedly and reluctantly agree that all child rapists should now be handed over to the civil authorities. Thanks a lot. That was a clear admission that gross illegality, and of the nastiest kind, has been its practice up until now. Euphemisms about sin and repentance are useless. This is a question of crime—organized crime, by the way—and therefore of punishment. Or perhaps you would rather see the shade of Mussolini thrown protectively over the Vicar of Christ? The ancient Roman symbol of the fish is rotting—and rotting from the head.